Customerlabs CDP Documentation
Shopify+CustomerLabs CDP Integration Guide
Shopify Implementation Guide
Shopify (or) Shopify Plus is an e-commerce platform that allows users to set up an online store. By connecting your Shopify store with CustomerLabs CDP, you can start tracking the events (user-behavioral activity) of your website visitors without writing any code.
Here is the video which guides you through the entire process of integrating CustomerLabs CDP with your Shopify/Shopify plus store. 
Alternatively, go through these simple steps to integrate your Shopify/Shopify plus store with CustomerLabs.
1. Log in to CustomerLabs account
2. On the Home page → Under "Connect your domain" → Enter your website URL → Click Save


3. Copy the Tracking code


4. Login to your Shopify account → Click Online store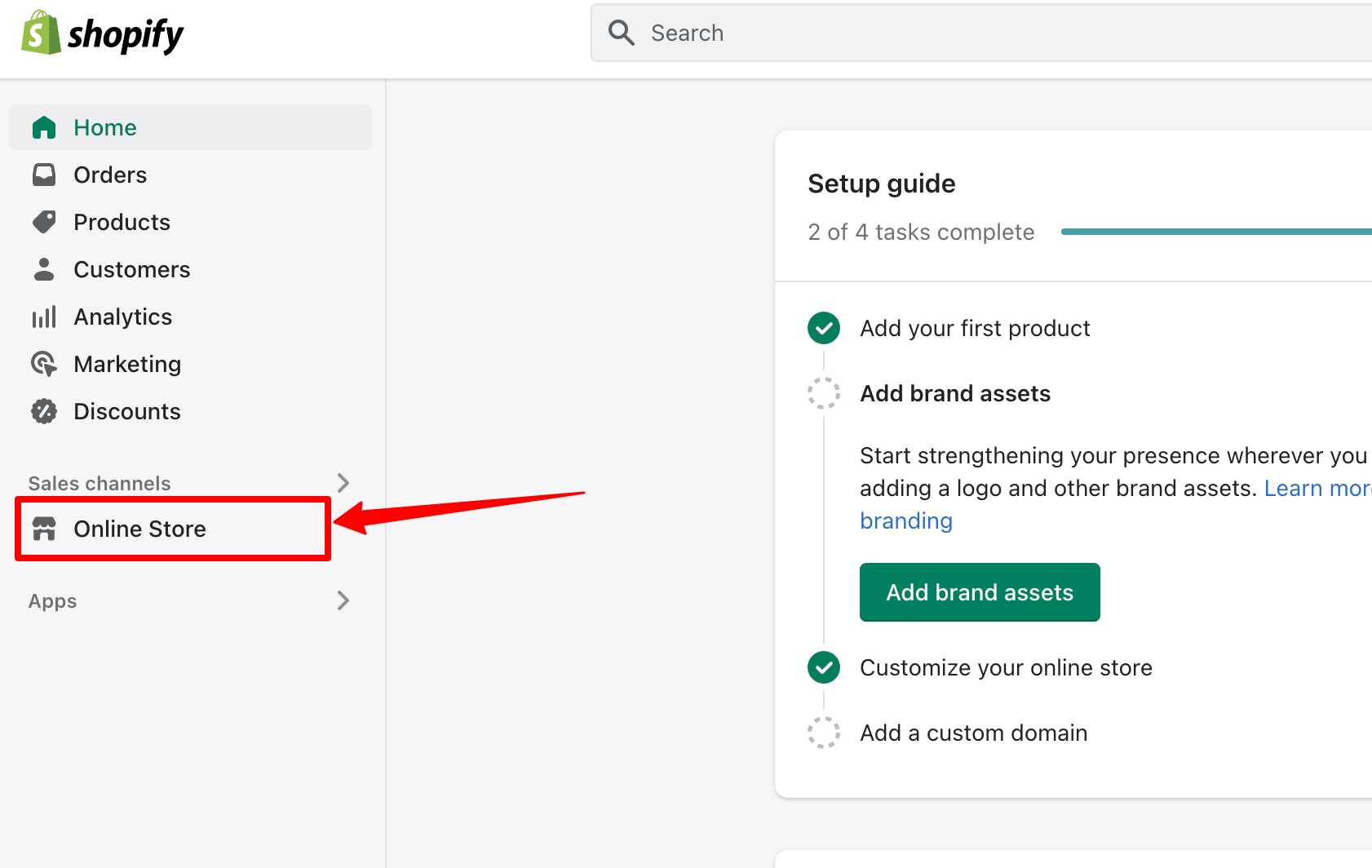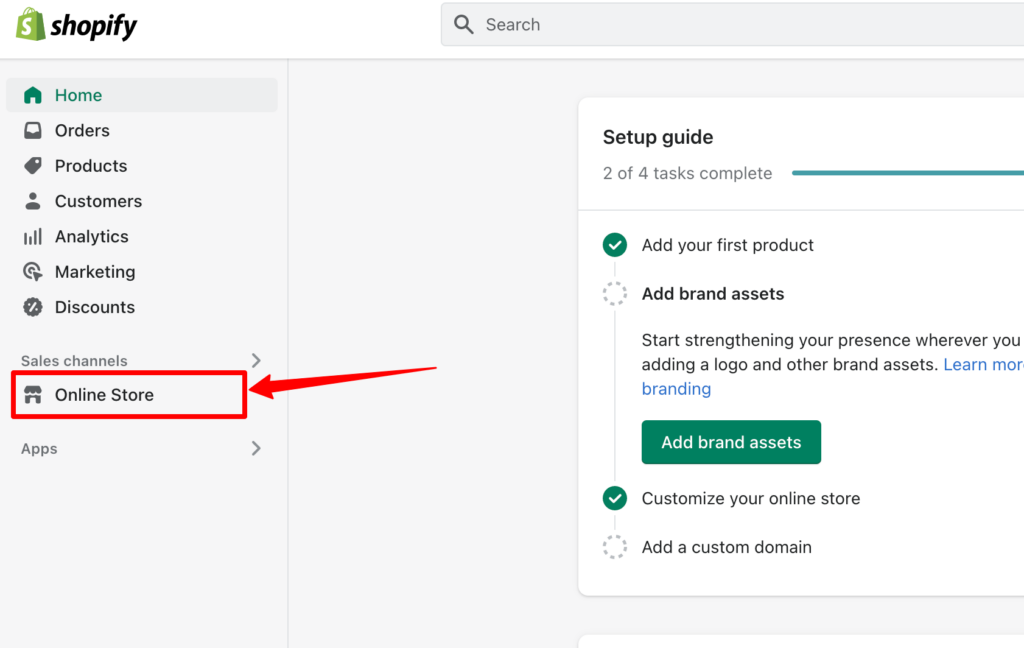 5. Under Themes, go to Actions → Edit code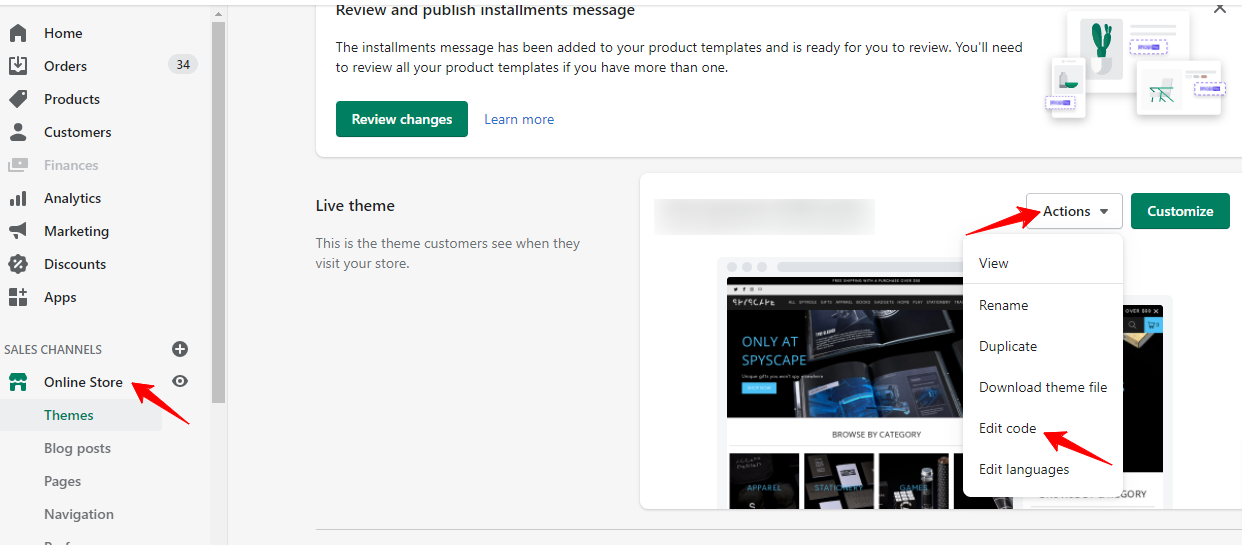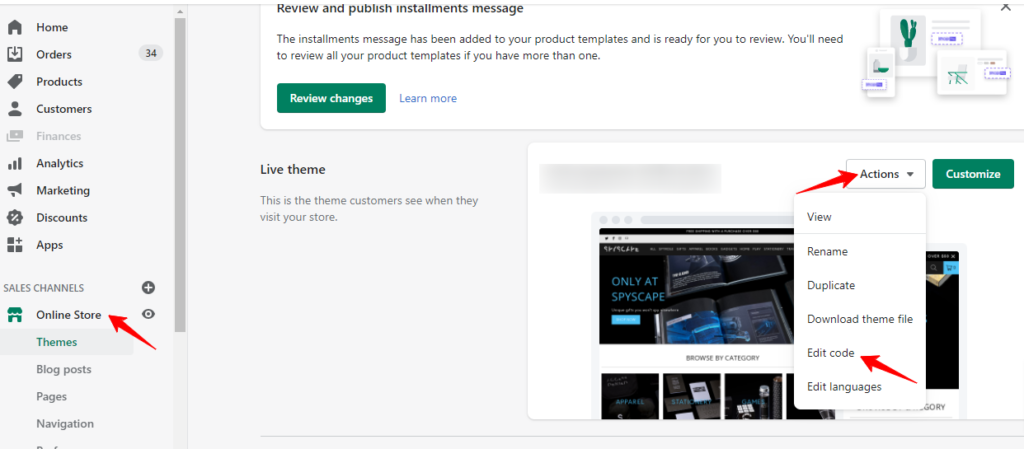 6. Under theme.liquid, search for "</head>" and paste the CustomerLabs code in the header section and Save.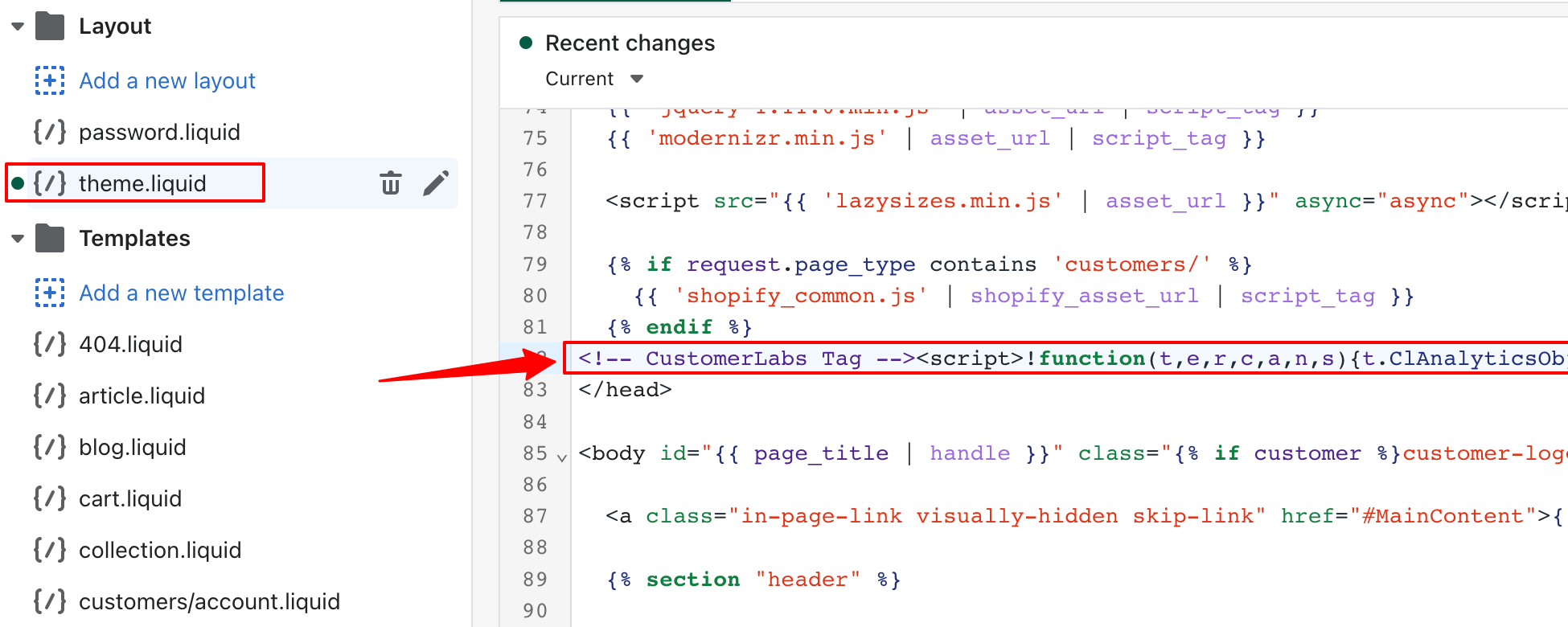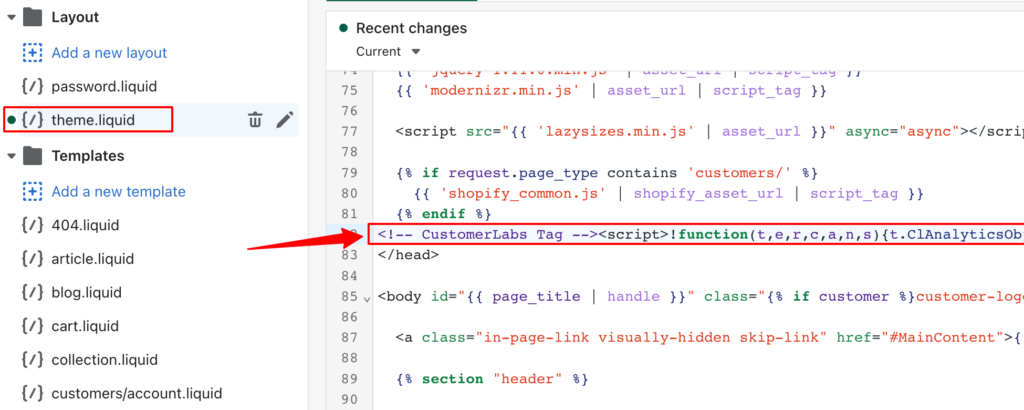 7. Create a custom pixel in Shopify by navigating to Settings → Customer events → Add custom pixel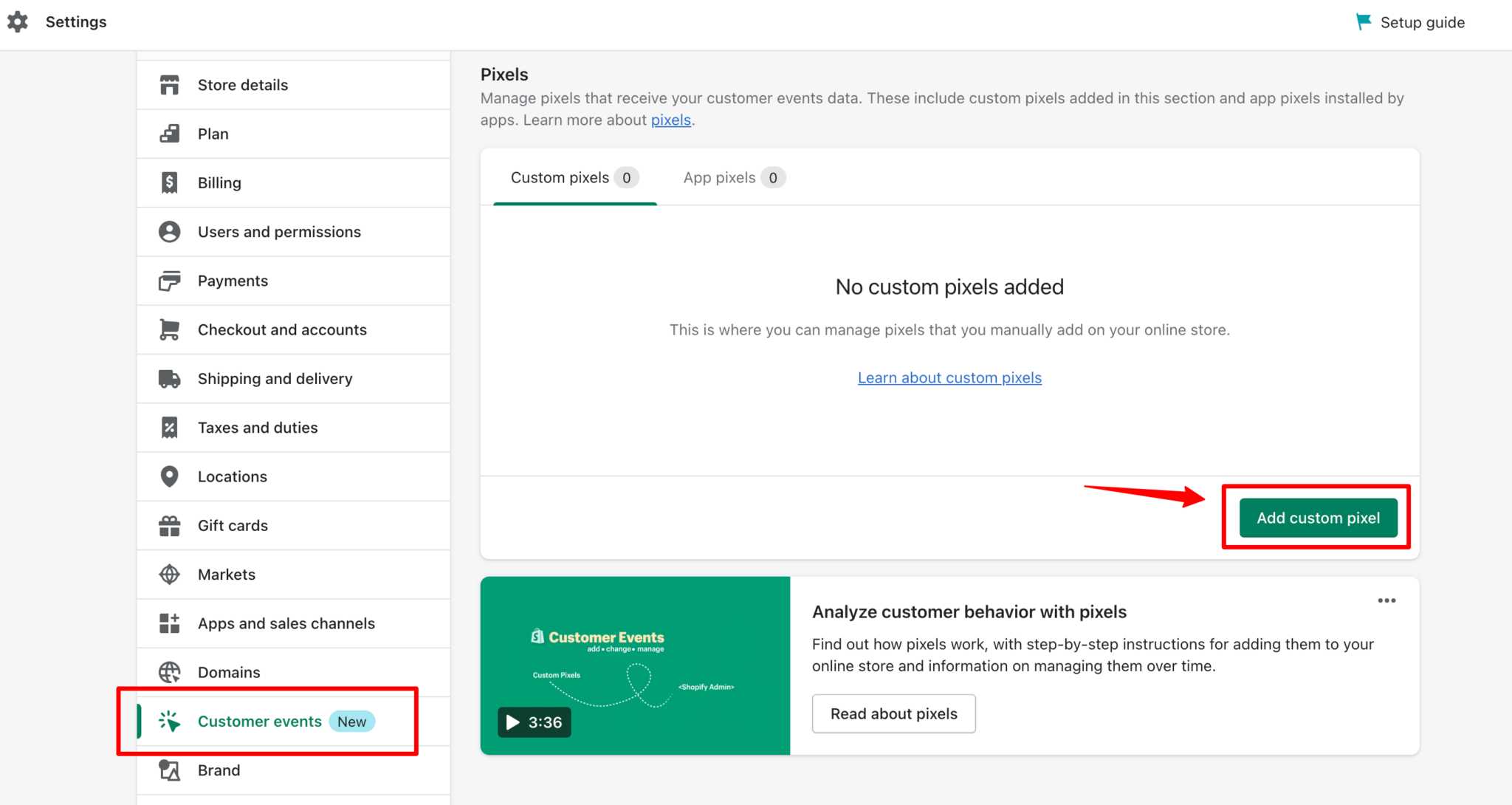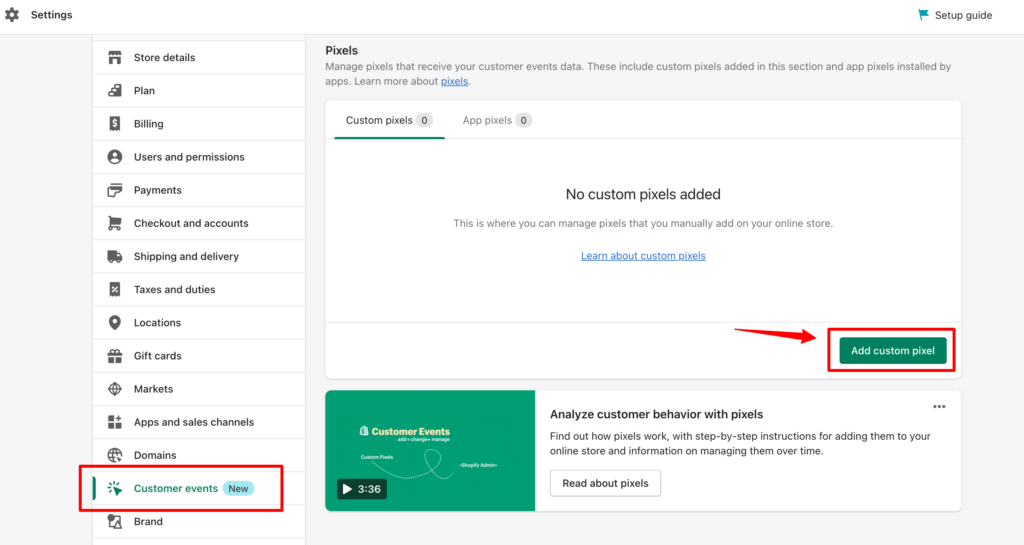 8. Give the Pixel name as Customerlabs → Add pixel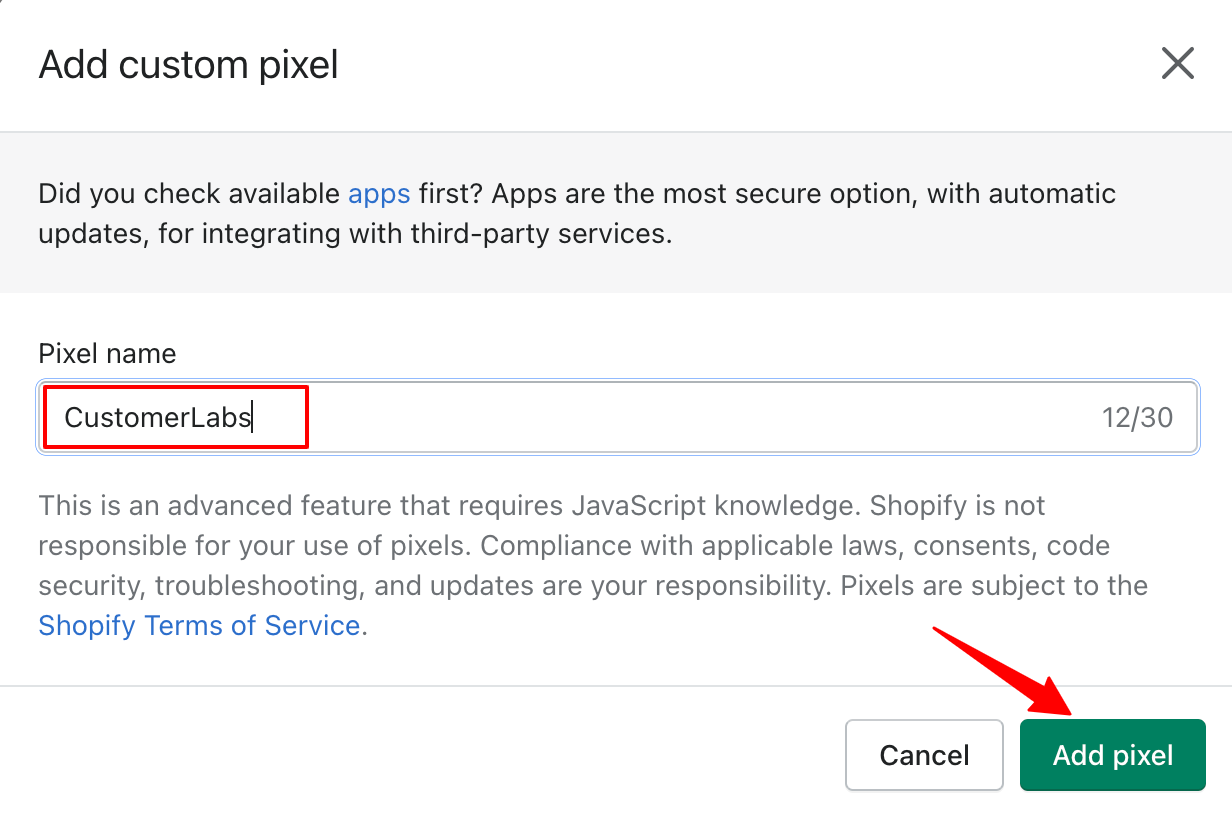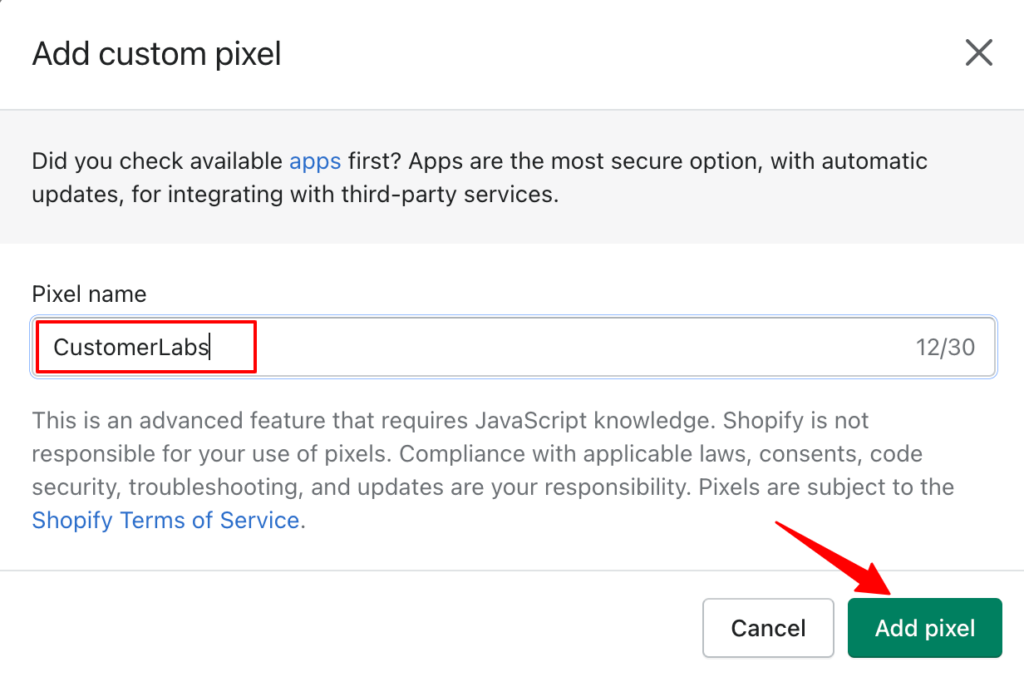 9. Now, go to the Home page of your CustomerLabs account.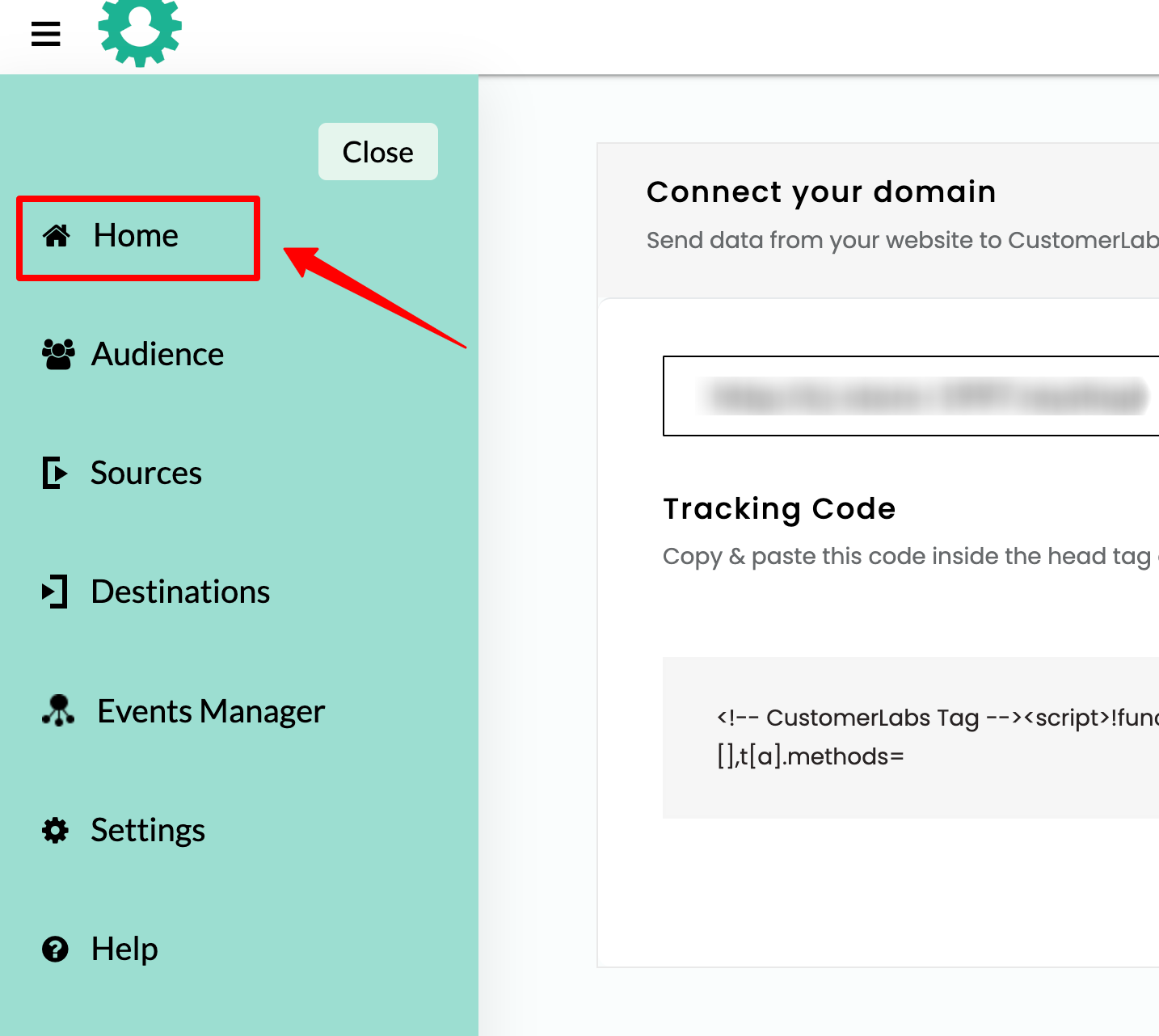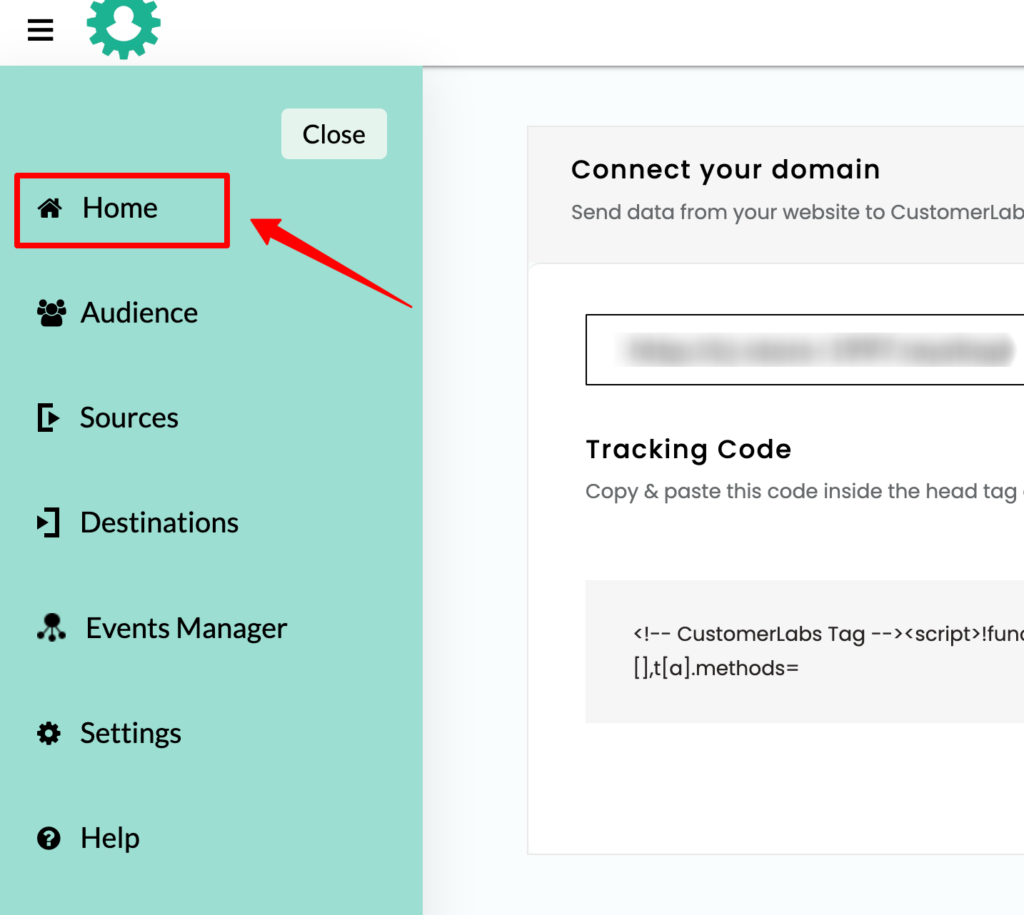 10. Click Shopify → Copy the code in the 3rd step as given in the image below.
11. Paste this code in the new custom pixel (CustomerLabs) created in Shopify → Click Save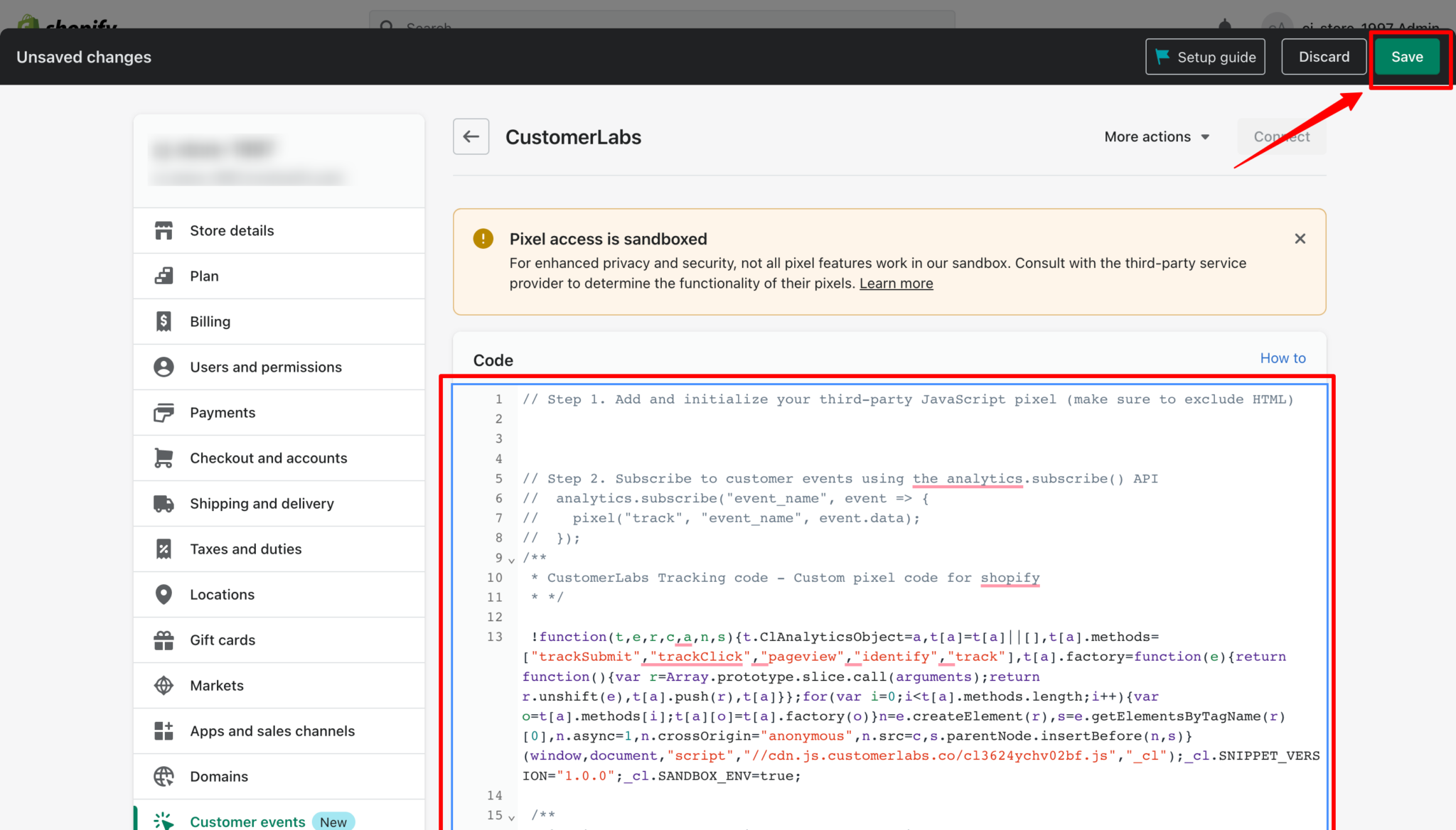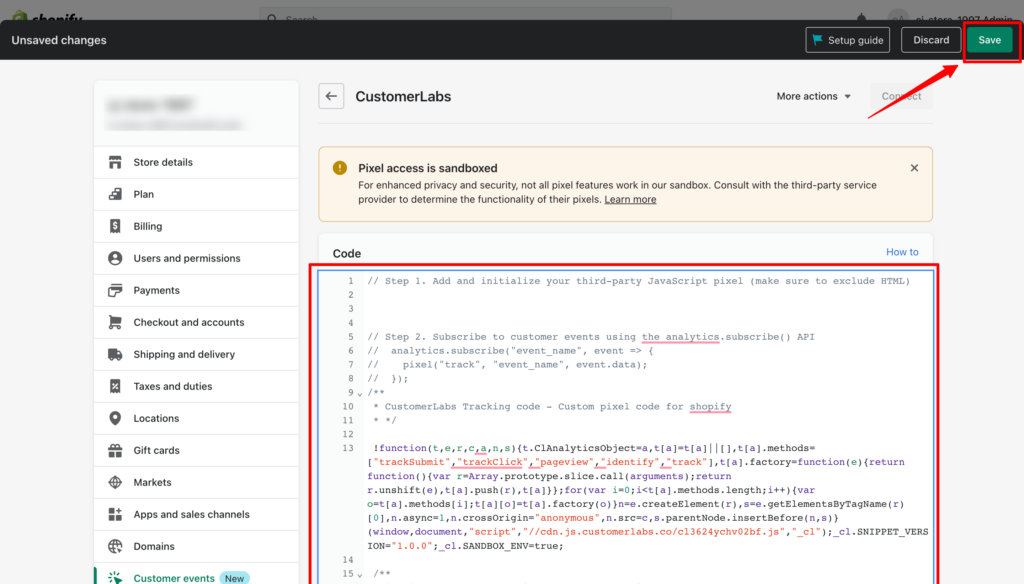 12. After saving, click Connect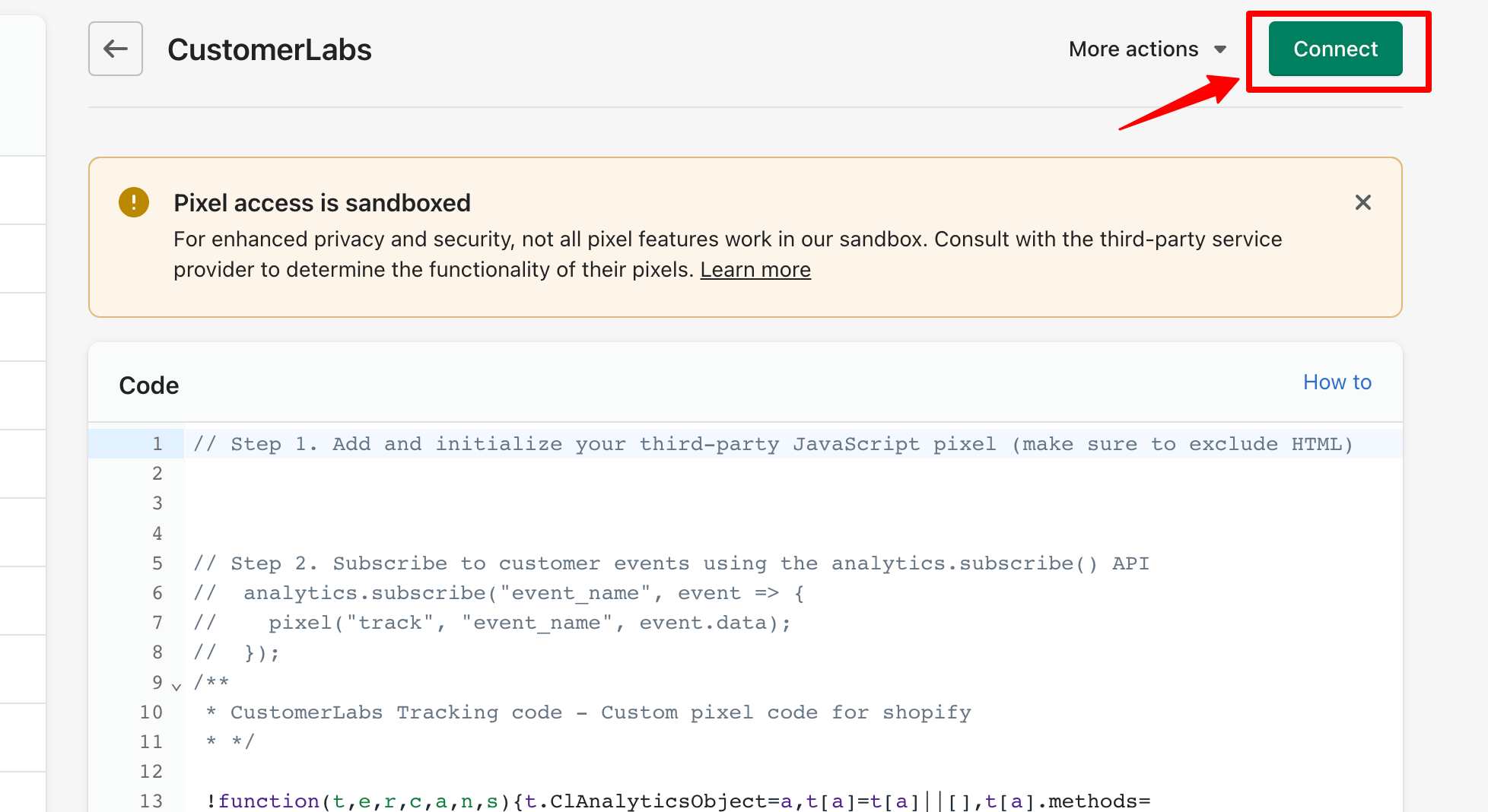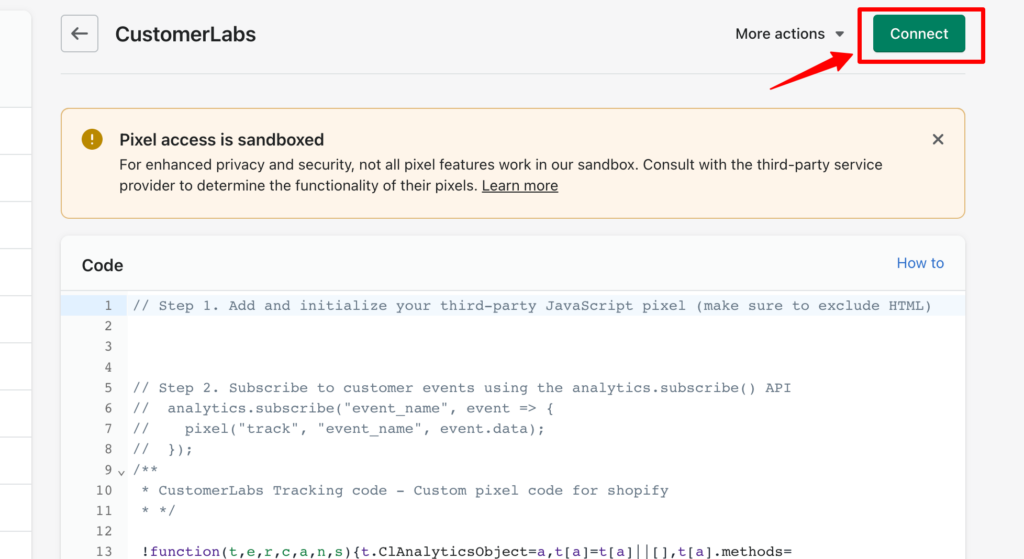 You have now connected your Shopify store with CustomerLabs!
You will start receiving the events on the Events Manager page in CustomerLabs.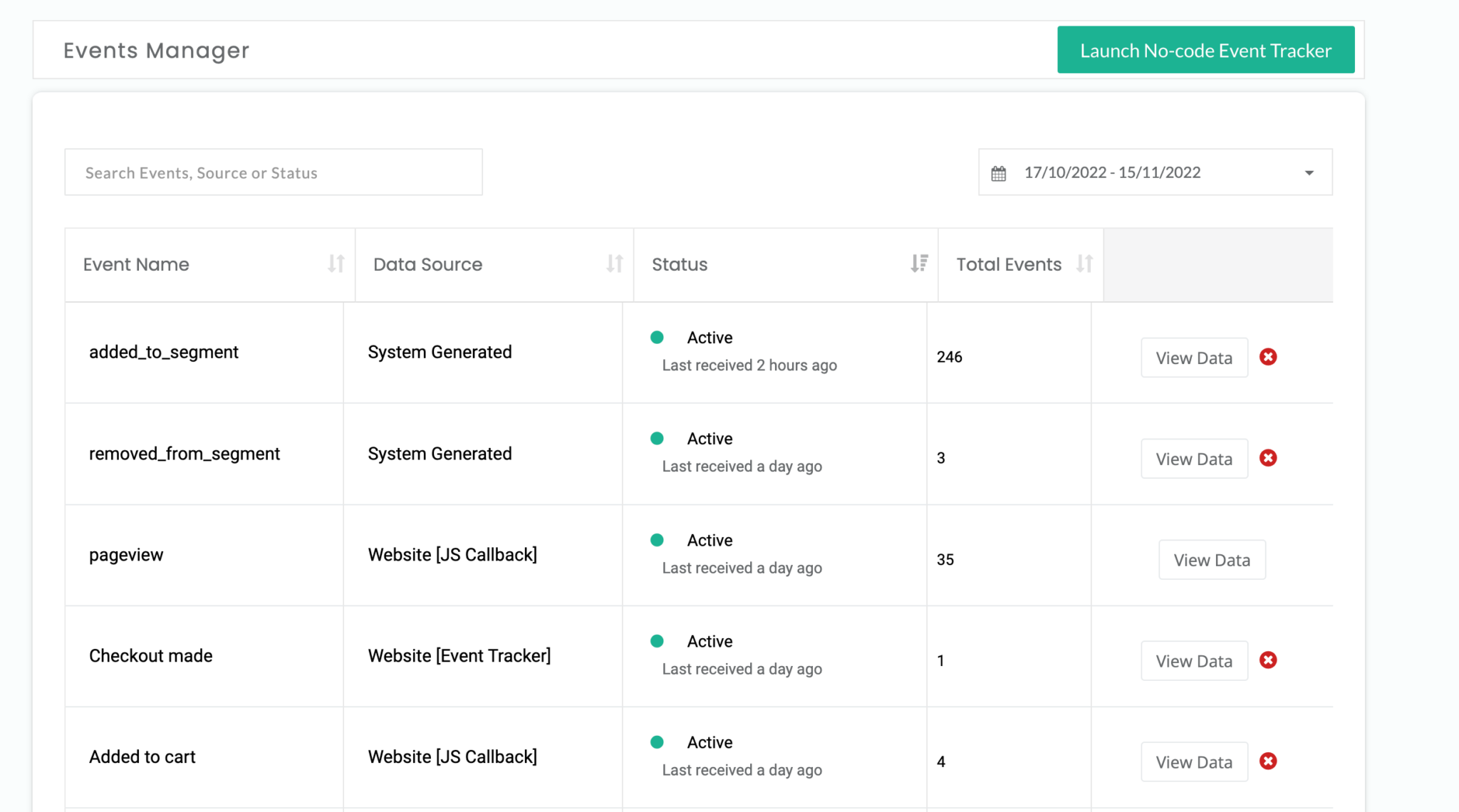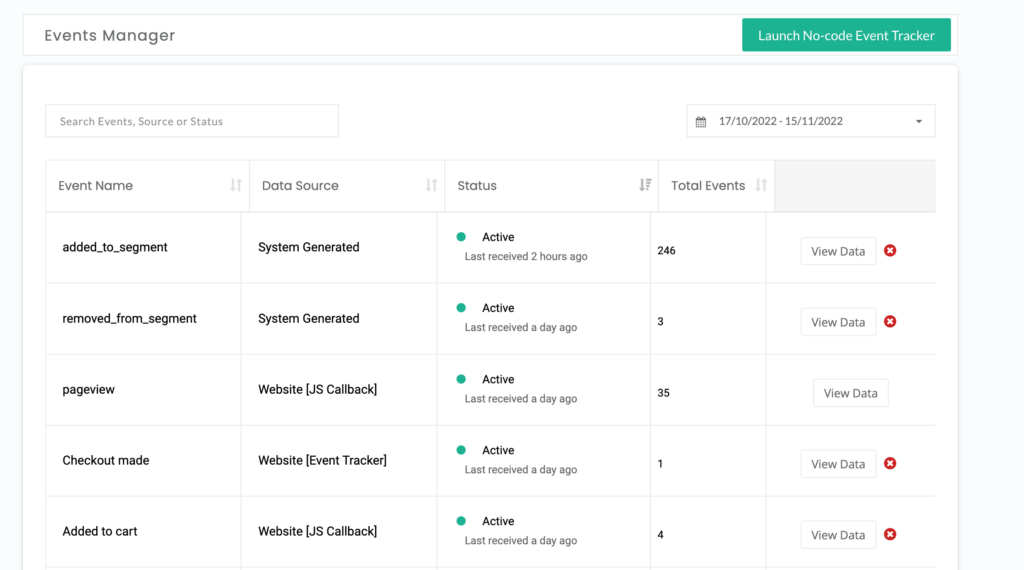 You can now start sending these events to ad platforms like Facebook & Google by connecting them in the Destinations page.
Sending your website events directly from CustomerLabs to the ad platforms gives your a higher Event Match Quality (EMQ).
Disconnect Direct Integration of Facebook Pixel
After connecting Facebook as a destination in CustomerLabs, you have to disconnect Facebook pixel direct integration with your Shopify store to avoid duplication of events. If you are sending only the audiences to Facebook, you can ignore this step.
1. Log into your Shopify account and go to Online store → Preferences → Facebook where you have to remove the Pixel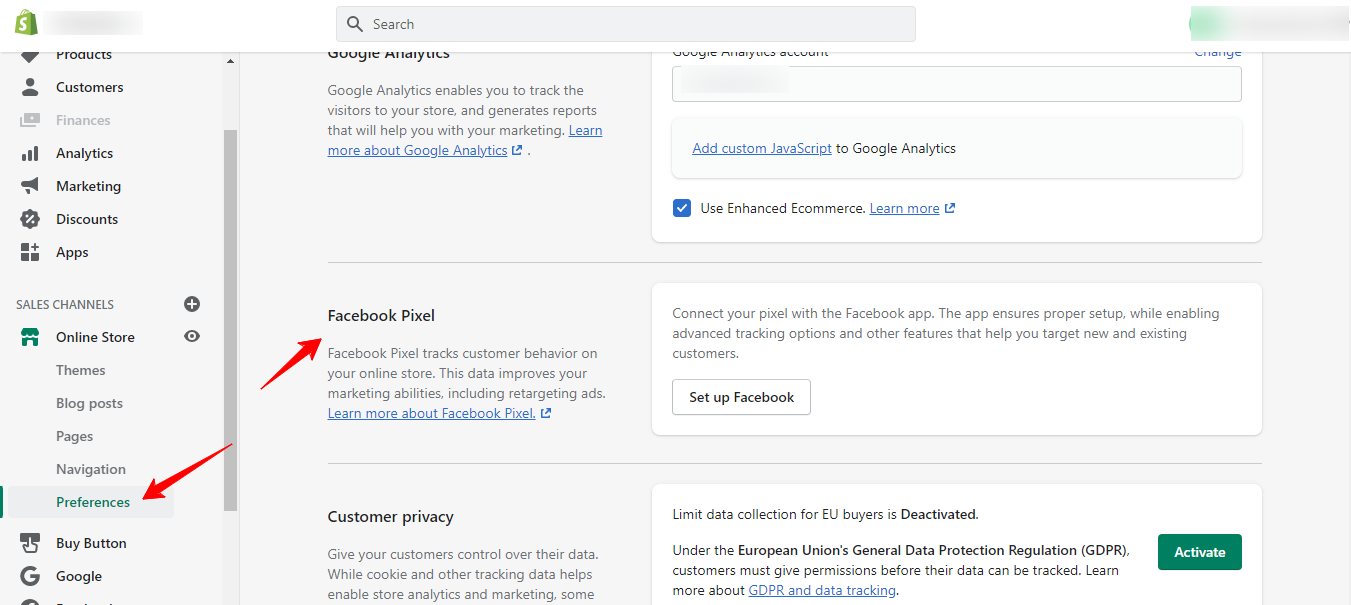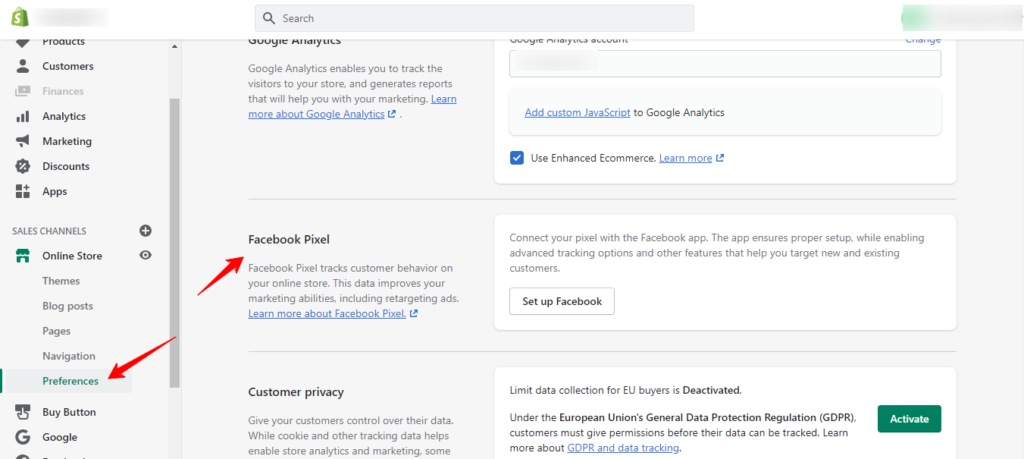 2. Then, go to Facebook on your Shopify account → Data Sharing Settings → disable the "customer data sharing"
This will stop the double firing of events from both CustomerLabs and Facebook pixel.
Default events tracked when you integrate your Shopify store
Here is a list of default events tracked when you connect Shopify with CustomerLabs
Page viewed
Product viewed
Added to cart
Search made
Checkout made
Add Payment info
Purchased
If you want to track any other events other than the ones mentioned above, use No-Code Event Tracker to track and set up the events. Refer to the documentation for help.
Other things to note: If you have other "Add to cart" selectors that are not captured in the default Shopify configuration, you will need to configure it differently with the help of a developer. Get in touch with us to guide you through it.