Customerlabs CDP Documentation
Sync the audience with LinkedIn
Sync the audience with LinkedIn
You can sync the audience created in CustomerLabs with LinkedIn as a customer list by creating a segment in CustomerLabs and syncing it with an existing list or a new list in LinkedIn Campaign Manager. Currently, you can send data to LinkedIn only as a customer list and not as an event.
Make sure you have completed the authentication of your LinkedIn account before syncing.
Here's how you can sync the audience with LinkedIn as a customer list:
1. Create a new segment with the desired events or user traits in CustomerLabs → Go to "Schema" tab of the segment created.
2. Configure the Segment Schema as needed for the customer list to be created or synced in LinkedIn. Learn what is schema.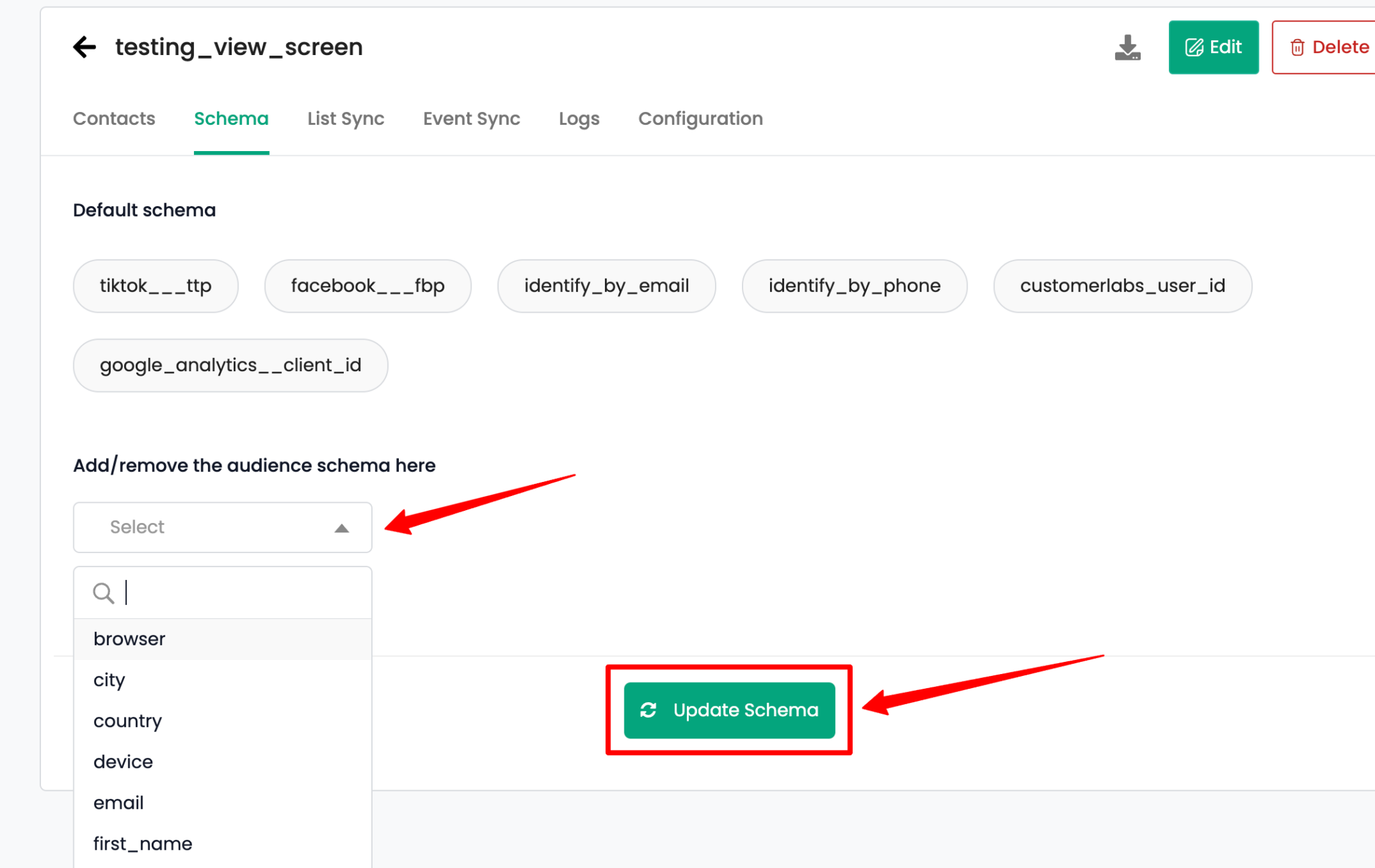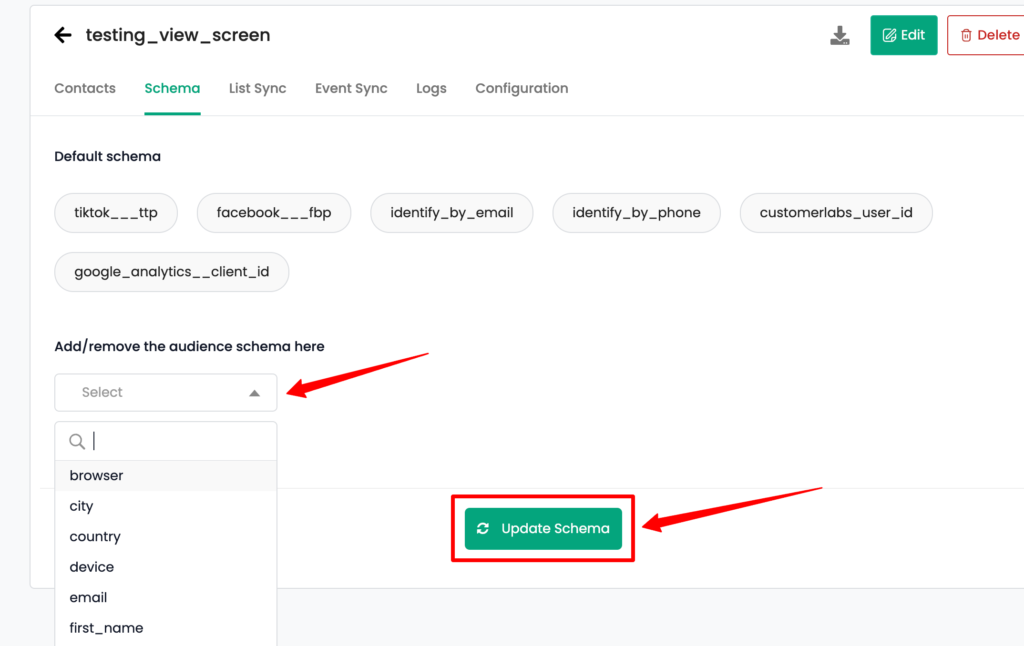 3. Now go to "List Sync" tab and click on "Map Schema" for LinkedIn.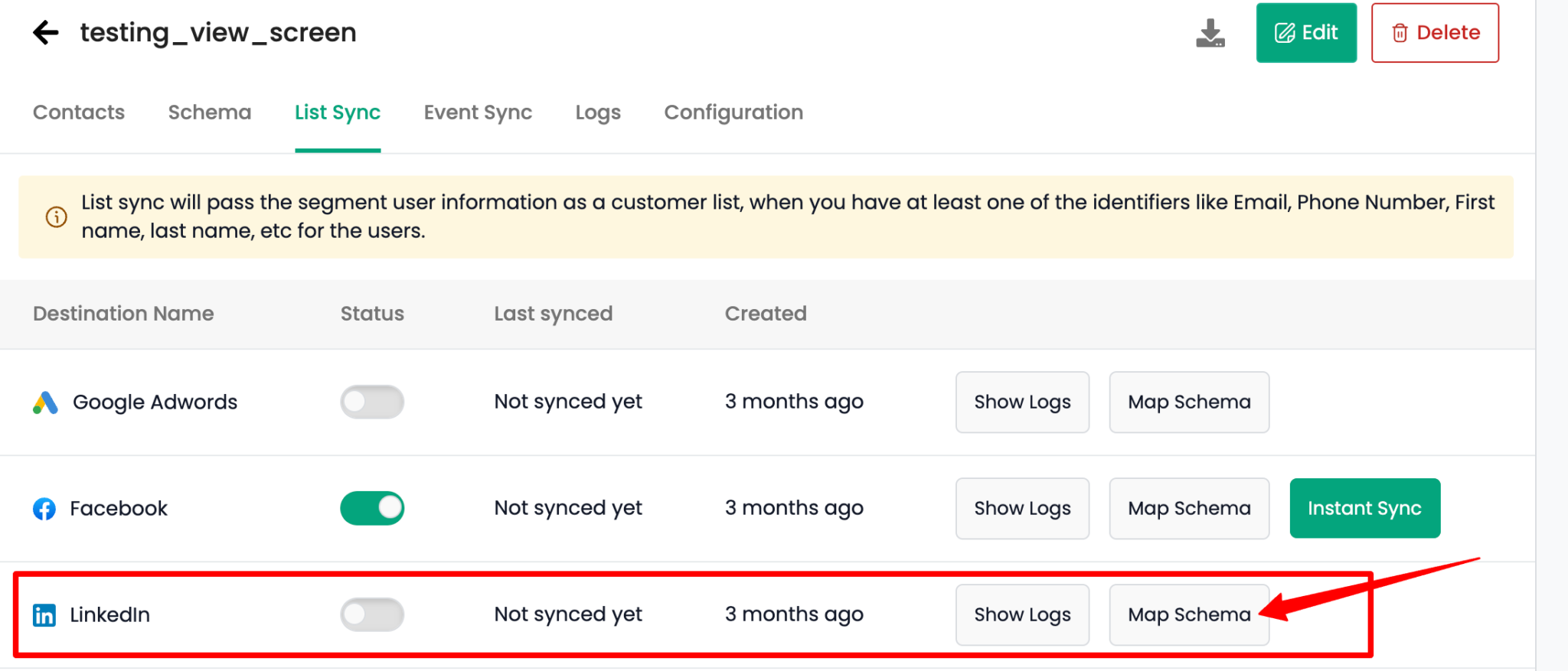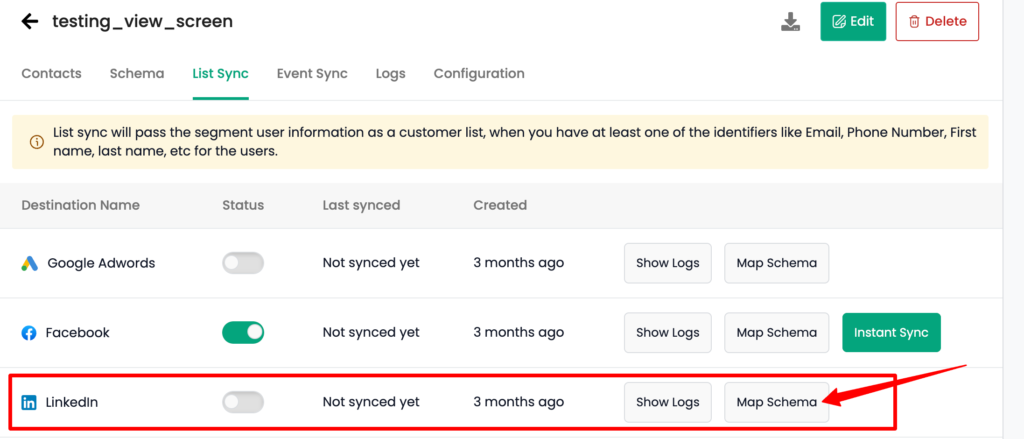 4. In the "List to sync" tab, choose the audience list from the lists that are already created in LinkedIn or choose "Create New List" and enter the name for the new audience list and click "Save List"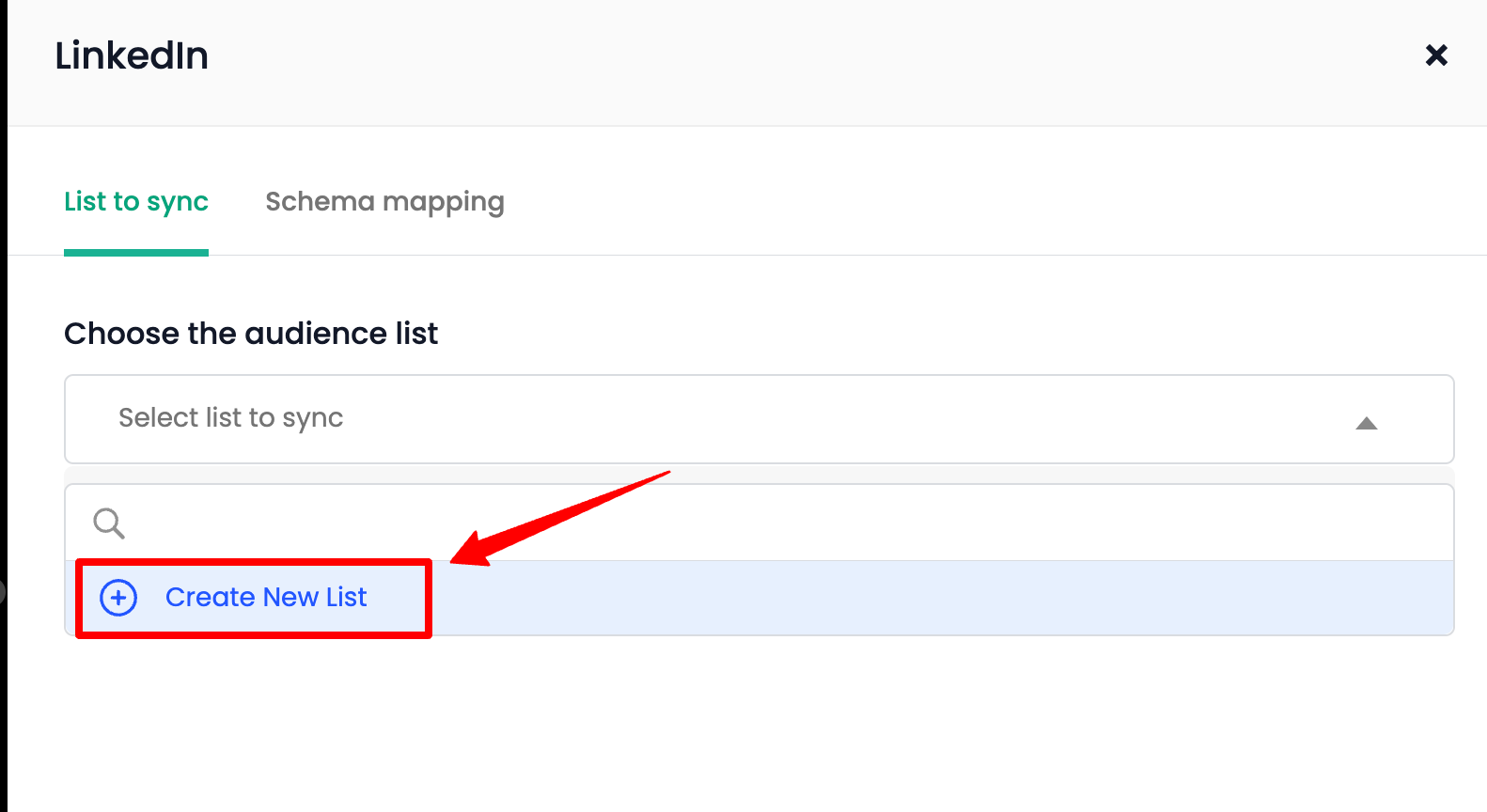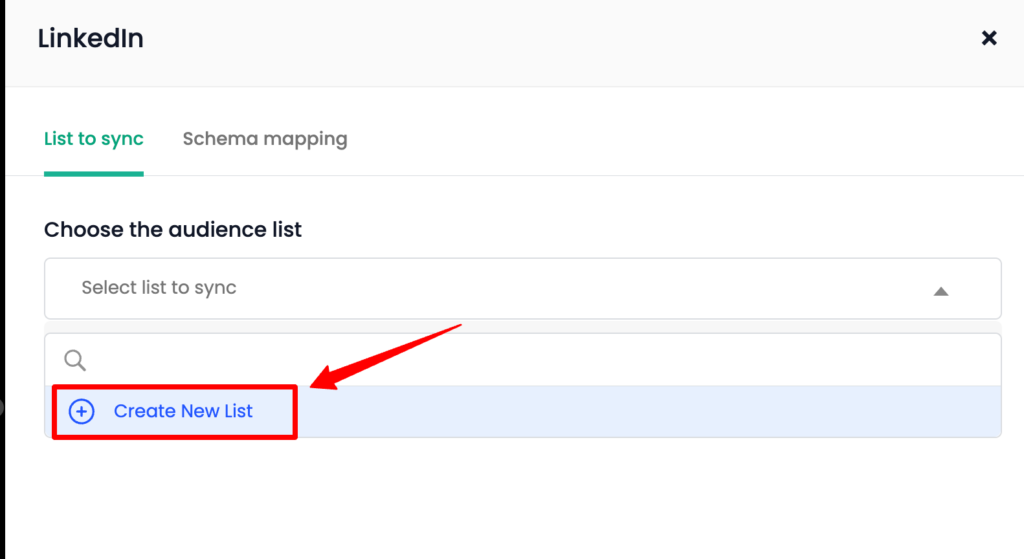 5. Once the audience list is selected or created, "Custom audience Info" will be displayed.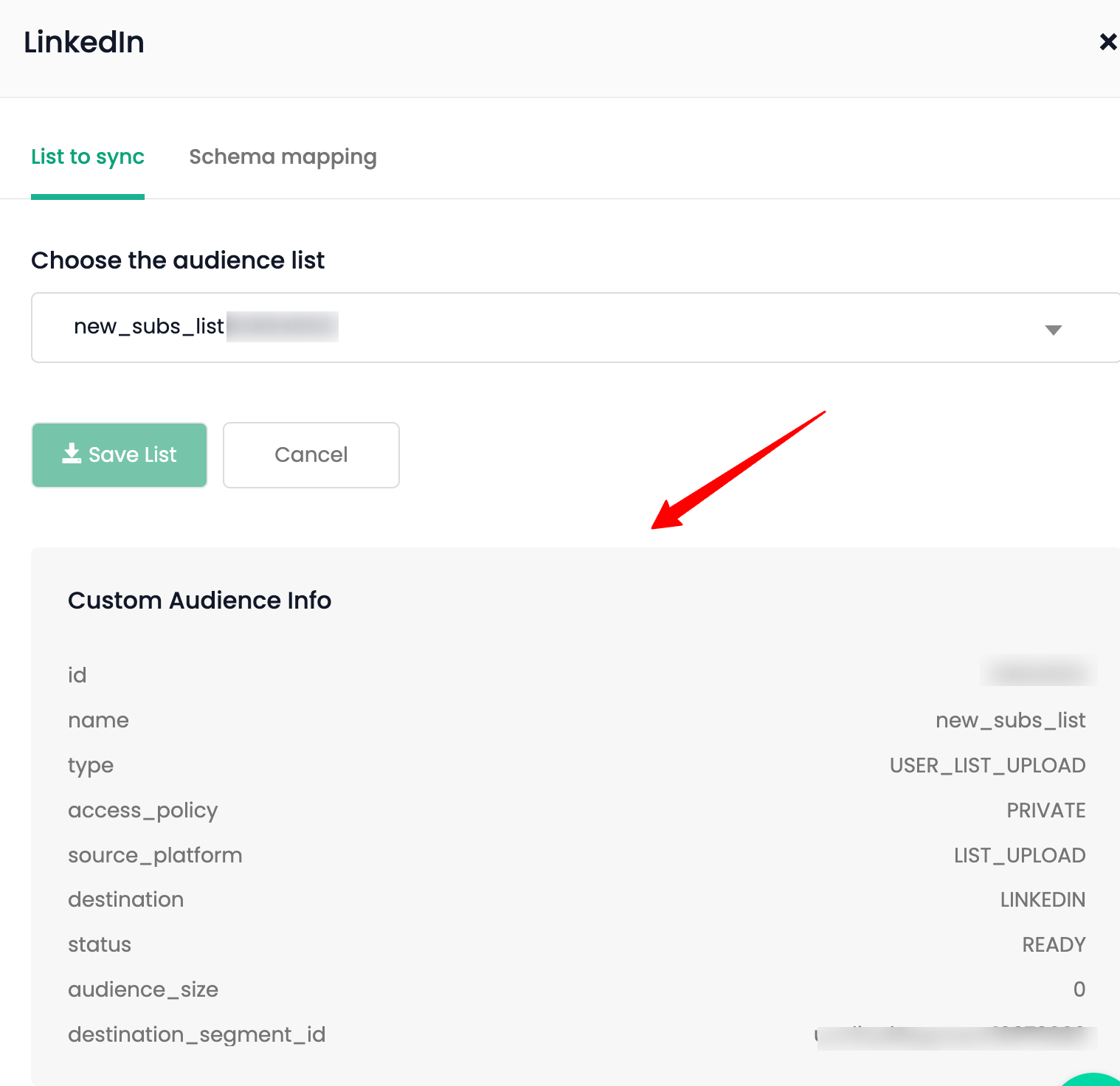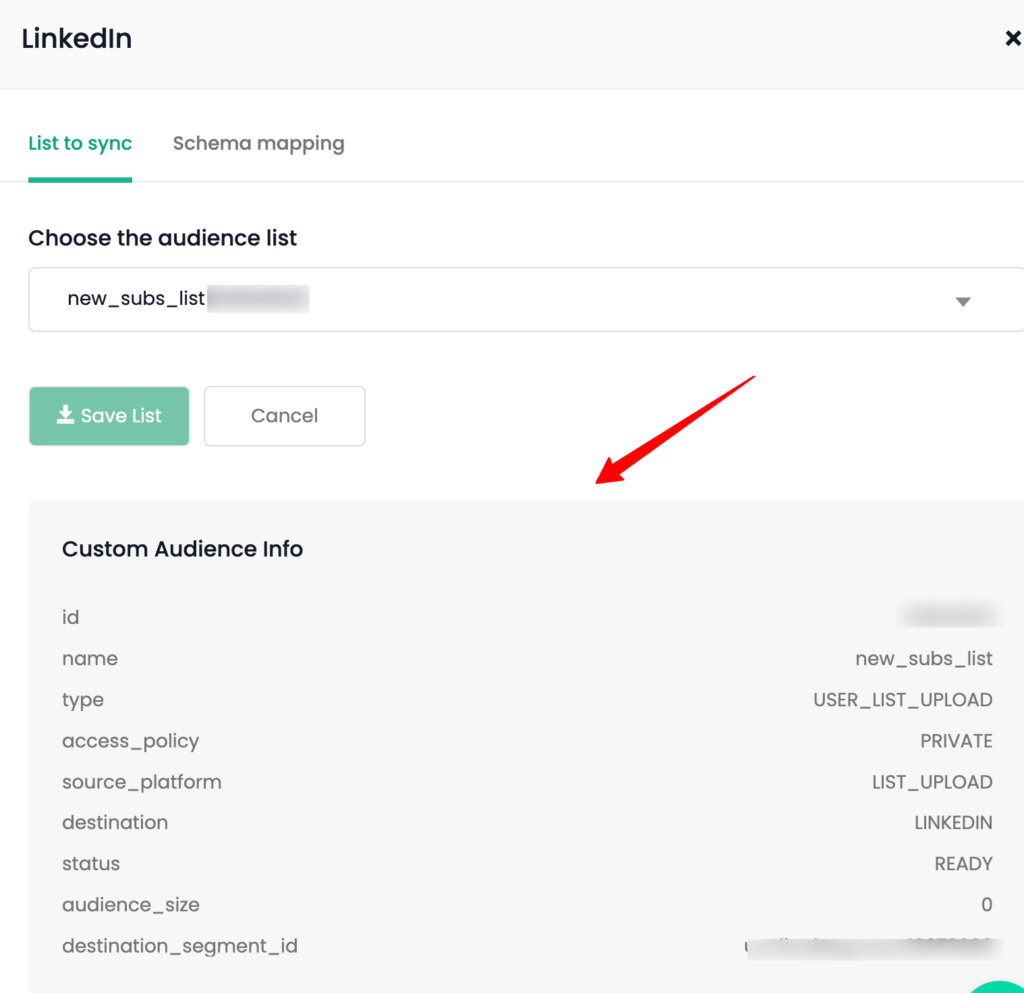 Note: If it shows "Error Fetching data", make sure to re-authenticate your LinkedIn account from Menu → Destinations page → LinkedIn.
6. Go to the "Schema Mapping" tab after saving the list and map the segment schema with LinkedIn schema for the identifier and user traits that you have given in Step 2 by adding each schema using "+" button.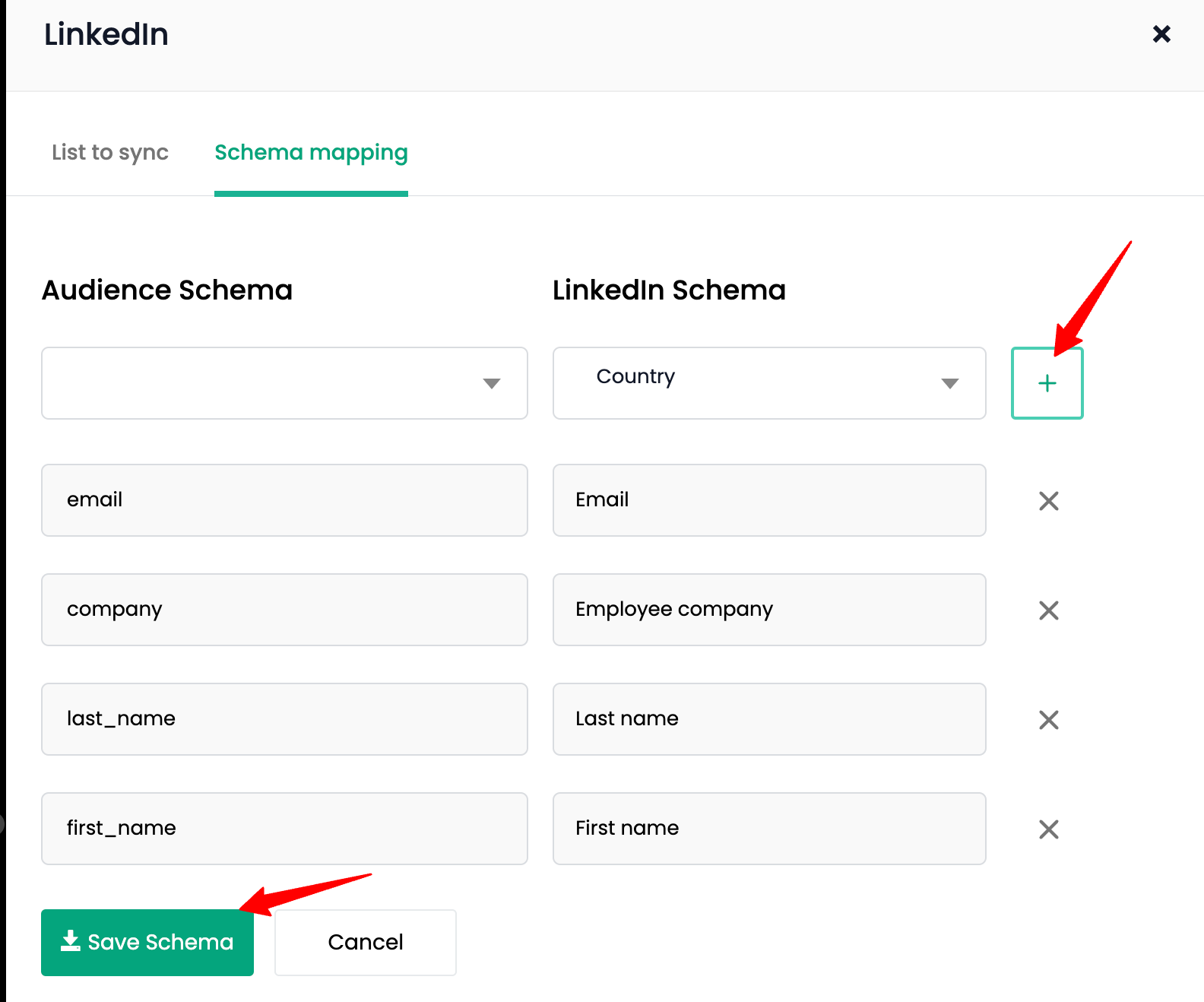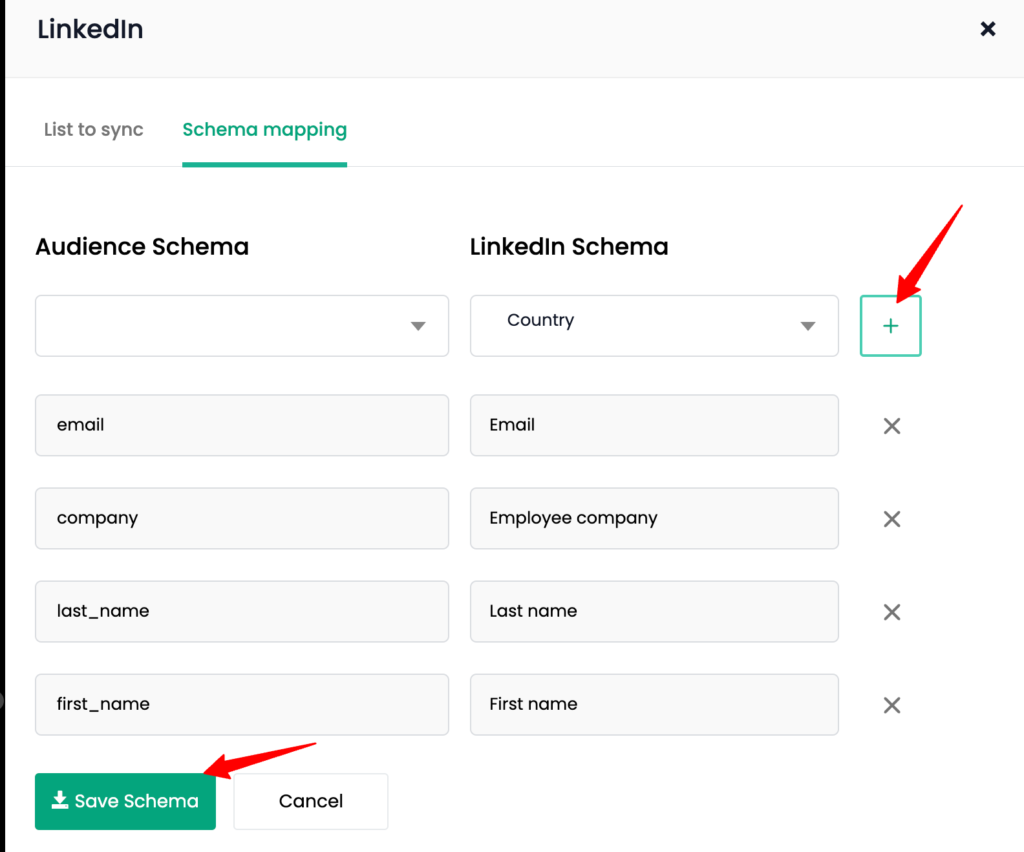 7. Once this is done, click "Save Schema"
8. Now turn on the toggle under "Status" for LinkedIn.
9. Click "Instant Sync" to sync the list now.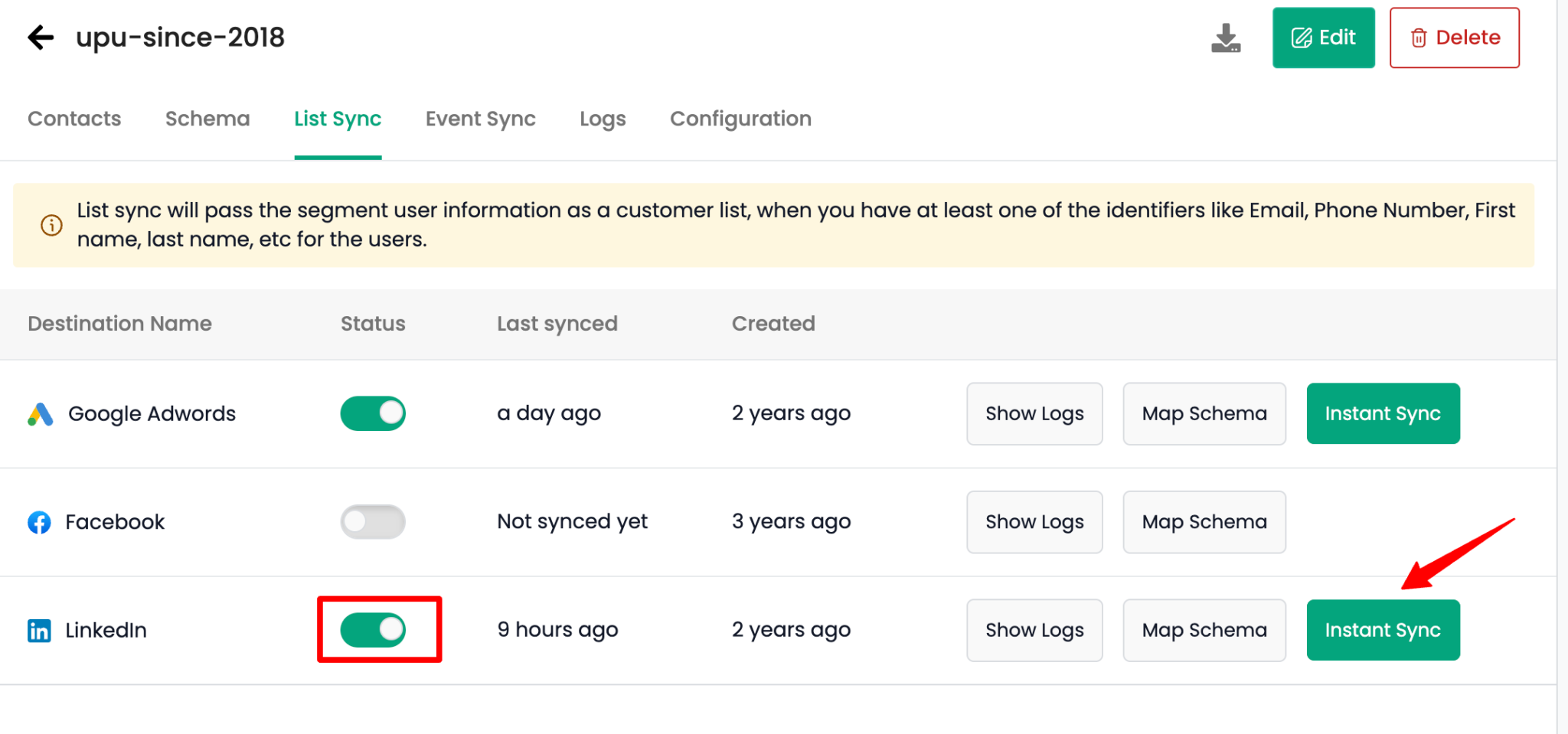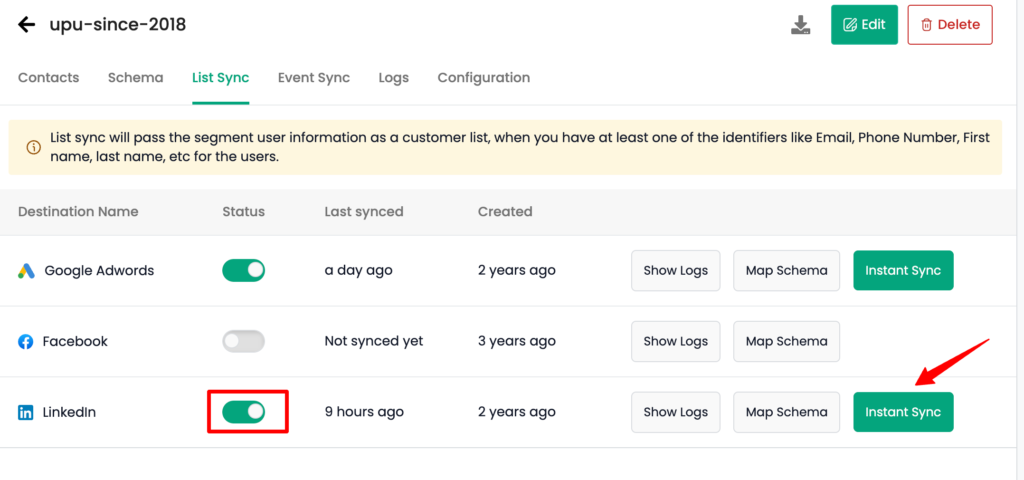 10. Go to "Configuration" tab and set the "Refresh interval" as required → Save Configuration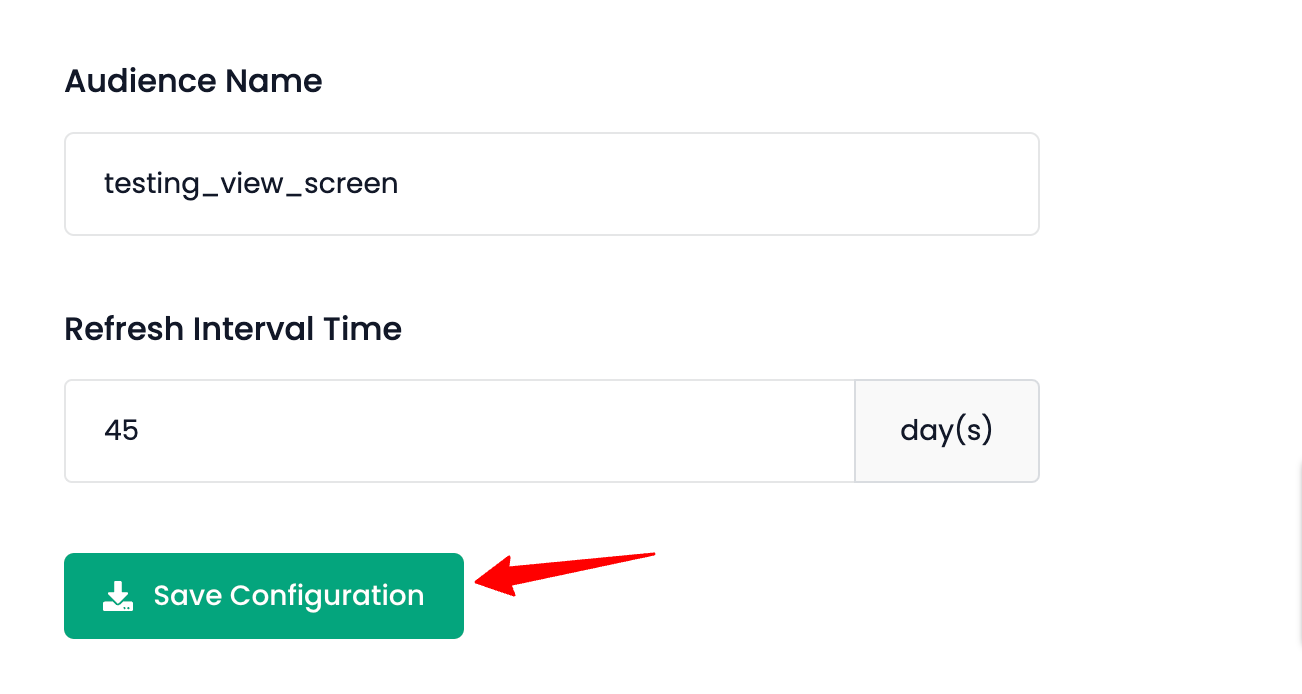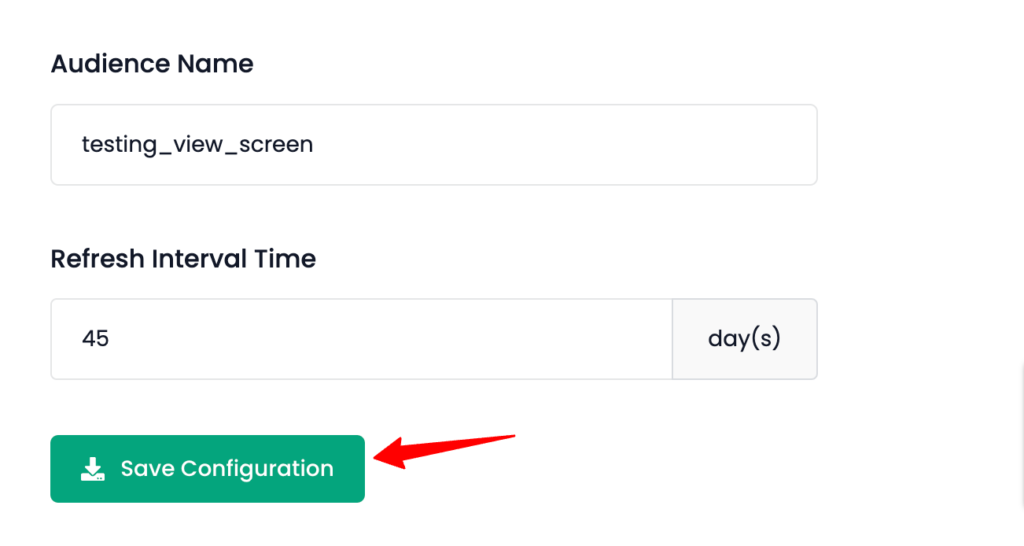 11. You can check the log for the segment from the "Logs" tab and also the log for LinkedIn by going to "List Sync" tab → LinkedIn → "Show Logs" for the latest update that has happened.
Check if the audience has been created/synced
You can check whether the list has been created/synced with LinkedIn after 10-15 minutes if you have enabled "Instant Sync" or after the refresh interval days set for the segment.
1. Go to LinkedIn Campaign Manager → Plan → Audiences → Matched → Check if the audience has been created under the same name as given in CustomerLabs or the existing list has been updated.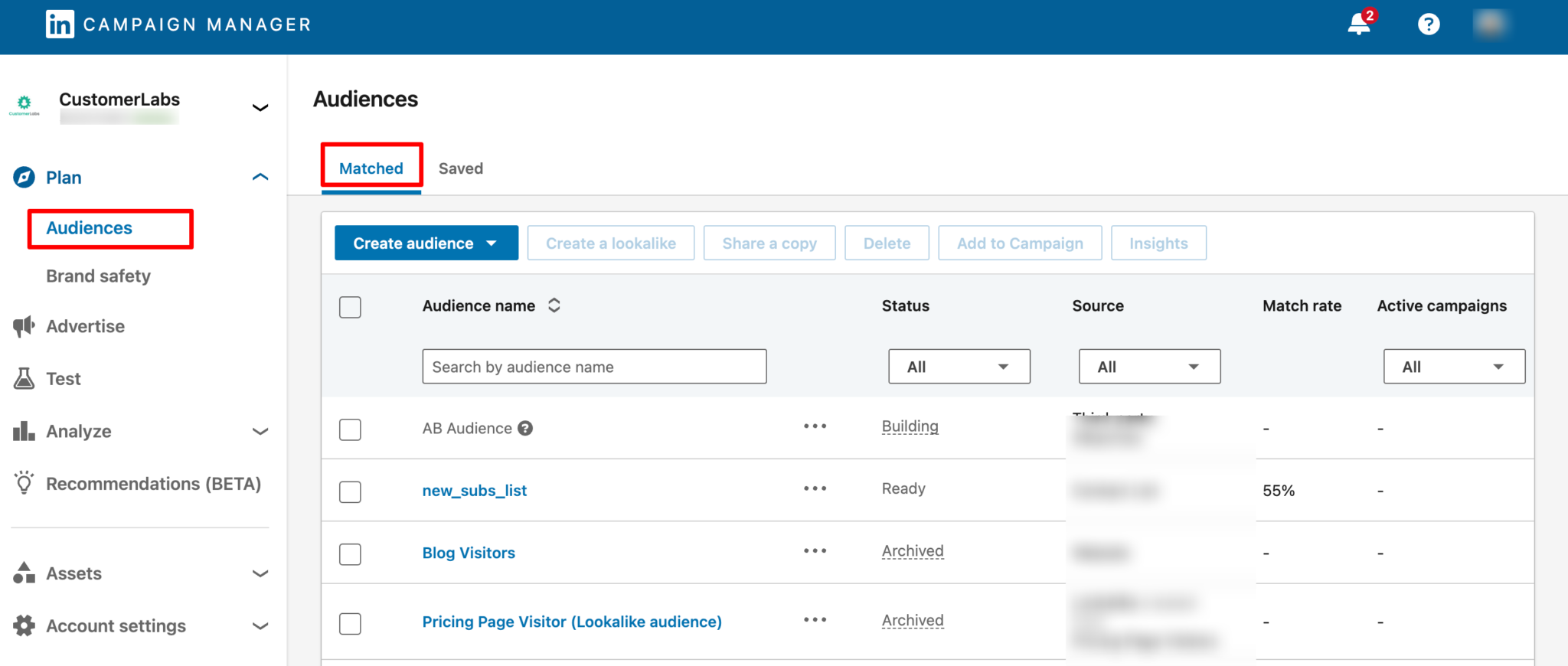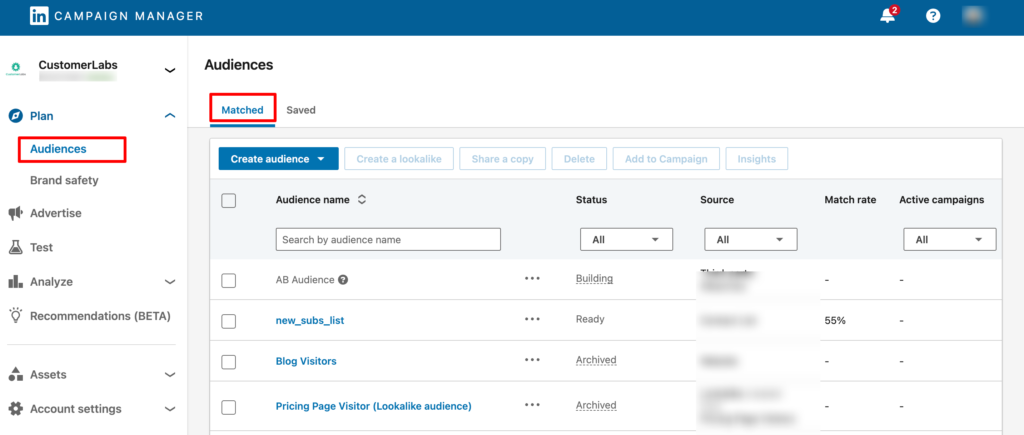 Audiences will be updated on a regular basis based on the refresh interval given for the segment in CustomerLabs.