Customerlabs CDP Documentation
What is a source?
When a platform is connected as a Source, you will be able to bring all the event data from that particular platform like CRM, Website, Marketing Automation, Servers to CustomerLabs CDP. This will enable you to enrich existing user profiles and create a unified view of the customer in one place.
Marketing teams can quickly connect a Source platform to CustomerLabs CDP without writing a single line of code.
Currently CustomerLabs CDP supports integrations with server-side and cloud app sources. View platforms that you can connect with CustomerLabs CDP here.
Collecting data from your website
To collect data from the website, you'd need to install CustomerLabs CDP javascript in your website. After installing the script, CustomerLabs will start creating anonymous contacts.
We'll associate UTM information, IP address, page titles, URLs while capturing events from the website automatically.
Website no-code event tracking
With Customerlabs no-code event tracker marketers capture events on the website without writing any code.
To get started with event tracking, please visit the website tracking section for more details.
---
Collecting data from servers
To collect data from your servers, you can create a custom source and you'll be provided with a dedicated webhook to which you can send JSON data via REST.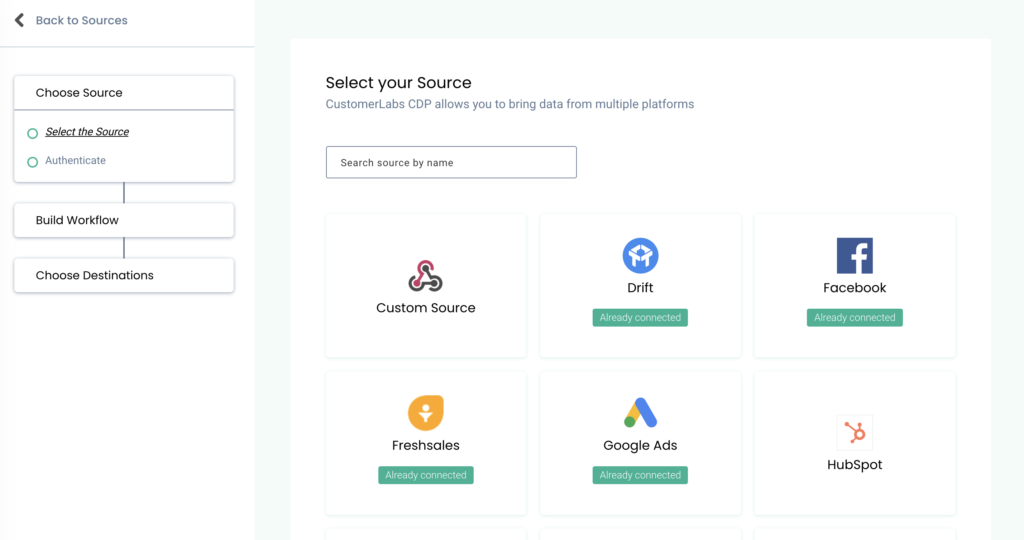 While sending the data to custom sources webhook, make sure you add user or group identifier so that CDP knows to which user or group the event should be mapped to.
The JSON data can be filtered and mapped based on your requirement, to create an event.
---
Collecting data from cloud apps
We support various apps like CRMs, Marketing Automation Platforms, Billing Platforms, and many more.
CustomerLabs CDP supports real-time data via webhooks at the moment, going forward we will supporting batch updates (hourly data syncing). We'll update you once we release that feature.
To bring your old data, you can export as CSV format and import the data into CustomerLabs CDP.
Cloud apps supporting webhooks
If the platform is not available an in-built integration, you can use Custom Source webhook to collect the data.
---
If you require us to release any source, do leave a message in the chat, we will get back to you with the release schedule.