Customerlabs CDP Documentation
CustomerLabs CDP+ Facebook Integration
CustomerLabs CDP+ Facebook Integration
Integrate Facebook with CustomerLabs CDP and sync your audience segments created in CustomerLabs with Facebook through events by creating a custom audience. Using this, you can retarget your high-intent audience based on their behavioral data with personalized ads.
Here are the steps to integrate Facebook:
Authenticate Facebook
1. In your Facebooks Ads manager, choose the Ad account to be integrated.
2. Locate your pixel id from Events Manager → Data Sources → Settings → Pixel ID and copy the pixel id.
3. If you don't have a pixel, create one by following the steps:
Go to Events Manager → Connect Data Sources → Choose "Web".
Give a name to the pixel and click on "Create Pixel"
4. Login to your CustomerLabs account.
5. Navigate to Facebook from Menu → Destinations.
6. Click on "Subscribe" and go to "Configuration Settings"
7. Paste your Facebook pixel id in the box as shown in the image.
8. Authenticate your Facebook account by clicking on "Connect with Facebook".
9. You will be redirected to your Facebook account.
10. Login to the Facebook account to authenticate.
11. Turn on the toggle for "Send data via server-side" if you would wish to send the data via server. (It is advisable to do so to track better)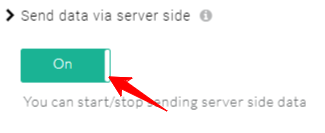 12. Click on "Save changes"
Setup Event Workflow
After authentication of your Facebook account, you need to setup the event workflow configuration to sync your audience segments with Facebook.
1. Go to Destinations → Facebook → Setup event workflow in your CustomerLabs account.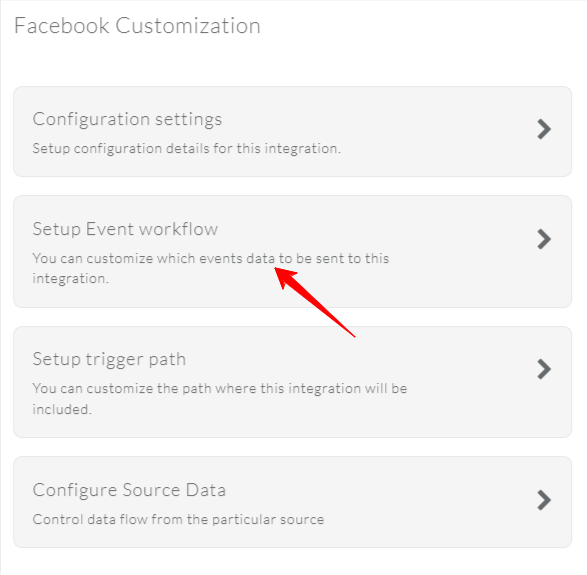 2. Turn on the toggle for all the "added_to_segment" events and other relevant default events that you need to track on your website (Note: If you would want to use "removed_from_segment", turn on the toggle for those events also)
Based on the minimum refresh interval you have given for any of the audiences created in CustomerLabs, the "added_to_segment" event gets refreshed on Facebook.
Note: The "added_to_segment" and "removed_from_segment" will be visible on this page once you have created an audience segment in CustomerLabs. It may approximately take 24-48 hours for the added_to_segment event to get populated on Facebook.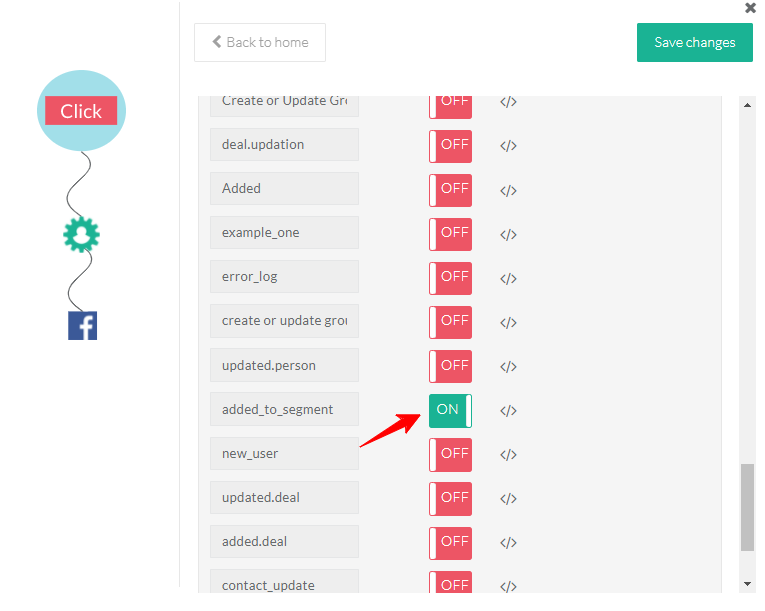 3. Click on "Save changes" once you are done with the setup.
4. You have now integrated Facebook with your CustomerLabs account.
After integrating, you can sync the audience segments created in CustomerLabs with Facebook as an event using the "added_to_segment". Click here → Sync your audience with Facebook.