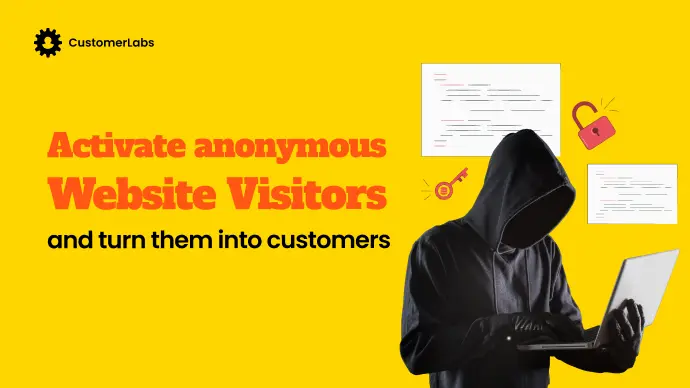 Marketers bring in relevant visitors to the website through various marketing channels like social media, paid ads, and organic channels.
All these efforts go in vain when you under-utilize the incoming visitors to the website.
Yes!! 97-98% of website traffic comprises anonymous website visitors and you just interact with the remaining 2-3% of them who have either subscribed or made a purchase.
Imagine, if you could pull 2-5% of conversions from those anonymous(unknown) website visitors. If that is the case, then, you'll be the most incentivized employee. Woohoo!
But What Happens In a Traditional e-commerce Marketing Funnel
While speaking with many digital marketers there's a strong belief that the campaign structure should split into Top and Bottom funnel campaigns.
Top funnel campaigns are focused on age groups, demographics, and interests powered by third-party data i.e. ad platforms majorly.
For bottom-funnel campaigns, a series of retargeting ads are run for 7-21 days to convert those who abandoned the cart and checkout pages.
For example, brands will spend only 2 cents on engaging and converting anonymous visitors for every $1.00 spent on acquisition.
And these same brands will dedicate most of their time and resources to converting their known visitors (2%) to purchasers which is considered to be a great conversion metric.
How To Identify Anonymous Website Users?
Before we talk about how to identify & convert anonymous website visitors let's quickly understand the difference between an anonymous and a known visitor.
Difference between the known and unknown visitor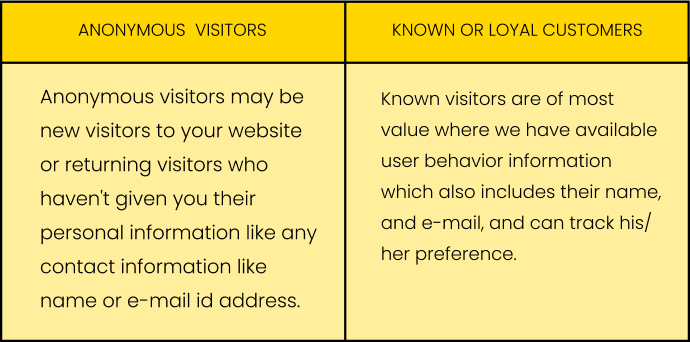 98% of the website visitors are ignored or left unnoticed and are anonymous visitors or anonymous potential leads. As the obsession revolves around the top and the bottom of the funnel, the majority of website traffic (anonymous visitors) is stuck in the mid-funnel.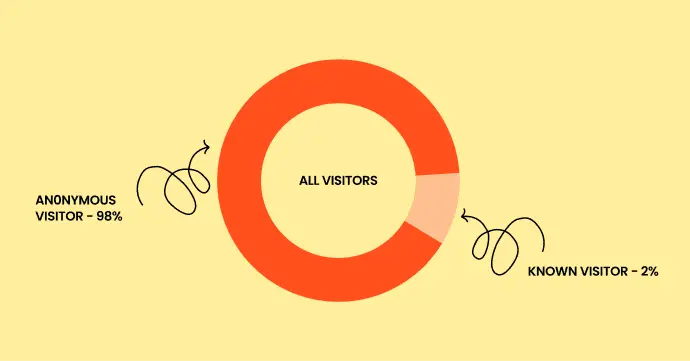 Anonymous Website Visitors Are Stuck In mid-funnel Because
No user behavior data:
When a user lands on the website, they perform various actions and events. But the information that most brands collect is the basics – demographics, age, name, etc.
With this information, all the users are treated and targeted in the same way with no personalized engagement.
For instance, if a user has viewed a couple of products in the footwear category, and left the page, we could segment and retarget them like "product page visited less than 3 times" with messaging relevant to them that brings them back to the site.
i.e.we could segment the website visitors based on user behavior and distribute content that helps the user to move towards purchase.
Let's imagine, hypothetically, you have the user behavior data of the users across the funnel. But the re-targeting ad campaign still is an epic fail.


Why Are Retargeting Ad Campaigns an Epic Fail?
Let's say, you wanted to segment the "product_viewed for more than 3 days" and run a personalized ad campaign on Facebook to make them revisit the website again.
But the custom audience match rate for the segment "product_viewed" on Facebook is very poor
When you upload the 20k users of the custom audience list "product viewed audience" in the audience manager, Facebook could match only 25% which is close to 5k users from the total audience size.
Why Facebook Custom Audience match rate is poor?
Before iOS'14+ update:
Facebook was your data host as Facebook had access to everything about your website including who does what. You could certainly target the audience, segment them and set up the ad campaign on Facebook itself. So this retargeting campaign yields a decent performance as well as revenue.
Post iOS'14+ update:
Facebook has limited access to your user behavior data as the iOS user has the choice of opting out from tracking from the advertisers.
With lesser access to behavioral data and limitations in pixel tracking, the match rate crumbles and falls to less than 25%. This results in shrinking the remarketing audience size substantially (i.e. there are instances you won't be having enough audience to run remarketing campaigns).
Even if you have enough audience to run remarketing campaigns, the campaign performance at present compared to previous campaign performance before the iOS 14+ update would be very low.


Privacy Doesn't Stop With Just iOS Updates
Adding fuel to the fire, privacy updates just don't stop with iOS'14, there is a long innuendo of Google phasing out third-party cookies, and android stopping pixel tracking.
Marketers' takeaway after the iOS14+ and other privacy updates are:
1. Retargeting your audience is going to be an impossible task as your users have the choice to opt out from tracking.
2. Relying on Facebook pixel tracking for understanding your website visitor behavior data and relying on Facebook for audience segmentation and targeting is not going to remain the same.
Activate The Anonymous Website Visitors To Increase Your Purchases
When we say, first-party data, it is more than an email id, contact number, form-filled, and CRM.
Anybody who stumbles on your website is your first-party data.
First-party data is firsthand information of your website visitors. It is more valuable than less direct information collected from other parties and can be used to improve marketing, sales, and product development efforts.
Data is collected from the website visitors through cookies from the website, CRM platforms, social media profiles, and mid-funnel audiences i.e., your anonymous website visitors.
Generally, 98% of website visitors are anonymous visitors. They could have landed on your website from a Google ad, a Facebook ad, a social media meme or newspaper ad or television ad, or an organic search.
The majority of the anonymous visitors are the high-intent audience who can be nurtured and pushed to the bottom of the funnel.
First-party data improves Facebook's custom audience match rate
Like we distinguish known visitors and anonymous users, we collect certain information from both. Along with the first name, email id, and demographics, we also collect Browser ID, Click ID, IP address, User-agent, Facebook ID, Google ID, etc of both anonymous and known users.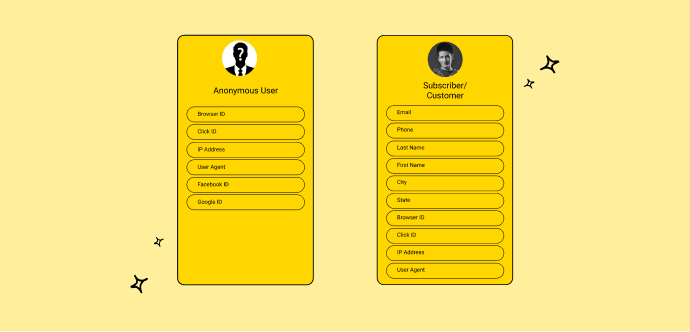 With the anonymous user data, we collect, Facebook could easily match the audience.
Read here to know how first-party data improved the Facebook custom audience match rate beyond 80%
Improve event match quality
First of all, event match quality indicates how effectively the customer information is sent from your server to a Facebook account. High-quality event matching will improve the campaign performance, and attribution and decrease cost per action.
We collect all the parameters that are required on Facebook to improve match quality. With the first-party audience data, we could pull 100 % match rates.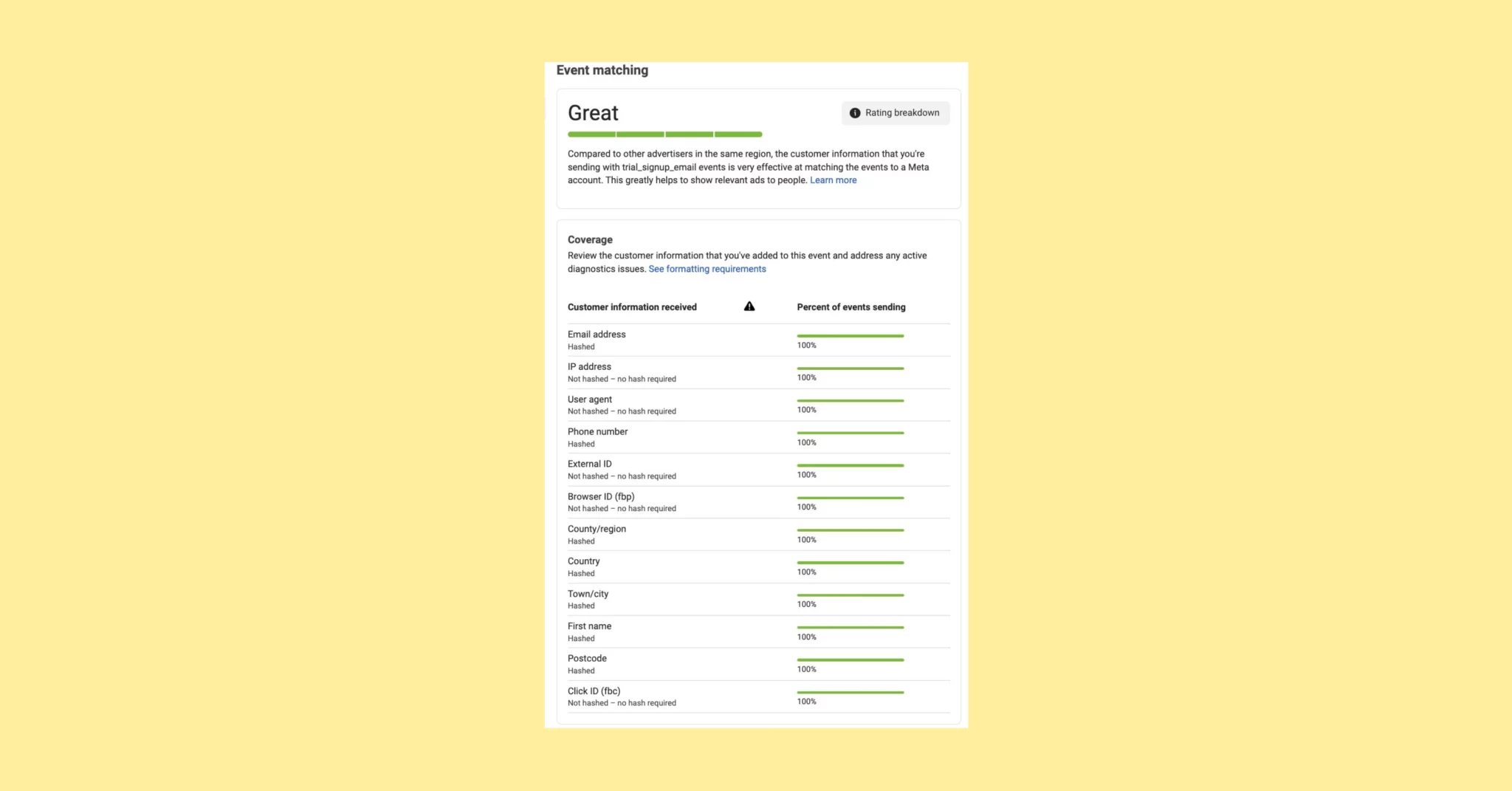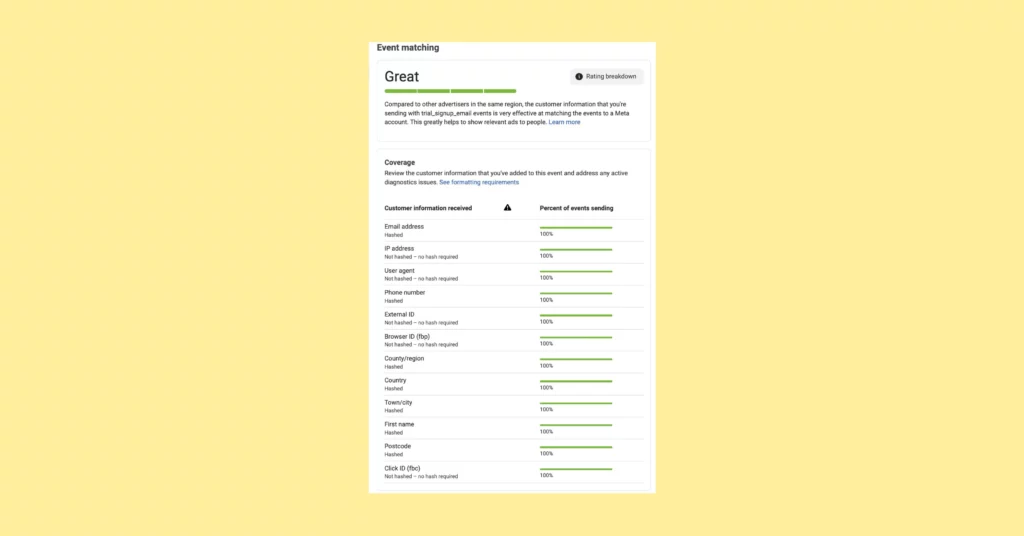 Customer information parameters help you match your events to a Facebook account so you can attribute conversions to your ads and deliver them to people who are most likely to make a conversion. To know more about event match quality and how to improve it.
Match Rate experiment: What works better – First-party data vs Facebook pixel data
Going forward, there won't be third-party cookie tracking which makes it obvious for businesses to start collecting our first-party data.
To back up the above statement, we did an experiment with Facebook pixel data and first-party data of our very own website blog visitors.
Using the pixel's data, Facebook could match only 25% of the users from the total audience size of 16k whereas with first-party data- Facebook could match beyond 90%.

And Google match rates for anonymous users increased when we experimented by sending first-party data to Google.
Google can easily identify the people in the customer list with first-party data, whereas this is not the case with third-party data.
Third-party data often comes from a variety of sources across the web, which is then aggregated and segmented, and sold to other advertisers.
But, first-party data is your own data collected by yourselves thereby it could be more relevant in targeting your audience.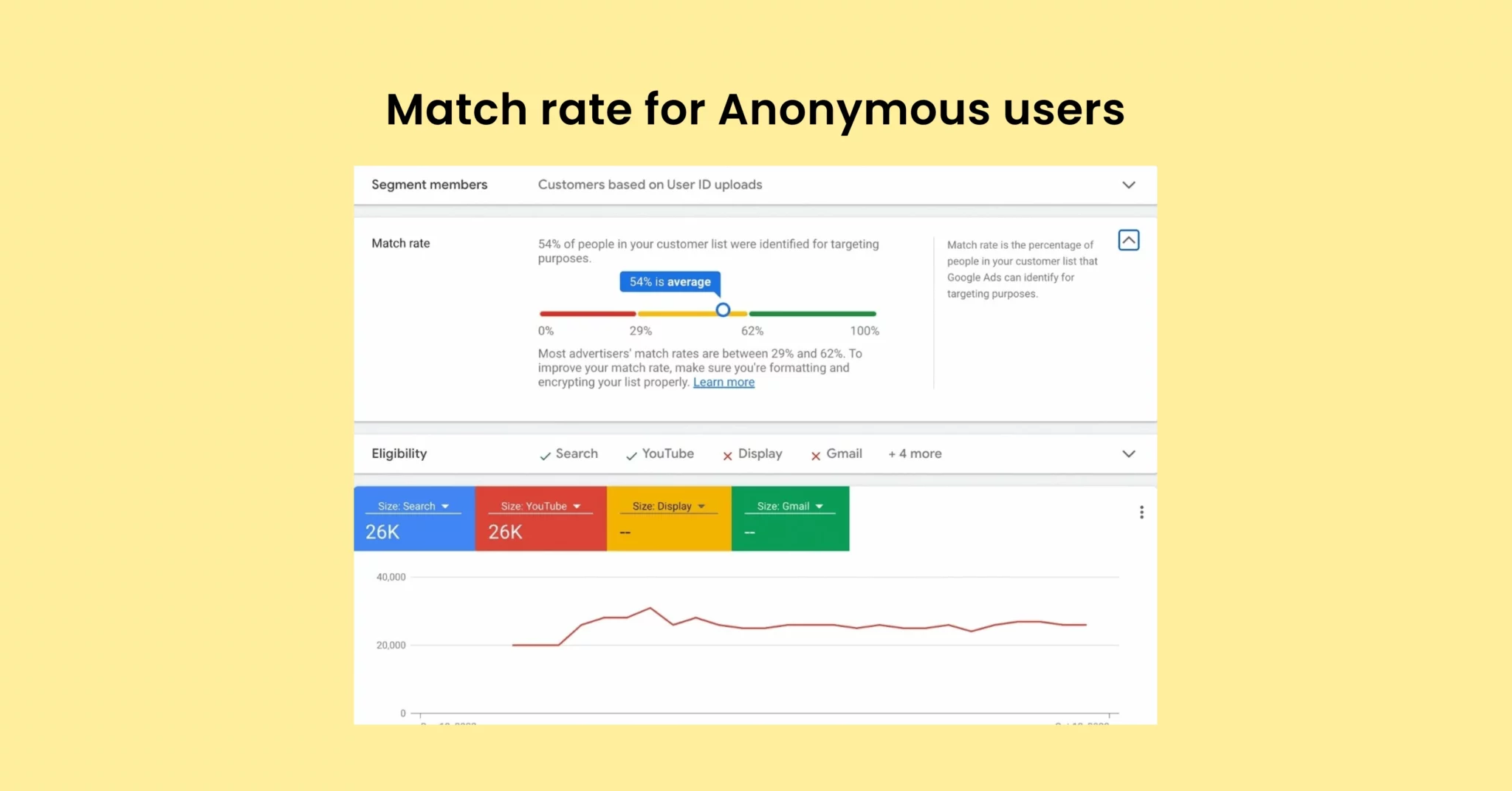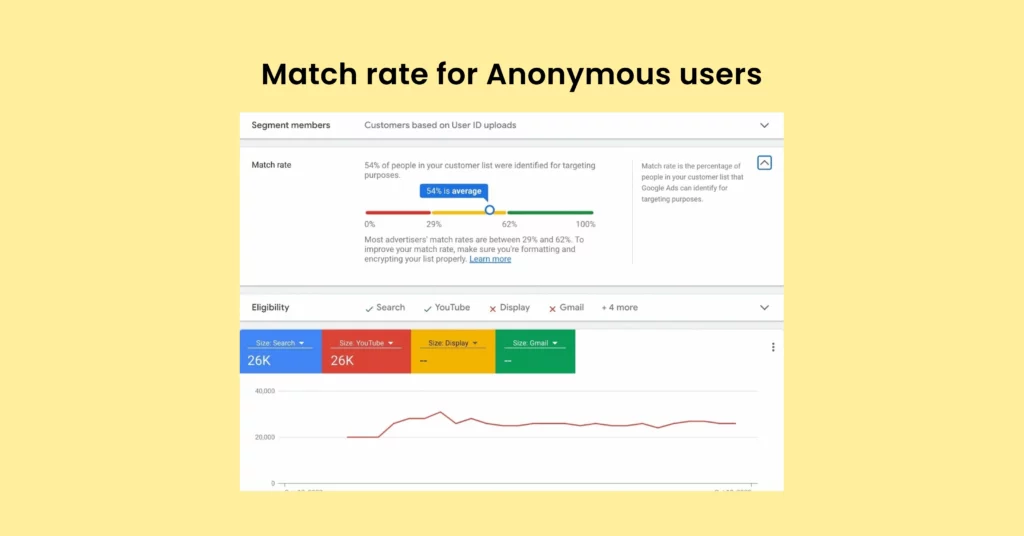 Segment your anonymous website visitor based on user behavior:
There are some default segments used by most e-commerce marketers like added-to carts, wishlists, and checkouts which are ultimately the bottom-of-the-funnel segments.
But the mid-funnel audience needs to be treated a little differently.
Segment the anonymous visitors stuck in mid-funnel: "Personalised engagement"
Product _viewed_more than 3times
Cart_abandoned for more than 30 days
Product_viewed_not_ added_to_cart
Segment the users who have added to the Wishlist more than 10 products
Segment the users who are first-time visitors and provide them "newbie discount codes"
You can also do advanced segmentation based on user behavior and predict the next potential action the user would make. For example, you can predict the users who're likely to purchase in 10 days. Check out the various techniques and advanced audience segmenting you could do.
Note: Check out the case study of India's leading fashion brand, which activated its mid-full audience and improved its custom audience match rate beyond 80% using first-party data.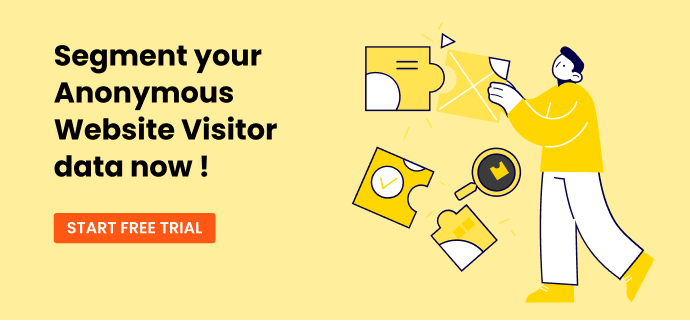 Now, how to make Facebook deliver your ad to the right people at the right time?
Facebook said, "When optimizing for conversions, we recommend choosing one that happens about 50 times per week at a minimum. Our system needs that many to learn from. Our system needs to learn so that it can deliver your ad to the right people at the right time to get you the best results."

Strategies to improve your Facebook campaign optimization:
Optimize your e-commerce campaigns for micro-conversions
Micro-conversions are simple actions on your website/any landing page. It is something a user does on your website that shows a genuine interest in your offer.
Optimizing your ad campaign for micro-conversions for e-commerce or B2B or any type of business will help Facebook to optimize and target the right audience.
For example, an e-commerce marketer, can optimize the conversion event to "added_to_cart" rather than "purchased" which will still drive users with the intent of buying.
Optimize your B2B campaigns for micro-conversions
For B2B businesses, marketers can optimize the campaign to micro-conversion events like "scrolled the page up to 50%" rather than "schedule a demo" or "survey attended" which will still offer the high intent audience.

Key Takeaways
In the world of growing concerns around privacy, it's time you start collecting your own customer behavior data i.e. first-party data; and activate your audience throughout the marketing funnel to give a personalized experience for the users.
Anonymous website visitors are the high-intent potential purchasers who are ignored and left unnoticed. Collecting anonymous website visitor data i.e. first-party data is cheaper, accurate, and reliable for any business.