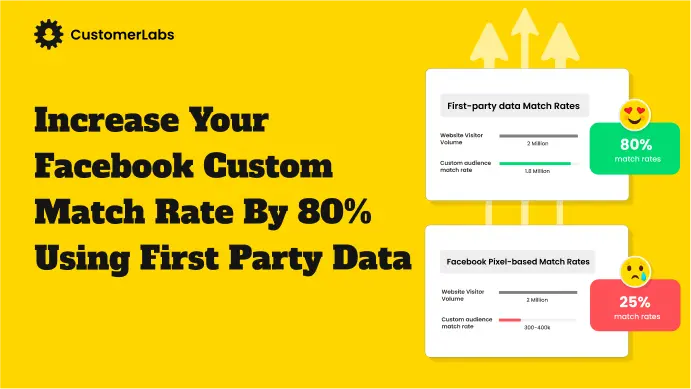 No good reach, low match rates, huge spending on ads but fewer conversions, and drop in ad campaign performance. Are you facing such issues? Welcome to the club. Most digital marketer faces these problems – Reduced Meta custom audience match rate despite spending hefty dollars on ad campaigns.
Now, to be in a better position, you have to enhance your Meta custom audience match rate (also known as the Facebook custom audience match rate) and achieve a higher Return on Ad Spending (ROAS). And to achieve that, you would need first party data, your savior.
Declining Ad Campaign Performance – The Reason Behind the Curtains
With the iOS 14.5 update from Apple, users will now have full control of their devices. The users can choose to either opt in or opt out of tracking by apps/browsers.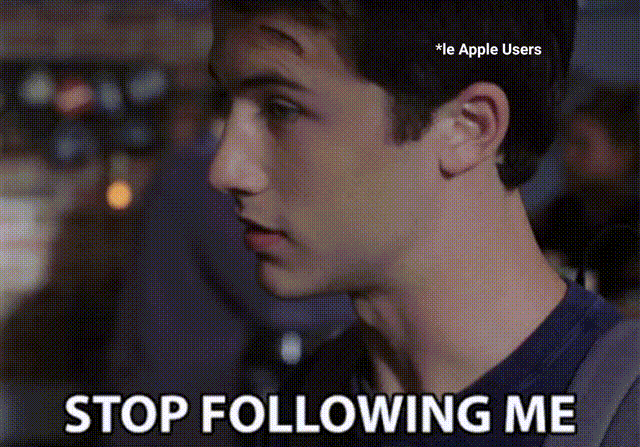 Emergence of data privacy laws such as GDPR / CCPA limiting the effectiveness of third party cookies. Along the same lines, Google also has announced phasing out of third party browser cookies soon.
What Worries the Digital Marketers?
Facebook's audience match rate dropped to 25% or below & the event match quality is either Poor or Okay. The same was the case with the custom audience match rate of Google Adwords and other ad platforms.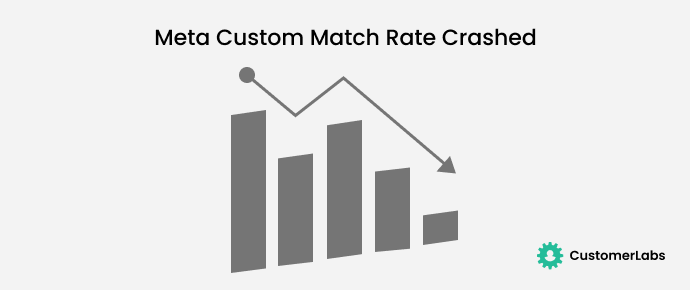 Why You Are Unable to Scale Retargeting Ads on Meta: Explained
Once you initiate the retargeting ads, Meta shows you the ad campaign reach, match rate, match quality, etc. You either see poor or okay match quality and the reach also is limited.
And when the ads run, you soon realize that the ads are not performing after a few days. Meta's algorithm works in a way that the consumer behavior data expires in 28 days and becomes no longer available for the ads to run effectively.
Therefore, it becomes difficult to scale the retargeting ad campaigns to make the ads run for longer periods effectively.
Some marketers did realize this but thought it is the only way and there is no alternative solution.
This was a thunderbolt in the hearts of digital marketers who were dependent solely on third-party cookies.
By understanding Meta's algorithm, and the Facebook pixel that only depends on browser cookies, the most probable solution to the problem will be first party data collected on the server side.
Achieve High Meta Custom Audience Match Rate: First Party Data
First Party Data is the answer to the aforementioned problems. You can collect and seamlessly transfer the first party data to the Meta ads manager using Meta Conversions API.
First Party Data is the data you collect from your customers or users with their consent. It can be collected from various sources. A few of them include –
When a user visits your website (anonymous and known users)
A visit to your offline store
Fill out a form or a survey (online or offline)
Subscribe via email
And various other ways.
Wondering how an anonymous website user gives you data?
When visited, anonymous website visitors leave their browser ID, click ID, and various other parameters that help identify the user and constitute the first party data.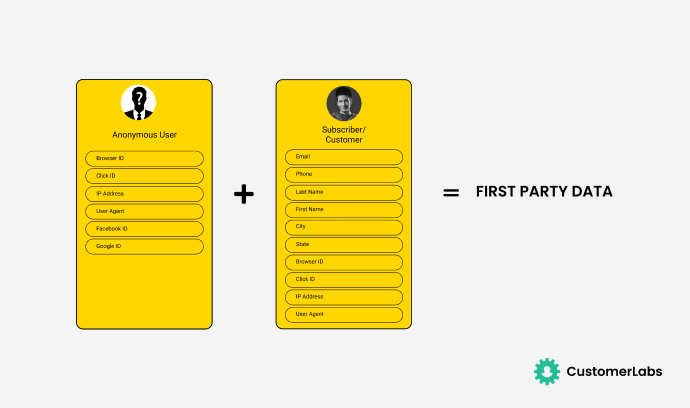 The 1p data is your data. You have complete ownership of it and therefore, the data stays with you even beyond 365 days. Thus, you can run the ads forever!
Therefore, you can see the following results:
Increase in your Event Match Quality (EMQ)
High Meta custom audience match rate
Higher ROAS
Increased ad campaign performance
Experimental Proof: High Facebook Custom Audience Match Rate
Using the custom intent audience on Facebook, we shared the data collected by Facebook Pixel for the 16000 visitors on our blog page and we were able to get a audience match rate of only 4500+ i.e., 25% match rate. With such a low audience size, it will be inefficient to run the ads as they eventually stop after a few days.

So, here's what we did…
We collected the blog visitors as first party data using CustomerLabs CDP and synced it with Meta. Out of 16k+ visitors, we achieved a 15000 match rate, i.e., 90% match rate.

Strategies For Success: High Meta Custom Audience Match Rate
The ad campaign metrics are affected majorly by audience size and reach.
For Larger Businesses
With smaller audience sizes the ad campaigns are not scalable because you cannot segment the audience/events properly and thus, even after increasing the budget, the reach reduces. Therefore, the match rate drops and makes the ads ineffective.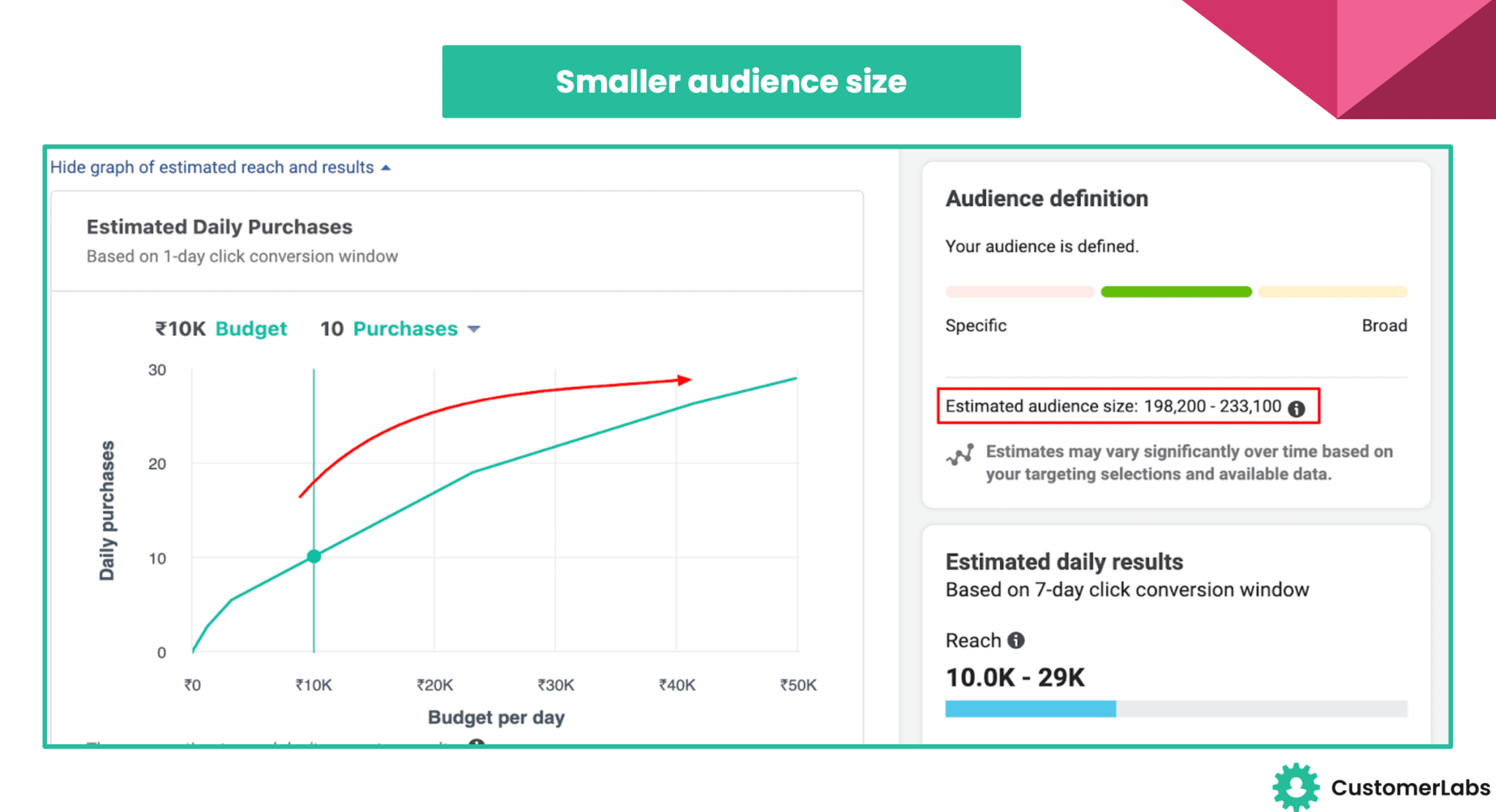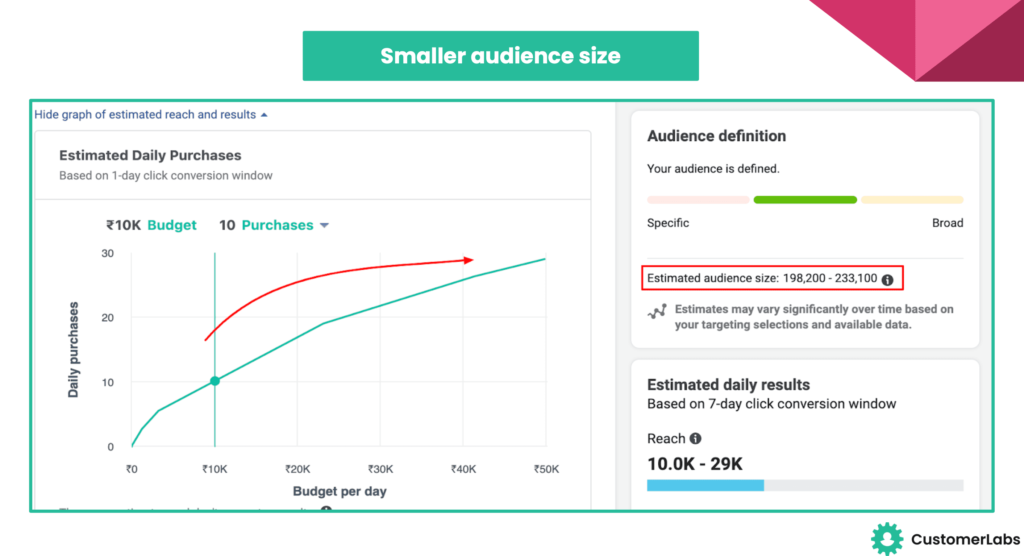 Whereas, with larger audience size, the point of diminishing returns does not occur, making your ads run effectively for a longer period of time effectively. You can also notice that there is a 3X increase in the reach as well. Therefore, the ad campaigns are scalable and last long leading to an increase in Meta custom audience match rate.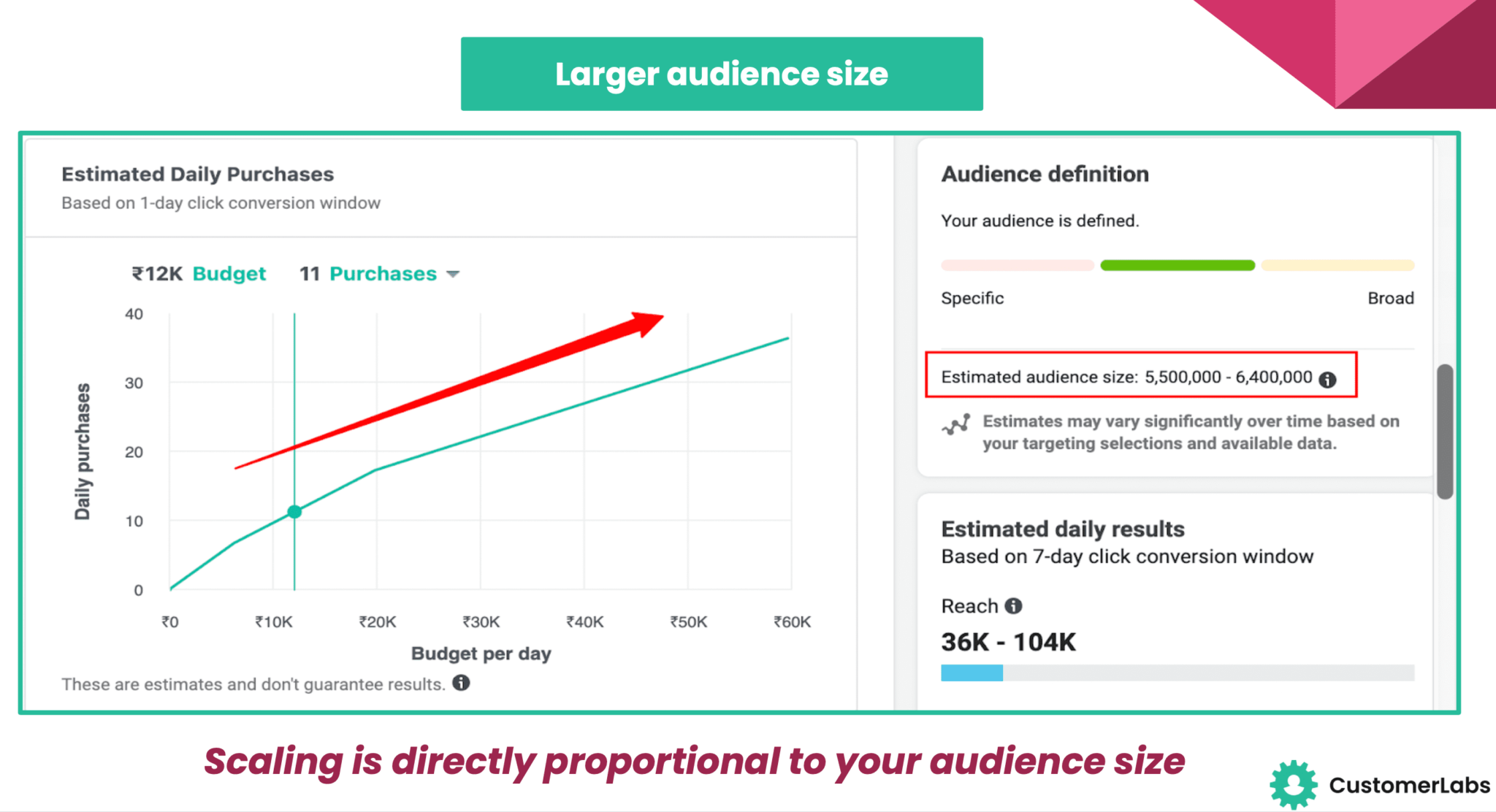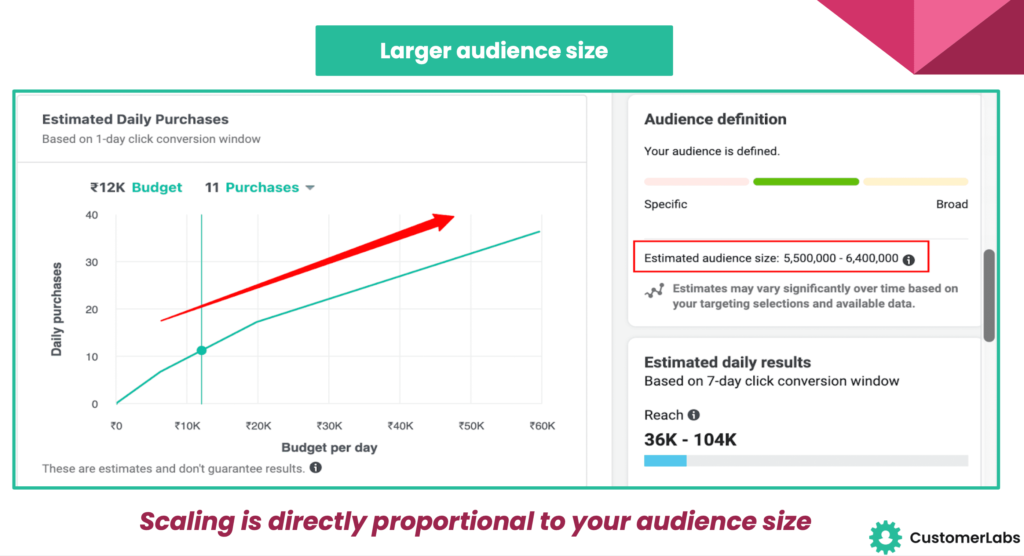 For smaller businesses
For small businesses having a smaller custom audience size (<200k users), we suggest a combination of multiple segments from the advanced audience segmentation for a single campaign to enhance the performance. With this, you bypass the point of diminishing returns achieving ever-increasing ad campaign performance.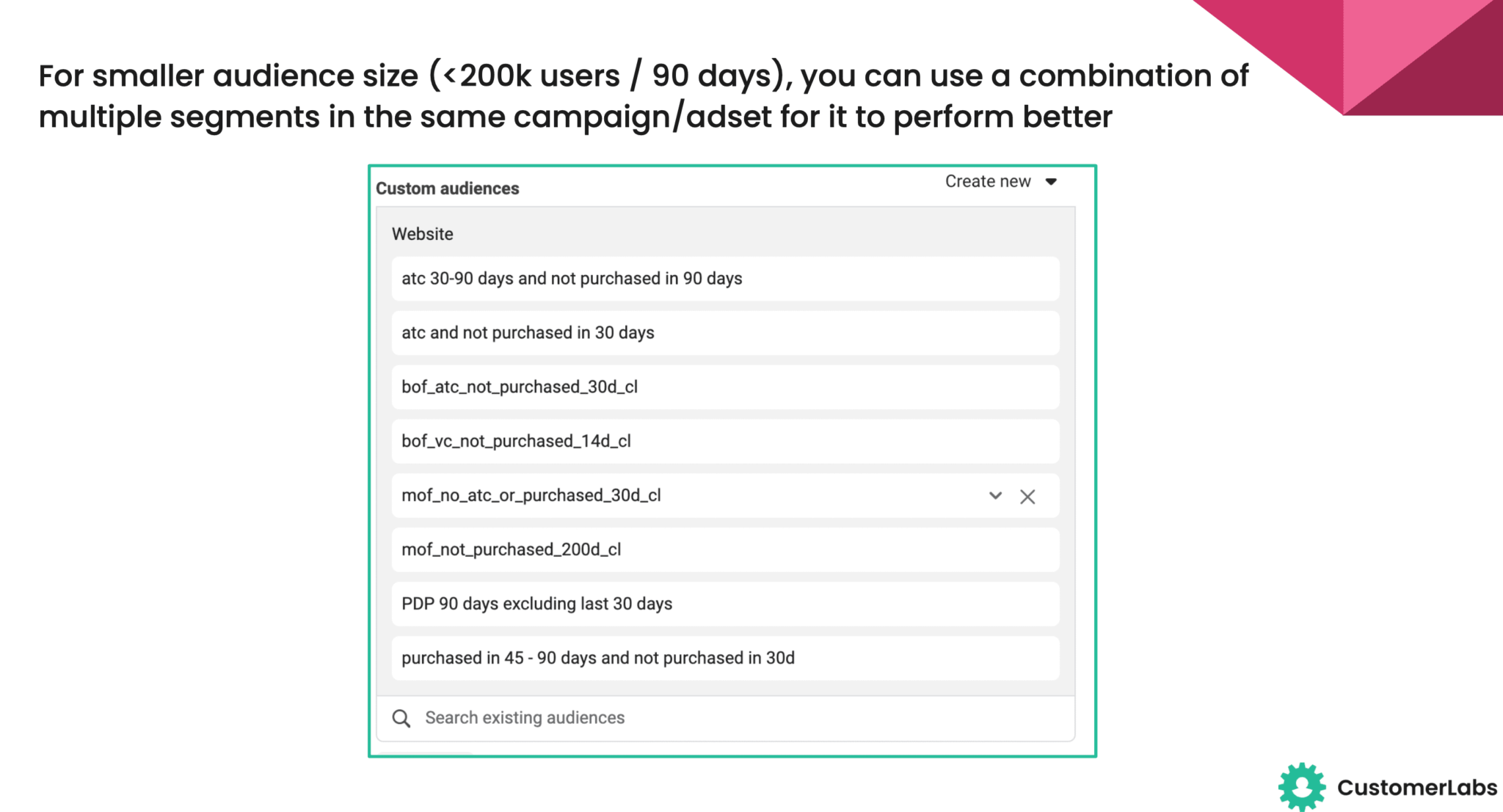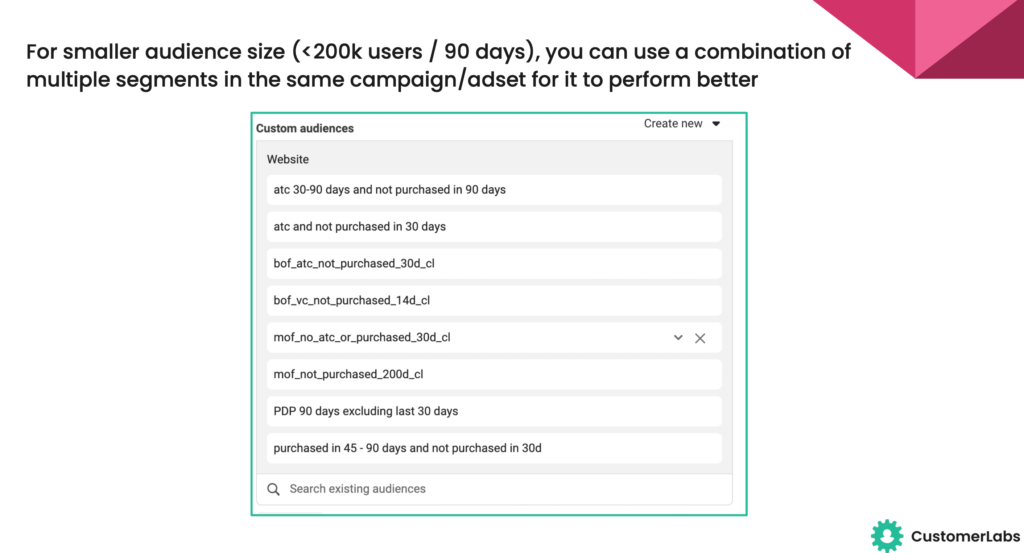 First-Party Data collection made easy with CustomerLabs CDP
CustomerLabs has developed a unique tool that helps marketers across the globe skip the expensive developer cost. Brownie point – It is a No-Code tracker that connects with your domain.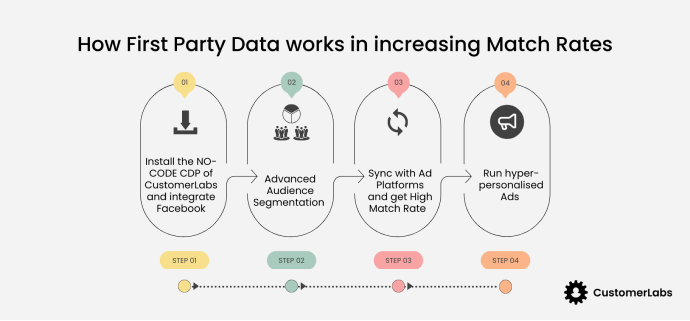 Audience segmentation should be based on user behavior to give a clear direction to your advertising strategy.
With advanced audience segmentation in place, CustomerLabs CDP helps you segment the audience data into several micro-segments such as
Added to the cart but not purchased in the last 15 days
Wishlist of more than 10 products in the last 30 days
Visited the add_to_cart page more than 5 times in the last 7 days
Abandoned their cart for more than 60 days
White_dress_viewed more than 3 times in the last 7 days – were retargeted with similar dress.
An added advantage is that even if the user browses from two different devices, you can still identify the user using various other parameters with our help.
With our advanced audience segmentation, you can
Run hyper-personalized ads
Optimized ad spends
Drive the customers into the desired funnel (Top/Middle/Bottom)
Get desired results that include – higher conversion, more outreach, greater visibility, etc.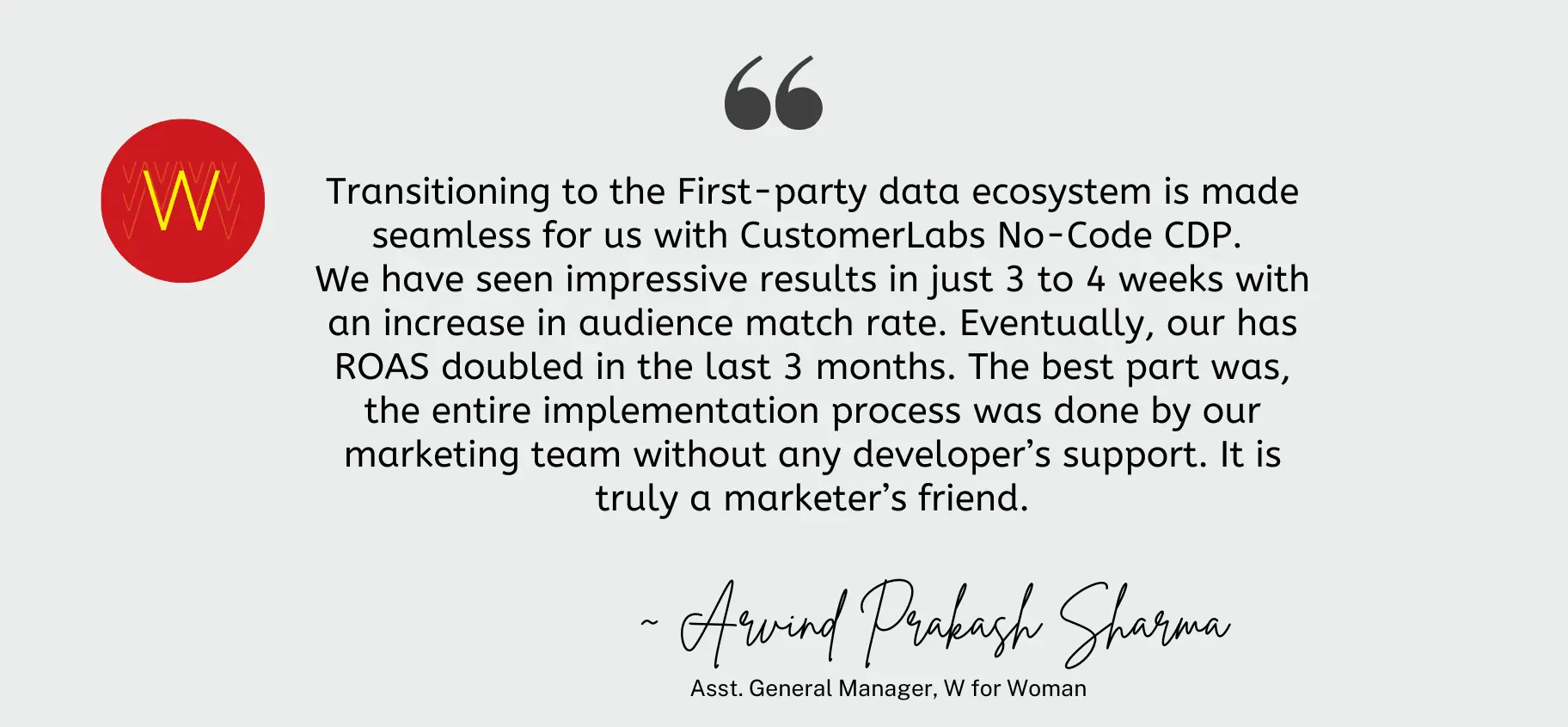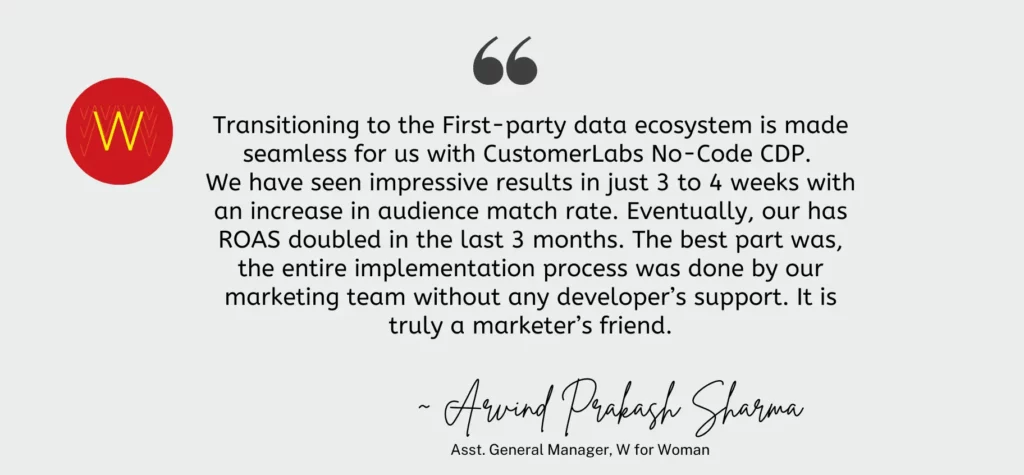 First Party Data: The New Oil
Collect First-Party Data Now!
You need first-party data
To improve the Facebook custom audience match rate.
To provide leverage to your retargeting ad campaigns
Because YOU OWN IT
To reduce your customer acquisition cost.
Because in the next 21 months, Google will be phasing out third-party cookies.
As it helps in increasing your ad performance.