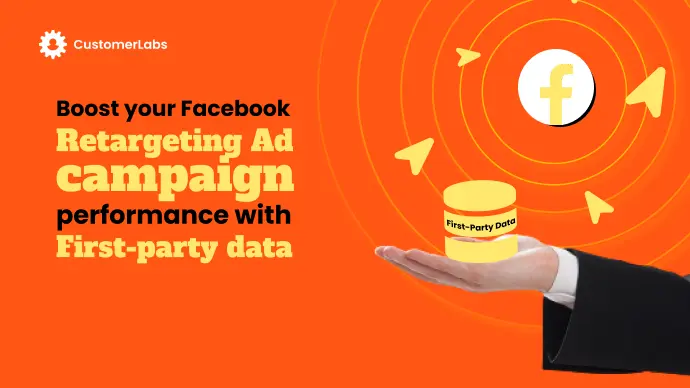 Every marketer knows that Facebook retargeting helps increase conversions but the sudden drop in retargeting ad campaigns caused rising tensions.
It is high time to figure out solutions to stay ahead in the marketing game.
We're going to discuss and help you out with solutions that focus on long-term.
What is Facebook Retargeting?
Meta/Facebook retargeting is a method of reminding people who have already interacted with your business either on your website, Facebook or Instagram page.
This strategy works best in increasing your conversion rate & driving your prospects to the bottom of the funnel.
Why The Sudden Decline in Facebook/Meta Ad Campaigns?
The rising data-privacy updates have crashed the Meta ad campaign performance. The Apple's iOS 14.5 update & most browsers blocking the third-party cookies have made the ad campaign performance hit rock-bottom.
Eventually, the data sent over by Meta's pixel has gradually reduced for any ad to run. Therefore the ad campaign performance is reduced.
How Facebook Retargeting Worked Before and Why Can't We Get The Required Results Now?
In the last decade, digital marketing depended on tracking pixels and cookies to record a visitor's browsing behavior.
Pixels usually track user paths from website to website and aggregate a detailed profile based on various parameters including age, interest, status, shopping history, etc.
After the GDPR implementation in 2018, cookie tracking without user consent is considered unlawful and against the GDPR, striking the first blow on the pixel tracking technology.
With growing concerns over privacy by internet users, browsers like Safari and Firefox have blocked third-party cookie tracking by default. Google's chrome follows the same path to phase out third-party cookie tracking by 2024.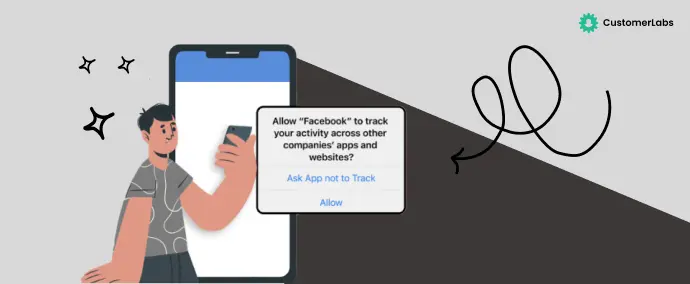 The latest Apple iOS'14 update has sent a strong message for businesses to take control of their website data rather than depending on the Facebook pixel data.
The Real-time Impact on Meta/Facebook Retargeting Campaigns Due to iOS'14+ Updates
Retargeting audience size reduced beyond 50% as most users have opted out of tracking.
Match rates reduced below 25%
Unlike earlier, using Facebook Pixel, we were not able to get match rates more than 25%
~ India's Largest eCommerce Marketer
Who Is Impacted?
The update has swiftly changed the way of how social advertising works. The key impacted areas are
E-commerce businesses/ subscription businesses who like to show ads to visitors who feed on their new blog/ article.
According to Meta, the chances of retargeting audience size are going to get smaller as more devices upgrade to the iOS 14 update.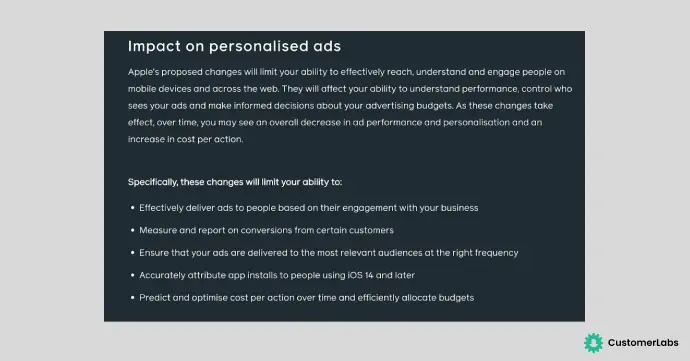 Source: Facebook – Impact on ad marketing
This iOS'14 update problems are then going to replicate and evolve in google devices as well after Google's privacy updates.
The way to solve these problems is to take control of your e-commerce website/ store's first-party data.
How Does First-party Data Help Boost Your Facebook Retargeting Ad Campaign Performance?
First-party data is the information you directly collect from your audiences or website visitors. It is of two types:
Anonymous visitors – 98% of the website visitors won't provide you any data, i.e., email address, first name, last name, mobile number, etc., and are called anonymous visitors.
Customers/Known visitors – Website visitors who provide their name, email address directly while making a purchase or any other way are called known visitors/ customers.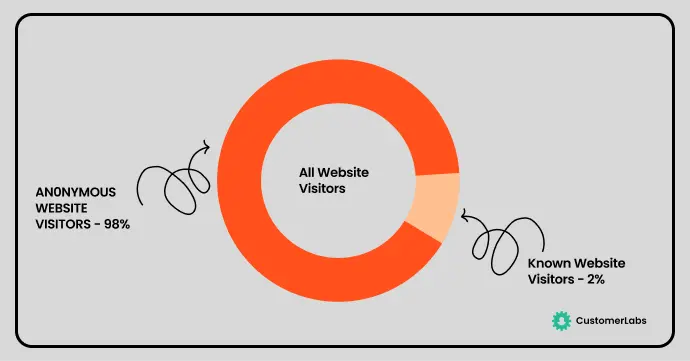 98% of the website visitors are anonymous and are brought in via various marketing activities and the chances of these majority visitors making a purchase are higher.
Even 2-3% sales from these anonymous audiences can improve your Facebook retargeting ad campaign performance by multiple times leading to a higher revenue.
Consider utilizing CDP tools like CustomerLabs to collect both the anonymous and known visitors of your website to scale your ad campaign performance.

Advanced Audience Segmentation To Boost Your Personalized Retargeting Ad Campaigns
Personalization is the key to winning any marketing strategy. While running retargeting ad campaigns, you can run personalized ads based on user behavior and their activities.
After collecting the anonymous and known visitor (customer) data. The data can be segmented based on their behavior to run personalized ads for each segment.
The following anonymous visitor segments are created based on their behaviors and these segments help run personalized ad campaigns specifically catered to the segment groups.
Product viewed more than 3 times
Cart abandoned for more than 45 days
Category viewed more than 2 times
Initiated check out and not purchased
Added to cart
Products in the wishlist for more than 60 days
Real-time examples:
Anonymous visitors who visited a particular product i.e, black jeans/ black shoes can be segmented under visitors who checked black jeans in the last 60 days
For this segment of visitors who checked black jeans, a marketer can run a 40% discount campaign sale for that particular black jeans and make them purchase it via retargeting ad campaigns.
Likewise, you create a segment group for known visitors and make repeated sales to increase the overall customer lifetime value. Here are some examples:
Customers who
bought black shoes before 6 months
purchased pink jeans before 5 months
purchased mobile on Cyber Monday sales
bought candles last Christmas
added products to the cart in the last 60 days
For a group of customers who purchased candles for last year Christmas can be segmented like – customers who bought candles last Christmas.
For this customer segment who purchased candles last Christmas, a marketer can run personalized ads with offers and discounts on candles to make them purchase again.
To seamlessly segment your first-party data audience, you can use CustomerLabs CDP audience builder to create various audience segments.

95% of companies that saw 3X ROI from their personalization efforts increased profitability in the year after their personalization efforts, says Monetate
Case Study:
Here's the result of one of our e-commerce client's match rates from the total audience size of 2 Million – Facebook pixel could match only 25% of them while with CustomerLabs CDP they got a match rate beyond 80%!

Activating mid-funnel audience for Facebook retargeting campaigns
Now with these high match rates, our e-commerce client has activated his mid-funnel audience for retargeting campaigns with the following segments:
Added to cart and not purchased
Added to cart before 60 days
Product viewed more than 2 times
Wishlisted for more than 60 days
Product viewed not added to cart
The segmented audiences are synced with Facebook as an event every day with CustomerLabs CDP. This lets the e-commerce business run ads even beyond 180 days, breaking the barriers.
Based on the segments created, the ads are personalized and the mid-funnel campaigns went live on Facebook.
Here are the results obtained proving that first-party data strategy outsmarts the usual pixel-based campaigns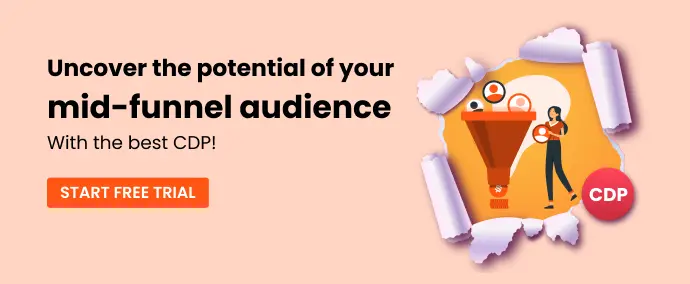 A Quick Recap of Facebook Retargeting
Facebook has around 2.1 billion active users across the world making It a powerful advertising platform for marketers to generate high revenue. With third-party cookies coming to an end, it's time we use Facebook as just an advertising platform rather than a customer data host.
Businesses should start using first-party data rather than third-party data for running Facebook ad campaigns seamlessly forever. The best thing with first-party data is it is accurate, efficient, and can run highly personalized ad campaigns.In terms of retargeting campaigns and running funnel-based campaigns – the only solution for businesses is to start owning their data. If you require any assistance in collecting first-party data, feel free to book a time with us, we can help.
Looking to implement Facebook Conversions API? Check out our detailed guide on how to set up Facebook Conversions API