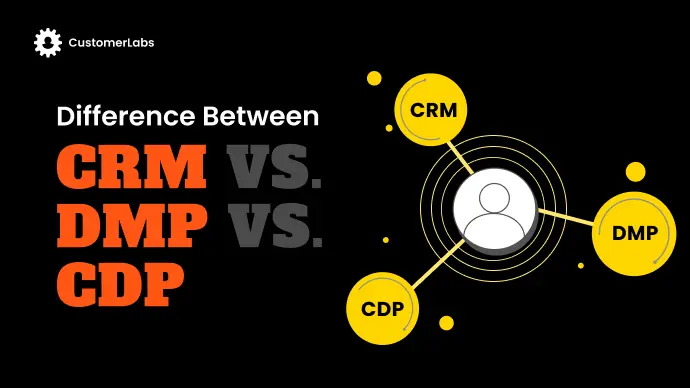 It is pretty much common to confuse when choosing the right data platform from among CRM, CDP & DMP. One mistake and boom! Your entire marketing strategy goes into vain. Therefore, it is crucial to know which platform to rely on and how to use it efficiently.
We've covered it all in this article for you to understand and choose the right & best customer data platform that suits your marketing strategies.
CRM, DMP & CDP: What are they?
CRM, DMP & CDP are all data platforms that ease business operations, especially for sales & marketing teams. However, the key difference is what data is collected, how it is collected, stored & organized. but they are each different in their quality of data.
What is Customer Relationship Management (CRM) software?
A Customer Relationship Management (CRM) is a system used to manage customer relationships, thus boosting customer satisfaction and increasing brand loyalty.
It collects and records customer information through direct contact with customers. The data a CRM can store includes all phone calls, emails, and website visits. This is a record of customer interactions with the brand. CRM was mostly useful in the 90's.
You should also note that CRMs find their place only in the sales teams rather than in a marketing team. Around 43% of sales people prefer to use intelligent sales tools as per the LinkedIn State of Sales report. CRM facilitates customer retention and makes your job easy in scheduling meetings and delivering the right experience & information.
Limitations of CRM:
It is data-driven: If you don't have access to accurate & timely data, CRMs are no good as they can store only the data that is fed into them.
Lack of CRM training: Most CRMs have a difficult-to-use interface that needs proper training on how to use & navigate through them.
Data quality issues: In cases of a larger customer base, there is a hazard of data being duplicated or inaccurately accounted. In such a scenario, CRM cleaning has to be done manually and is a hectic task.
High cost: They are expensive to have & maintain.
However, CRM can collect the data of known customers only i.e., PII (Personal Identifiable Information) and is very helpful with SMS marketing, email marketing & retargeting known users only.
What is a Data Management Platform (DMP)?
A Data Management Platform (DMP) is a platform that primarily collects data from other third-party sources and segments the data to build an audience. The segmented audience can be used to run retargeted ad campaigns. However, a DMP anonymizes the data before sharing it with the other advertising companies.
DMPs are vastly used by marketers, and marketing agencies and are greatly relied upon for retargeting and paid social & search, content recommendations, prospecting, and lead generation processes. Therefore, a DMP can be used for advertising, personalization & content customization.

DMPs help you build customer profiles and can be of great help in acquiring new customers as they provide insights on possible marketing strategies & tactics based on the analysis of the data sourced.
Limitations of DMP
Rely on third-party: One major drawback is that DMPs rely on cookies or other third-party sources to collect data. Due to the data privacy updates, DMPs lost their functionality as the access to the data is limited.
No 360 user profile: DMPs collect data from various third-party and second-party sources and integration of data from all such sources is complicated.
Not data privacy: Given the state of large organizations, massive data stored in cloud apps is collected from third-party sources and data from any third-party source cannot be classified under data privacy compliance.
Limited Data: With no more third-party cookies, it is nearly impossible for a DMP to collect the data from third-party sources.
Less-performing ads: The data sent by a DMP to an advertising platform is anonymized and therefore, it becomes difficult for the ad platform to link the data to the existing user information. Thus, the learning capabilities of the AI is reduced which leads to less-performing ads.
What is a Customer Data Platform (CDP)?
A Customer Data Platform is a software that collects and unifies customer data from multiple sources under one umbrella, providing a 360 view of each user.
In the emerging era of data privacy, CDPs are a lifesaver for marketers and businesses as they collect first-party data and rule out the guesswork of data-privacy & user consent. CDP gains more prominence due to the fact that ad platforms like Google and Meta no longer have access to user information like before.
CDP collects first-party data i.e., the data provided by users themselves which give marketers and businesses full control and integrity over their data. Marketers can understand their target audience better as CDP helps to track and analyze user-behavior data. Therefore, it is a perfect MarTechStack.
When you choose one of the best CDP, CustomerLabs CDP, a real-time CDP, you can even analyze the behavior of anonymous website visitors who comprise almost around 98% of your total website visitors.
Limitations of CDP
Unstructured Data: Unlike other data warehouses, CDP cannot integrate and export unstructured data.
Data visualization: Unlike DMPs, it's hard to visualize unstructured data.
Cannot buy Data: CDPs don't buy third-party data and collect only first-party data.

CRM vs DMP vs CDP – Differences & Similarities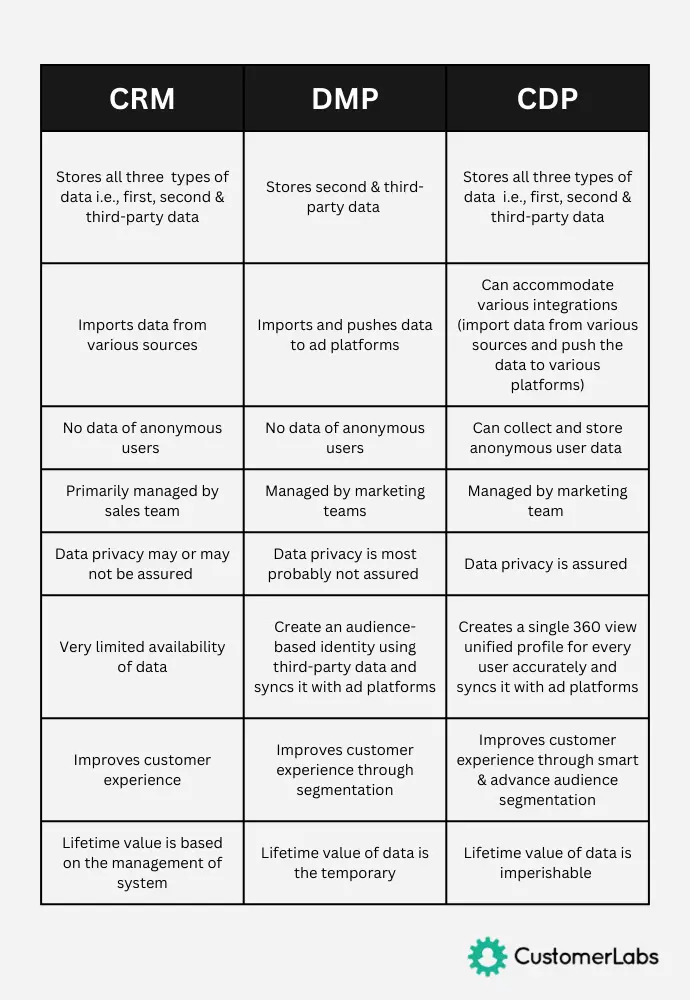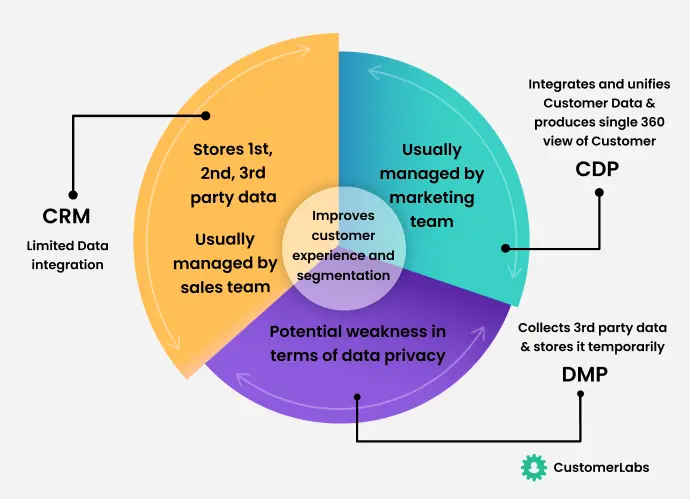 Use Cases of CRM, DMP & CDP:
You can use CRM to streamline sales, marketing efforts, customer service & account management
DMP helps to manage & analyze customer information to plan and optimize campaigns to target the right person at right time
CDP helps to collect First-party data, and integrate data across various sources and host a single unified customer database and run successful ad campaigns.
However, due to the upheaval of GDPR and other data privacy laws, marketers are not sure how DMPs can track and analyze information hence no use in investing in third-party tracking, because third-party data is not authentic like first-party data and therefore should not be preferred.
Why First-party Data Is the Future For Marketers
Emerging data privacy updates such as the Apple's App Tracking Transparency, blocking of third-party cookies from major browsers etc., prove that it is high-time to shift to first-party data strategies
User consent is taken to collect their data
First-party data is available ceaselessly
Can target the right audience at the right time with first-party data
Accurate customer data to understand and offer personalization to the users
Cost-optimization in collecting the first-party data
Facilitates direct relationship with customers, thereby helping in better understanding of customer needs
Can collect the first-party data without browser cookies

Why CustomerLabs CDP?
Data silos: With CustomerLabs you can create a unified 360 degree profile (Identity resolution) for each customer.
Omnichannel activation: Data communication made easy in just a few clicks and helps ease your omnichannel marketing efforts.
No-code Customer Data Platform: We are a no-code CDP that makes it easy for marketers to collect first-party data across websites, CRMs & other marketing tools.
Broad audience segment: You can create micro audience segments as per your marketing strategies and target the right audience at the right time.
No Techie needed: Easily accessible for marketers without any developers' help.
Real-time CDP: We sync the data in real-time with promising results.
Key Takeaways
All 3 data related software- CRM, DMP & CDP work toward improving the customer experience. It is basically an evolution of the software to offer more user personalization. CRM was used in the 90's, DMP in the mid 2000's, & CDP since 2013. Let's wait and see for more to come in the future.
Understanding the use cases and opting for the right software according to your organizational needs is foundational
For marketers, it is crucial to understand the customers' needs through these challenging times where data privacy is a priority.
Collecting First-party Data is the key to the future of marketing.
CustomerLabs CDP will change your POV towards Digital Marketing.
There are a lot of changes happening in the digital advertising industry. Apple intends to let users have more power over how their data is used. With Apple platforms new privacy initiative that requires user permission to track user data across applications.
And Google has announced about phasing out third-party cookies by 2024.
Given all these transformations. It is pretty much evident the future holds good to systems & tools that use first-party data to perform their marketing activities.
Want to know more? Talk to our experts to know how CustomerLabs, a real-time CDP can offer more value to your business.