The much-awaited BFCM sale is approaching.
Usually, the traditional way to run ad campaigns lies in focussing on the top-of-the-funnel audience. The ad campaigns are generally split into the top and bottom-funnel, the top to create awareness about your brand, and the bottom funnel to retarget the users who had abandoned the cart in the last 14-21 days.
The overlooked funnel: Mid-funnel audience
The mid-funnel audience is overlooked, where your real treasure lies at the heart of your high-intent users.
They consist of audiences who have shown some interest in your product i.e., viewed the product a couple of times but are yet to convert as a customer.
It could be users who have added to the cart, saw an ad about your sale but failed to make a purchase a few weeks or months ago.
You certainly do not want to miss segmenting this section of the audience that is most likely to convert.
They are the users who clicked your ads, came to your website, and tried to understand the products you offer.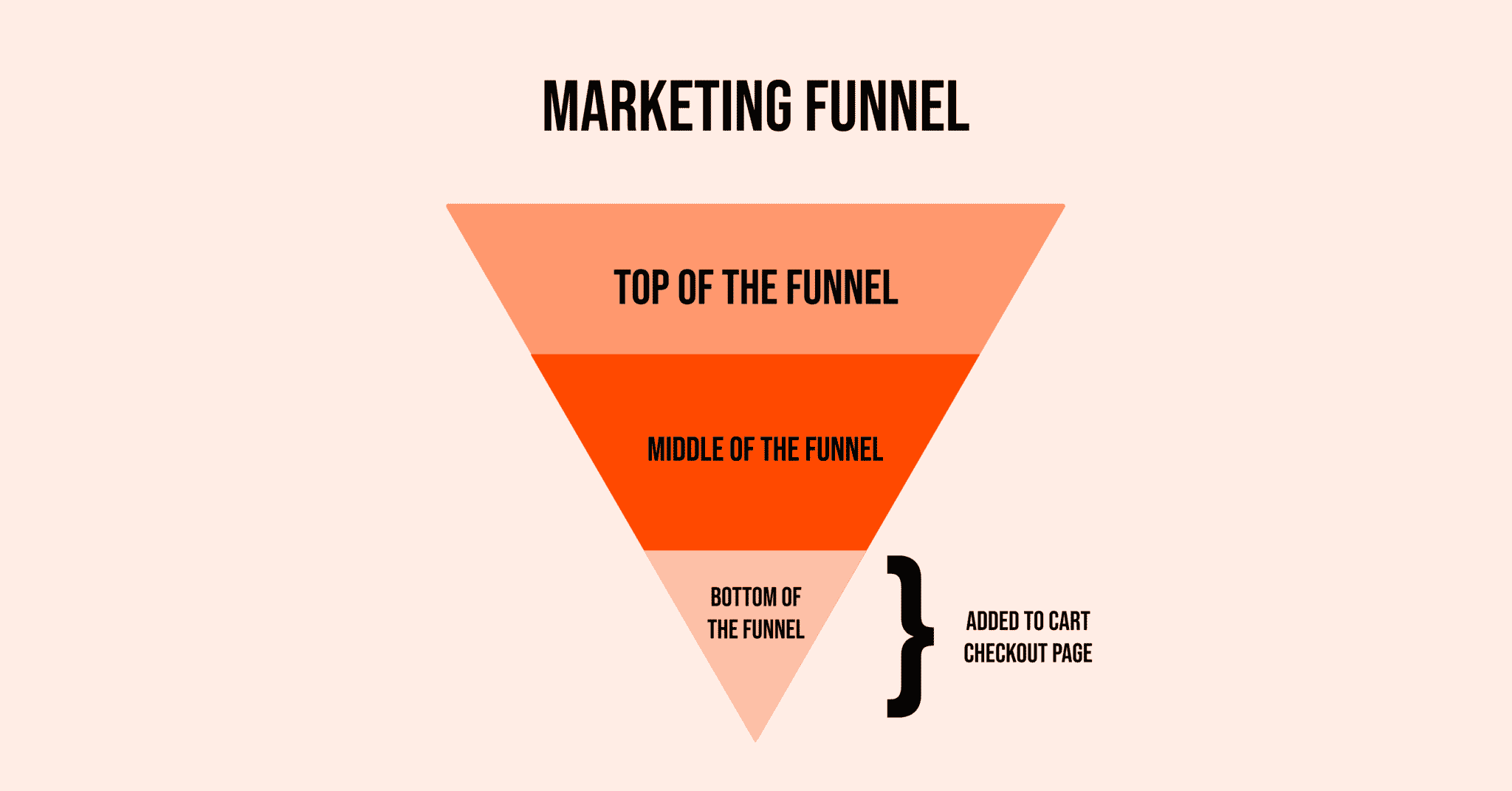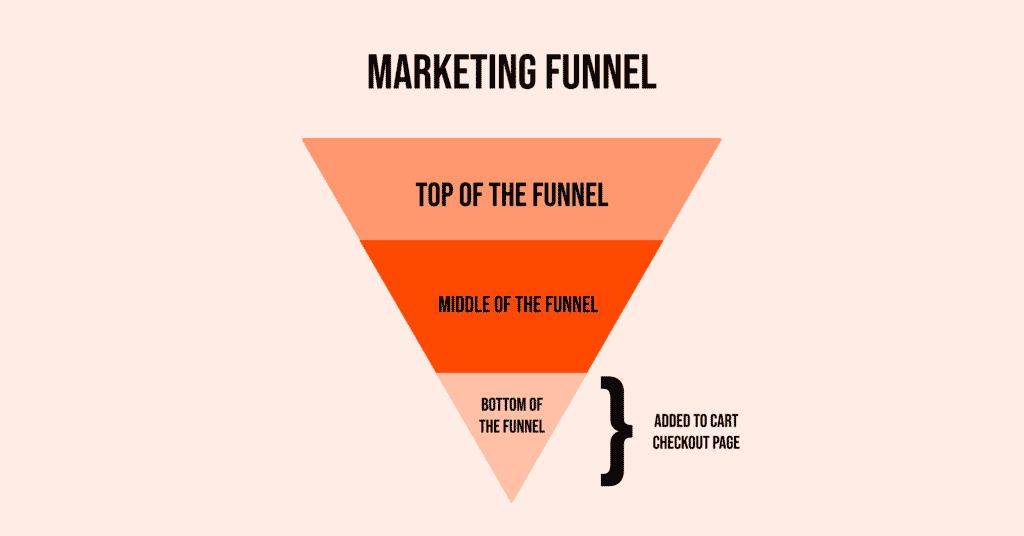 Mid-funnel audience strategies
Today, except for a few brands, none of them are collecting anonymous user data. That is because they do not know how to activate or re-engage them.
Mid-funnel audience data helps brands to create multiple micro-segments like people who had visited top-wear in the last 90 days, who have viewed more than 5 products, or who had been browsing but not purchased can be segmented well and send personalized offers to them.
These audiences can be created as a custom audience on the ad platforms like Facebook, Google Ads, and Tiktok to start re-engaging/activating them.
Shrinked Custom Audience size:
To activate those audiences in the ad platforms, we should share the data with them so that ad platforms can start showing ads to specific individuals.
However, since the majority of the audience is anonymous, the challenge is how these platforms identify individual accounts and show the ads.
Why is the custom audience match rate low?
After the iOS 14.5+ updates, Facebook has limited access to user behavioral data, with users having the option to opt-out of tracking and hence have seen a poor custom audience match rate, slashed to an all-time low of 25%. This, in turn, results in the shrinking of remarketing audience size resulting in poor ad performance.
Event Match quality – EMQ:
EMQ is graded into Poor, OK, Good and Great. These grades are defined by the number of matching parameters we send along with the event. The more advanced matching parameters we add to an event, the Facebook can match that event to a particular account.
Advanced Matching Parameters:
For anonymous users, primarily, we will have FBP, FBC, IP address, City, State, Country, and User-agent as primary parameters. Apart from that, we should also add an external id that will help Meta / Facebook to identify the user with the highest probability.
First-party data and CDP
First-party data providers should collect both behavior data and external ids. When we want to activate the data, we should be able to use those ids to piggyback with ad platforms.
CustomerLabs CDP automatically collects identity resolution parameters like Browser ID, Click ID, IP Address, User-Agent, Facebook ID, and Google ID. With more advanced matching parameters, we should be able to bring the EMQ to a great grade, even for an anonymous user on your website.
So that, when you create an audience based on your first-party mid-funnel data, you will have more people matched and hence, increase the audience size.
Identity resolution plays a significant role in any good and stand-alone CDP.
Identity Resolution
It is the process that consolidates different identifiers to create a unified customer identity from various sources.
Here is an example: Zoey is a store manager in a retail store. One day a customer calls the store to return a defective shirt piece he purchased earlier. The store manager recalls the customer based on the bill number and helps him with the return policies.
But then, online marketers find it hard to recall the same user and bring all their activities across various touchpoints to a single profile.
Identity resolution helps marketers achieve an authentic source of customer data by integrating user information across multiple platforms, devices, and touchpoints.
How does identity resolution function?
CustomerLabs CDP gives a 360° view of your customers by assembling data across various channels like CRM, web, ads, etc. It lets you combine anonymous and known visitor information and their behavior across different platforms in a unified profile.
It merges the entire history of the anonymous and known users and interactions with your brand and a complete picture of each user across web, server, and other touchpoints under a single profile.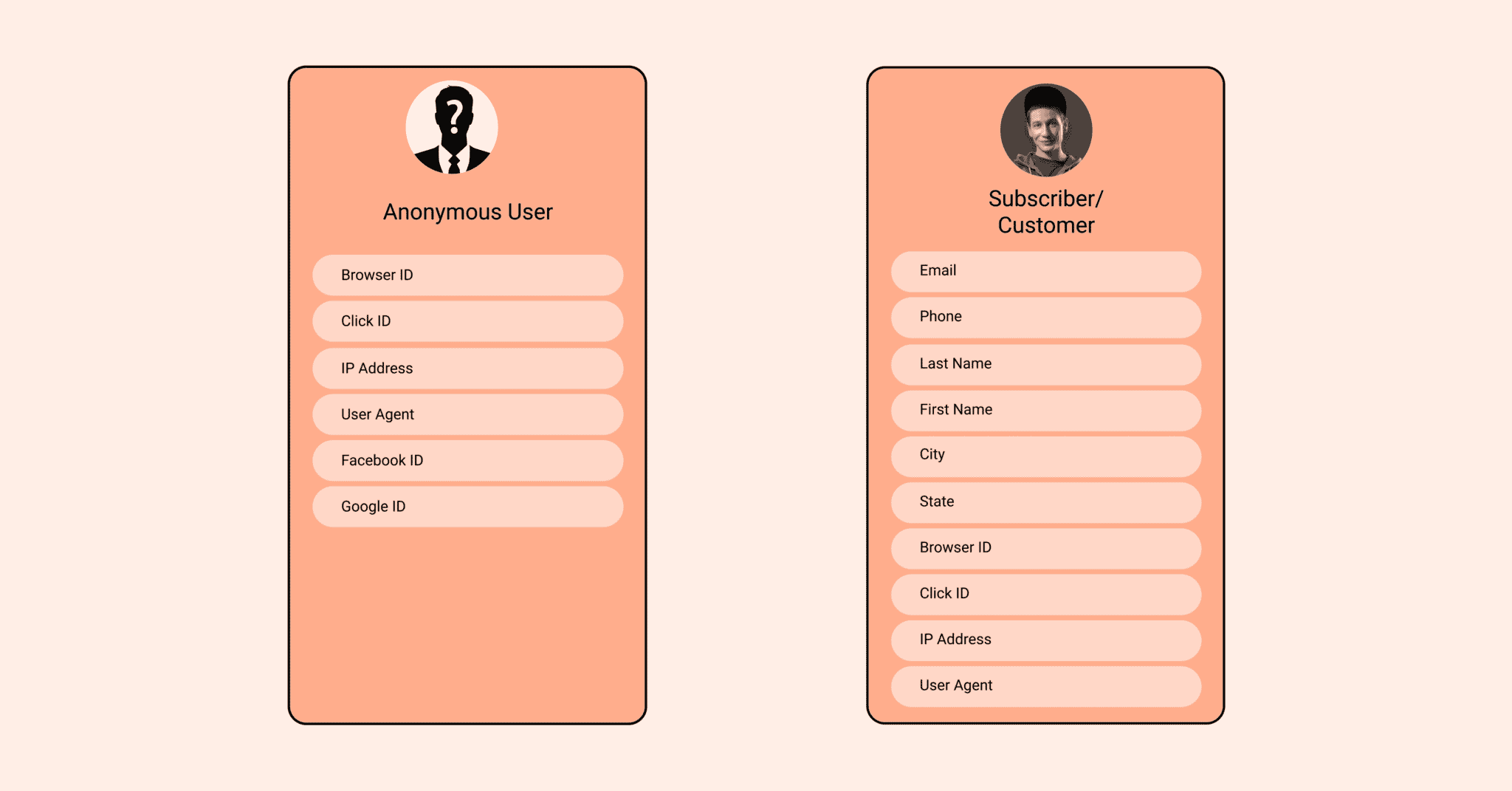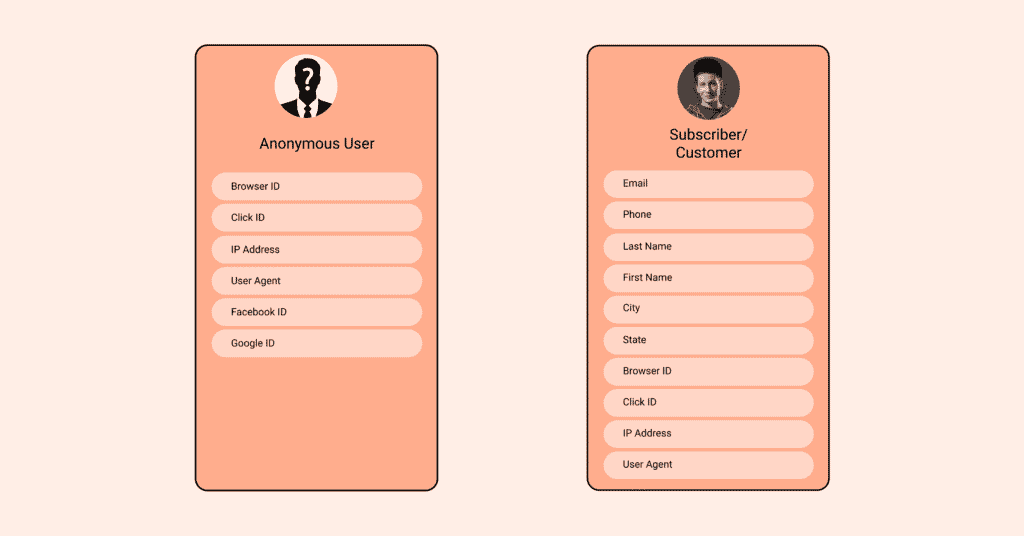 How are we different?
For example, let us say you run an e-commerce store. 98% of the customers are anonymous users. We will not have their PII parameters to sync the data with ad platforms.
However, CustomerLabs adds an external ID for every visitor visiting the website and passes this external id to individual ad platforms. With the regular refresh intervals, we can extend these external IDs and target the users forever.
Identity resolution providers:
If you are keen to collect PII information of the customers, you can use tools like iiintent to collect users' PII information, which is then passed back into ad platforms to improve match rates. The identity will be resolved for about 15-20% of people.
Summary
Storing the anonymous audience data with external IDs will help you activate the High-intent audience who have visited your website on most of the ad platforms. Collecting identities and a solid identity resolution technology helps you activate the majority of those users in the ad platforms.
You can use the mid-funnel audience data to create strategies for optimizing your ROAS and mid-funnel audience activation.
We recommend that you split your marketing budget as 50% for the top funnel, 30% for the mid-funnel, and the remaining 20% for the bottom-funnel audience.
To know more about mid-funnel audience strategies, read on first-party data to double ROAS this holiday season.