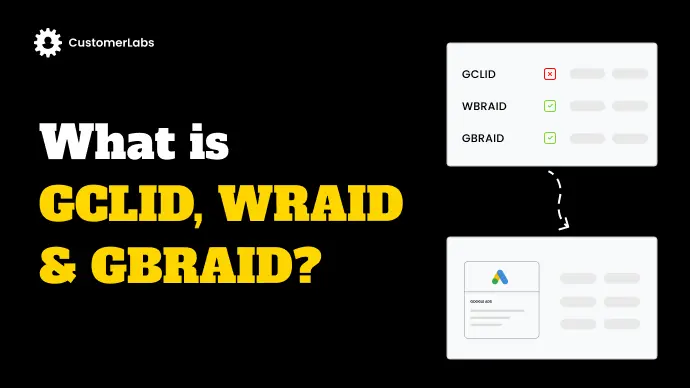 Google's search engine is used for about 90% of searches. I conduct more than 20 Google searches per day as a marketer, and I frequently glance at the advertisements that appear in the search results. It's critical for marketers to comprehend the nuances of google advertising given the industry-wide privacy-centric developments currently taking place if they hope to achieve long-term success.
In this article, you'll learn about
What is GCLID?
Impact of iOS'14 on GCLID
What are WBRAID and GBRAID?
Difference between WBRAID and GBRAID
How does it work?
How are these new parameters ATT Compliant? And why GCLID isn't it?
What is GCLID?
GLCID or Google click identifier is a tracking parameter used by Google to sync information between the Google Analytics account and Google Ads account.
Whenever a user clicks a Google ad, Google automatically appends a unique parameter to the destination URL, letting GCLID communicate the information about post-click happenings back to Google.
Here are some of the information that GCLID shares with Google:
Source
Campaign
Keyword data
Match type
Medium
Traffic information
User details
Landing page
Conversion tracking
Page data
This information helps advertisers track the end-to-end performance of their Google ad campaigns and optimize the ad campaign for better performance.
Here's how a GCLID URL would look like
www.example.com/?gclid-123
www.example.com/parameter=1&gclid-123
Impact of iOS'14+ update on GCLID parameter
In compliance with Apple's ATT policy changes, Google is no longer sending GCLID parameters on iOS traffic coming from various Google apps.
This impacts on
Decrease in reported website conversions.
Decrease in reported offline conversions.
Read our blog – Impact of Apple iOS'14 update on Facebook advertisers to know how your Facebook Ads might get impacted.

The alternate solution: WBRAID and GBRAID from Google
Google has introduced new URL parameters termed WBRAID and GBRAID under the legal compliance of Apple's ATT framework to help attribute the conversions back to ad campaigns.
Sometimes on GA4, you can recognize them as paid search or CPC.
These parameters work with modeled conversions to increase the accuracy of measurement on iOS traffic.
Difference between WBRAID and GBRAID
Both WBRAID and GBRAID parameter functions pretty similarly.
WBRAID is used for web-to-app measurement and
GBRAID is used for app-to-app measurement
After the iOS'14 update, Instead of the GCLID parameter on iOS surfaces, WBRAID parameter exists in places for clicks associated with web conversion and GBRAID parameter is for clicks associated with app conversions.
How are these new parameters ATT compliant and GCLID isn't?
The new parameters work in tandem with the modeled online conversion that does not attribute conversions to an individual user but rather offers a holistic report on conversions in compliance with user privacy.
Further, these parameters use aggregation techniques and techniques like de-identification techniques that ensure cross-site behaviour cannot be tied back to an individual user.
These privacy-centric modeling and aggregation measurements help stay these parameters in compliance with Apple's ATT framework.
"Executives at Google have repeatedly announced that they will not build alternative identifiers to track individuals as they browse across the web once third-party cookies are phased out in 2023. Conversion modeling is a tool that allows them to keep that commitment as restrictions to limit cookies tighten over the next few years, while continuing to enable marketers to measure performance."

Impact on Google Analytics reporting
The existing integration setup between Google Analytics and Google Ads will continue to work well, including importing data reports, conversion reports from GA4, or universal analytics to Google Ads.
Meanwhile, the Conversions reports generated on Google Analytics for traffic coming from iOS surfaces will now use Modeled conversions in compliance with the ATT policies.
Why should marketers utilize these parameters?
Every ad campaign run by a marketer has a goal and purpose. Without getting accurate conversion measurements for an ad campaign marketers will struggle to,
Optimize the campaign for better performance.
Forecast a budget for future campaigns.
Attribute the conversion to the respective campaign
With GCLID moving away from iOS devices, it is essential for marketers to use WBRAID and GBRAID parameters for getting accurate conversion measurements.
GCLID is here to stay and not moving away
GCLID isn't going anywhere soon. It will be utilized by Google on non-iOS devices that aren't impacted by the ATT framework
And the new parameters will be used on the iOS surface when GCLID isn't available for measurement.
Read on Breaking down Identity Resolution in CDP – Click Here
Takeaway
Privacy laws are getting stricter and new laws are emerging like Colorado Privacy Act (CPA), California Privacy Rights Act (CPRA), and Virginia Consumer Data Protection Act (VCDPA) to tighten privacy policies. Meanwhile, Apple is pretty serious about not allowing tracking across websites, which is yet to be followed by Google (apparently there are plans to stop third-party cookie tracking completely in late 2023).
With these developments coming around – Marketers have to use both GCLID and new parameters (WBRAID, GBRAID) in tandem for accurate conversion measurement.
For collecting these parameters and sharing them with Google ads and GA4 for better ad campaign performance and conversion measurement. You can utilize CustomerLabs CDP which can be set up with ease, without requiring the assistance of a developer.