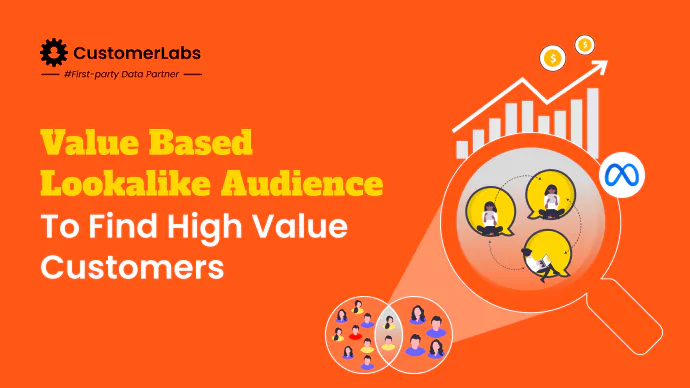 When it comes to targeting audiences on Facebook, lookalike audiences is one of the most powerful targeting options to find relevant audiences. It helps you find new potential customers with unparalleled reach and targeting capabilities. Note that the platform has around more than 2 billion monthly active users.
Meta has recently rolled out the value-based lookalike audiences feature. It is the new weapon to find prospective customers not just based on demographics but on customer value!
Value-based lookalike audience is a powerful tool to enhance your ad campaign performance across Meta Ads. Read on to explore more on how to find more high-value customers for your business on Meta.
Note: Meta helps you find audience across Facebook, Instagram, and Meta Audience Network.
Value Based Lookalike Audiences:
Value based lookalike audiences is an advanced tool to find lookalike audiences who are of higher value for your business. It is available on Meta and is an enhanced way to find more potential high-value customers.
Use this value based lookalike audience in your ad campaigns to increase the probability of converting high-value prospects.
Leveraging Value Based Lookalike Audiences For Your Ad Campaigns
When you use the value based lookalike audience option, Meta will automatically try to find high-value prospects. It works based on the data you send to the algorithm. When you use high-quality first-party data with value, Facebook will find similar lookalikes who are of high-quality and high-value. 
This will help enhance the quality of leads coming in, and thus the click-through-rates.
To know more, let's see how value-based lookalike audience is created. As a prerequisite, you need to have a custom audience with customer value created.
Part 1: Create Value-based Custom Audience
First, to create the value-based lookalike audiences, you need to upload the customer list with value. That is, you need to have a custom audience list with customer value.
Navigate to Audiences > Create audience > Lookalike audience > Create new source > Custom audience with custom value > Upload your customer list with value.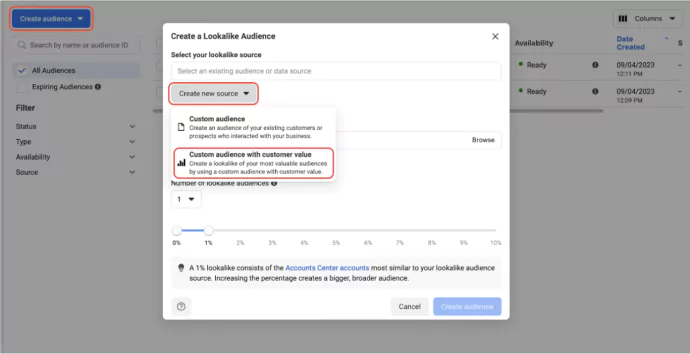 How To Assign Value To A Customer?
To sync the data with Meta and find the value-based lookalike audiences, you need to assign the value for each user in the data you send to it. There are two ways to assign the value:
1. Traditional Way – Using the CSV file Upload
When using a CSV file to upload the customer list, ensure to enter the value in a separate column beside the user details (first name, last name, email ID, phone number, country, state, city). Refer to these custom audience list upload formatting guidelines.
Uploading the customer list is the traditional way used to send offline customer data to Meta Ads.
2. The Futuristic Way To Use Value Based Lookalike Audiences:
To assign value to your customer and sync that data efficiently to Meta, Conversions API is the best way. Especially for finding the value-based lookalike audiences, using CAPI will boost your chances to find high-value top of the funnel audiences.
Tip: Use CustomerLabs Customer Data Platform to send the value-based first-party data list for better results.
Wondering What Value Should You Assign For The Customer?
The value you assign varies from business to business and industry to industry as well. Here are the two cases shown for you to understand how you should choose the value.
For eCommerce Businesses:
Most marketers export the purchase list directly from their eCommerce store and use it to create a custom audience with value. The mistake they make is not to realize that the data of every single purchase misleads the ad algorithm. Then what is the right metric to be used?
Use LTV (lifetime value) of a customer instead of every single purchase value..
LTV is the leading indicator to understand if a certain audience will prove effective in the long-run for the business or not. When you use the lifetime value of a customer to find value-based lookalike audience, the probability of targeting the audience who provide high lifetime value will be higher.
Additional Info: High ROAS Does Not Imply Better Performing Campaign
An eCommerce company did an experiment which disproved high ROAS does not always mean a better performing campaign. It proved that a campaign with high LTV can be considered a better performing campaign.
Here's how the eCommerce company did it. Segmented their audience based on gender – male & female. Male audiences made more purchases compared to female audiences driving more ROAS for the ad campaign. Female customers had a lesser share of purchases made when compared to men. Therefore, the ROAS of women is obviously low. However, men did not come back and make a second purchase. Even if they did, the frequency of purchase was nowhere in comparison to that of female customers.
The average second purchase was made by men in 2 months. The average second purchase made by women was in 2 weeks. Supporting this, when the overall lifetime value is calculated, female customers' lifetime purchase value is more compared to male.
So, Men had high ROAS and low LTV; Women have low ROAS and high LTV.
LTV over single value – Focus on users with higher LTV!
It is better for that business to focus on female customers as compared to male customers. Doing so will reduce the CAC for the organization and increase the overall average LTV of individual customers. So, LTV is the leading indicator and not the single high-value purchases. This is the reason why you should go for LTV and not the single purchase value.
For your anonymous website visitors who have not purchased yet, you can use the predicted LTV (pLTV). Assign the pLTV value to these users to find value based lookalikes.
For B2B / Lead Generation:
Based on the market opportunity value, you assign value to the audience in the lead stages. Now, for each user in every lead stage, it has a different value depending on the lead stage they are in. You can use Google's value based bidding calculator to understand the value you can give to each lead stage. Note that in place of conversion action, you write the lead stage and accordingly give the conversion % and finally the market opportunity value. Here's the calculator – https://ads.google.com/home/tools/conversion-value-calculator/#calculator-component
Note: You can use this only to calculate the value alone. Assign the value it gives for each stage to the each user in that lead stage.
This is how you derive the value to assign to your leads and send it to Meta as a custom audience with customer value.
Part 2: How To Create Value-Based Lookalike Audience?
Select that audience once you add custom audience list with value. For that, go to the audiences > create lookalike audiences > Select the audience list with the value that you uploaded above. Select the country. Choose if you want to find a 1% value-based lookalike or 2% and up to 10%.
How this works is; if you choose 1%, Meta Ads algorithm will try to find lookalike audiences with only 1% variation from your customers' profile.
If you choose 10%, the value based lookalike audiences populated will be less similar to the uploaded custom audience.
Lesser the percentage you select, higher the quality of value-based lookalike audiences.
After you create the value-based lookalike audiences, it will show you the audience type as value-based custom audience. As shown in the screenshot, you will find the text 'value-based custom audiences: "your file name"' below Lookalike audience


Case Study: Fateh Education
Fateh Education is a study abroad consultant that counsels students and guides them to choose the right university. Fateh wanted to optimize their ad campaigns to reach out to high-valuable prospects, increase lead to opportunity conversion rate and reduce the cost per opportunity.
Upon our suggestion, they have run an experiment with value-based lookalike audience for their top of the funnel campaign. They have by synced the value based customer list using CustomerLabs CDP.
The value was assigned to their existing customers based on the lead stage. For instance, highest value is assigned to the leads in the visa processing stage. Less value is assigned to the ones in the applications stage. The leads that are qualified but not interested right now are assigned lesser value.
This data has been synced into CustomerLabs and sent to Facebook through Conversions API with value.
Here's the result:
Meta was able to find the most high-value prospects and increased the quality of leads.
Increased the Lead-to-Opportunity (LTO) conversion rate from 15% to a whooping 47%
Slashed down Cost-per-Opportunity (CPO) by a massive 71%
This proved how value-based lookalike audience can optimize the ad campaigns to reduce the cost-per-opportunity in the case of lead gen.
The same principle can be applied to eCommerce to reduce the CPP (Cost-per-purchase)!
Benefits of Value based lookalike audiences
Reach more high-value prospects
Highly targeted & personalized Ads
Increase Lead quality
Increase ROAS (Return on Ad Spend)
Maximize ad campaign performance
Reduce CPO/CPP and customer acquisition cost (CAC)
Conclusion
In a nutshell, value-based lookalike audiences on Meta Ads are a game-changer. This feature helps you find high-value prospects using your own first-party data with customer value. This advanced feature can significantly enhance your ad campaign performance.
eCommerce or B2B, value-based lookalike audience works wonders. For instance, Fateh Education saw a 32% increase in lead-to-opportunity conversion rates and a 71% reduction in cost per opportunity.
To reach high-value prospects, optimize cost per opportunity / purchase, deliver impressive results and maximize your ad campaign performance, start using value-based lookalike audience created using first-party data!