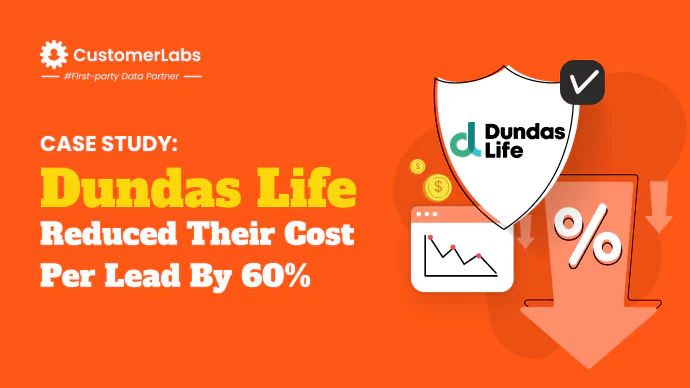 The dark times led by data privacy updates have forced marketers to find the light to mitigate for losses. High cost per lead (CPL), low performing campaigns, data silos, and failure in personalized ad targeting, were some of the problems. In their scout for saving their dipping ad campaign performance, marketers saw first-party data-led personalization as their ally. Marketers knew they can reduce CPL using first-party data and it was the only way to save themselves from dipping performance. Little did they know about how first-party data would produce massive results.
Let's delve in and find out how the marketing team of Dundas Life, a Canadian-based insurance firm has leveraged the true potential of first-party data. Giving you a heads up, you can reduce your cost per lead using first-party data.
The Background…
Dundas Life is an insurance company making the insurance easier and simpler. The marketers at Dundas Life have been running lead generation ad campaigns. They went into a panic mode as soon as the iOS14+ updates and other data privacy kicked-in. The ad campaign performance took a hit on Meta, and after some time, they felt it is the new normal.
Here's what the stats looked like – EMQ (Event Match Quality) 3/10; Cost per lead at $44
These were just one part of the problem. On the other end, the marketers were really confused and worried about
Data silos,
Improperly set up conversion tracking,
Lack of ability to target the readers of a certain blog or having a certain behavior,
Track various forms across the website and merge at one place.
All these problems affected both their productivity and ad campaign performance. So, with a bunch of problems, they were looking out for one solution for one problem.
The first problem they wanted to fix was the low event match quality and the cost per lead.
The marketing team at Dundas Life, as every other marketer out there, in their pursuit of a solution, found the immediate solution – Conversions API. CustomerLabs helped them set up the CAPI and once in, they realized the gold mine of first-party data. Leveraged its full potential to see unexpected results.
The Magic Happened…
When Dundas Life's marketing team approached CustomerLabs to set up Conversions API (CAPI), they were amazed to look at the seamless integration. Conversions API that Dundas Life setup using CustomerLabs resulted in an event match quality (EMQ) of 7/10.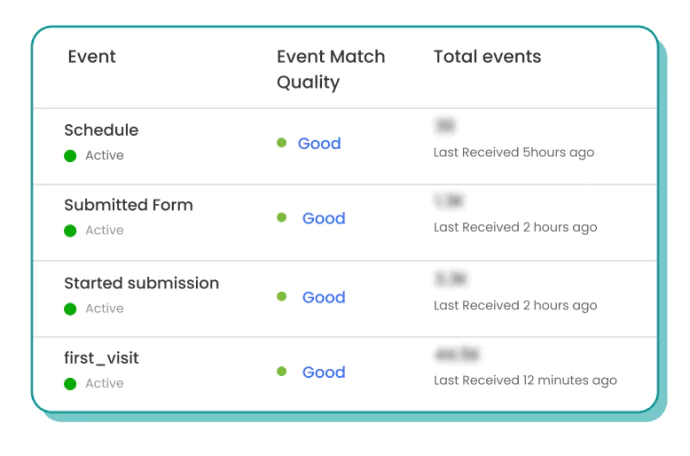 Having a better event match quality boosted the ad campaign performance. The ad performance after CAPI was far better compared to earlier. The reason for the enhanced event match quality leading to a better ad campaign performance was the CAPI. The Conversions API fixed the signal loss by giving the complete picture of a customer journey with more parameters.
Mitigating signal loss on Meta got tougher post the iOS14 and other data privacy updates. Using tools like Conversions API, manual advanced matching for Facebook's pixel and other data privacy-preserving technologies, marketers tried to mitigate signal loss. So did the marketers at Dundas Life.
First-party Data In The Play…
Dundas Life, with CustomerLabs, pulled in all the first-party data sources into one place and synced that audience, including the behavioral data (to be specific, the blog readers) to the ad platforms. Without CustomerLabs, Dundas Life was unable to scale their retargeting ad campaigns due to lack of behavioral data stored in Meta beyond 28 days. Due to the lack of audience and match rate, the cost per lead also rocketed up. They were spending $44 per lead.
Collecting first-party data using CustomerLabs and syncing it with Meta Ads has increased the match rates by 2X times compared to the Meta's pixel.
Lighting Up Through Mid-funnel
The 2X match rates have boosted the ad campaign performance to rock their mid-finnel audience. The result turns out as a 67% reduction in CPL (cost per lead). They have reduced the cost per lead using first-party data by getting a lead at $14.45.
The 67% reduction in cost per lead has doubled up their lead acquisition compared to the other campaigns.
The strategy they have used was – target the specific blog readers with an ad related to that blog. Personalization is what they have done while retargeting their audience.
For example, let's say Mike has read a blog on "What is a beneficiary in Life Insurance" which talks about protecting your loved ones. Now, Dundas Life will show Mike an ad that says "Protect Your Loved One's With Dundas Life" This clearly shows how intentful the ad was and how personalized it was.
Mike's data was sent to Meta in a very secure and hashed manner in compliance with GDPR and Meta was able to match him to enhance his ad experience.
Getting The ToFu Right…
Using the first-party data collected using CustomerLabs, Dundas Life has created a 1% lookalike audience and targeted the top of the funnel (ToFu). Surprisingly, the light that came in as a ray of hope in the dark times, has fueled the huge fire. First-party data drove the algorithms in the right direction to work on the top of the funnel audience. The results yielded are miraculous. The cost per lead was cut using first-party data by a marvelous 60% without additional ad spend.
This was not expected by the team of Dundas Life as they initially thought CustomerLabs will help them just with their retargeting campaigns. The reality is, give high-quality first-party data to Meta and it will reward you.
Dundas Life + CustomerLabs First-party Data CDP
To summarize, Dundas Life has leveraged the full potential of first-party data collected with the help of CustomerLabs CDP, segmented it as per their marketing strategies and activated those audiences across Ad platforms. First-party data proved more than helpful for Dundas Life. It turned out to be a gold mine that proved very much useful for the Canadian-based insurance firm, who run lead generation ad campaigns across the ad platforms. They were able to successfully reduce cost per lead using first-party data
Dundas Life's Co-founder, Martin's own words, "CustomerLabs has been an absolute game-changer for Dundas Life. With their CDP, we're not just tracking events for our ads accurately, we're improving our ads performance!"
When Martin said that CustomerLabs is an absolute game changer, he meant it for a reason. The reason is, CustomerLabs, in the background, helped Dundas Life unify their data silos, track forms across landing pages, and the blogs. They had the complete customer journey that helps them craft marketing strategies based on analyzing this complete data.
To summarize, the major results Dundas Life saw are:
2X Increase in audience match rates
2X increase in MoFu (middle of the funnel) leads
60% reduction in CPL for ToFu
67% reduction in CPL for MoFu
This clearly proves that Dundas Life was able to reduce CPL using first-party data collected using CustomerLabs CDP.
The Magic Wand Dundas Life Had….
Most marketing wizards out there think first-party data is just either name, email address, phone number, or at maximum the IP address, in digital marketing. It is only a greatest wizard like Albus Dumbledore who sees beyond what it looks like. Every marketer, with some or the other tools can collect and activate the first-party data of known website visitors. When it comes to unknown website visitors, the true goldmine of first-party data, only Dumbledore can harness.
Dundas Life has found CustomerLabs CDP for their business, who can help them reap the full benefits of first-party data, including anonymous website visitor data. CustomerLabs acted as the perfect wingman for the marketing efforts of Dundas Life.
Get in touch with the most powerful wizard in the world of first-party data to boost your revenue by fixing the basics –
the conversion tracking,
avoiding data silos,
Helping the marketing operations be synchronized with lesser efforts on the development side
all first-party data at one place,
segmenting the audience based on the specific customized marketing strategies,
Activate the audience across ad platforms,
Drive the algorithms with high-quality audience data
And finally, get the most out of your ad campaigns to drive incremental revenue.