Every year, we have at least 1000 blogs on the eCommerce holiday calendar and the checklist to prepare for the sales.
Unlike other blogs where that give solutions to change the UI/UX, revamp the website, and all the big things, we will be primarily focussing on targeting the right audience for this holiday season sales.
🤒 Is targeting the right audience easy like before?
😳 38% drop in the ROAS in the previous BFCM. Why?
😭 There are a lot of privacy laws and regulations coming which will be affecting the ad campaign performance. But how?
Hold on with us, on how to prepare for this holiday season sales.
Introduction
Holiday dates are great opportunities for e-commerce stores to effectively run marketing campaigns and boost sales.
While many shoppers are content to leave their holiday purchases to the last minute, brands or advertisers don't have the luxury to push them till the last moment. Nothing could be worse than putting off your end-of-year planning.
Without a retail holiday calendar, you'll miss your chance to prepare your store, staff, products, and marketing on time—you'll also leave sales and revenue on the table.
Holiday sales grew 14.1% in 2021, and consumers spent a record-breaking $886.7 billion during the US holiday season of November and December alone.
But there was a 38% drop in Facebook ROAS for the BFCM sale'2021. How?
Though, we see a great revenue made during the sales season; on the other spectrum, we see that campaigns not having performed well.
Meta/Facebook had a disproportionately high share of ad spend by e-commerce brands, according to Common Thread Collective, around a 7.14% increase was noted in CPMs. Another report by Wayflyer stated a decline in ROAS, which was about 38%, from 3.43 in 2020 to 2.49 in 2021.
Changes in the digital advertising ecosystem
In early 2019, we had GDPR roll out the dice of privacy among advertisers. It is primarily to protect the user's privacy and ask them for consent before tracking the user information.
And iOS'14+ update happened
Early 2021, Apple rolled out the iOS'14+ update, where the users had the choice of opting out of tracking.
Then there was a severe impact on the ad platforms as they couldn't track the iOS user behaviors and also the advertising platforms had limited targeting options considering the ethical concerns.
Note :
Traditionally marketers used to send data to the Facebook pixel. And Facebook was doing its tricks to get a high-intent audience. With limited data sent and limitations towards third-party tracking, Facebook algorithms are finding it challenging to optimize for conversions.
The only solution is to start collecting our own user behavior data i.e. first-party data and not rely on third-party tracking.
Use first-party audience strategies for this holiday season sales to drive higher ROAS.
E-Commerce Holiday day calendar – 2022 using first-party audience
🥳 October 2 – World Smile day
World smile day – is the new-age trend where E-commerce marketers position gifts, show pieces, good luck home decor, etc.
A commercial artist from the US, Harvey Ball, invented the yellow smiley face. In 1999, Harley created the World Smile Foundation—a charity supporting different causes for children. The foundation created World Smile Day.
😌 October 10 – Thanksgiving holiday
Thanksgiving brings the mood of the holiday season. Thanksgiving brings the family and friends together to give thanks for the past year.
And there begins the preparations for the upcoming festivals and finally the new year.
Brands that sell home decor, gifts, clothes, and kitchen necessities are the primary items that can be positioned on the market.
🎃 October 31 – Halloween day
Halloween is the start of the holiday season sales in the United States and in many countries around the world. Shoppers spent around $8 billion on Halloween-related items in 2020, and this number is expected to cross the $10 billion mark in 2021.
Shoppers spend on the product categories like costumes, decorations, candy, and greeting cards. This is the best time to build the first shopping spike for this year.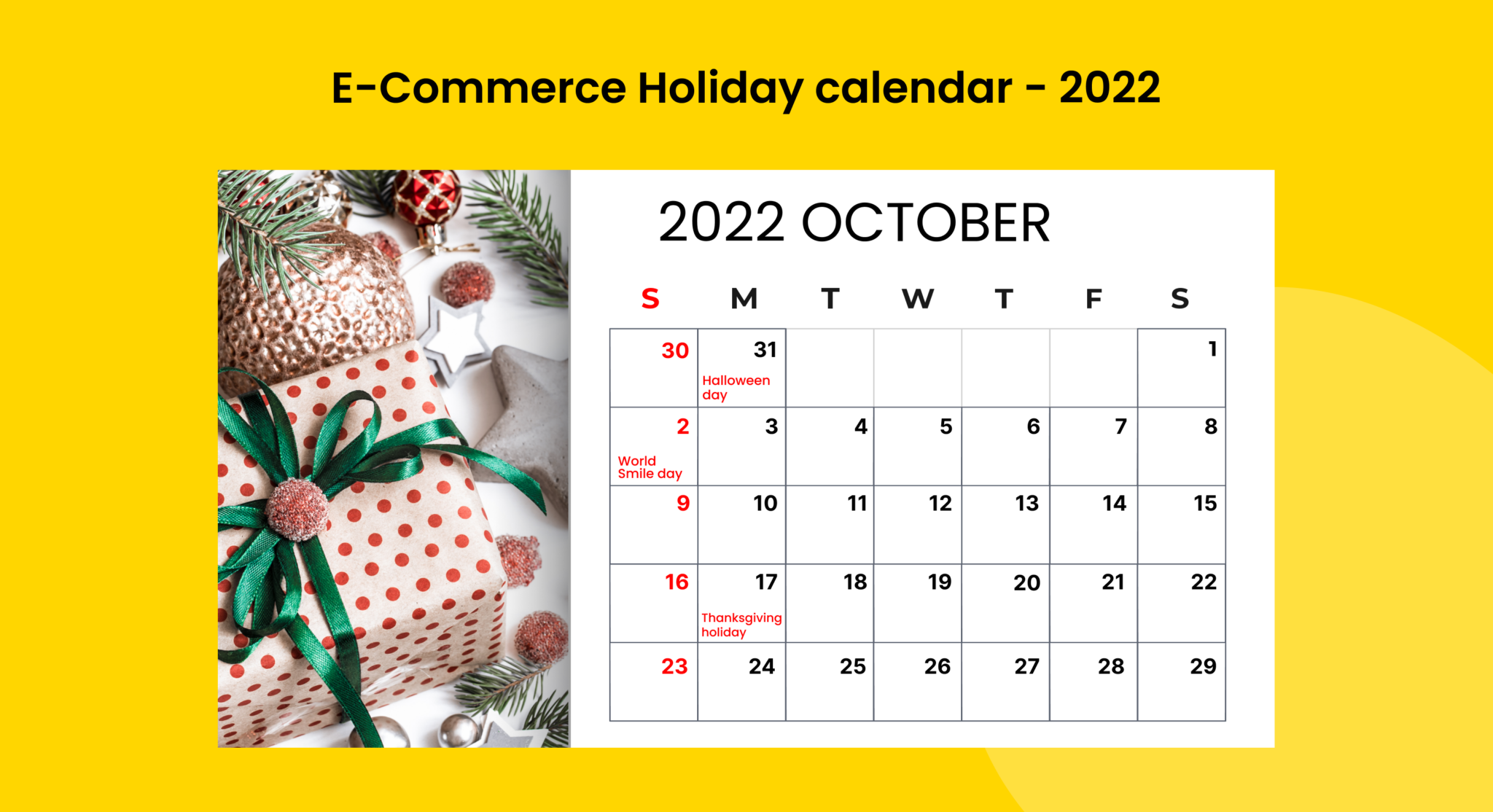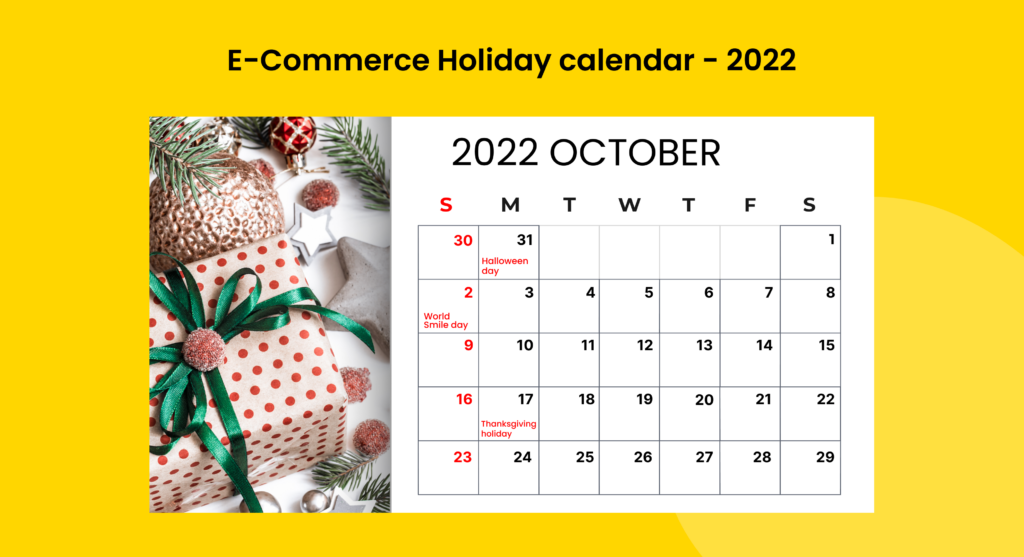 😛 November 11 – Singles day
Double 11 or Single's day, is an unofficial holiday celebrating people who aren't in relationships. It originated in China and quickly became one of the biggest retail and online shopping days in the world.
In 2021, online sales increased by 80% in Italy, 68% in Spain, and 57% in France compared to the average in the last week of October 2021.
Shoppers spend on products, which can be anything from food, drinks, and fashion to self-care and sexual wellness products.
👬 November 19 – International Men's day
Men's day is not as commercialized or marketed as International women's day. Having said that, Men's day is getting spiked over slowly year by year.
If you sell men's products, you could do a flash sale on new arrivals or best-selling products.
🏴 November 25 – Black Friday
Black Friday needs no special introduction. Worldwide, this day sees a 663% increase in sales compared to an ordinary day.
To truly capitalize on BFCM, merchants need to start engaging with the audience on both online and physical touch points.
Usually, shoppers are waiting to buy most of the items from small to big during the BFCM sales.
⚡ November 28 – Cyber Monday
Cyber Monday is just the twin brother of Black Friday.
With huge discounts and attractive shopping options, your brand can scoop its portion of the huge global spend on Cyber Monday.
For 2021, the revenue amounted to $10.7 billion.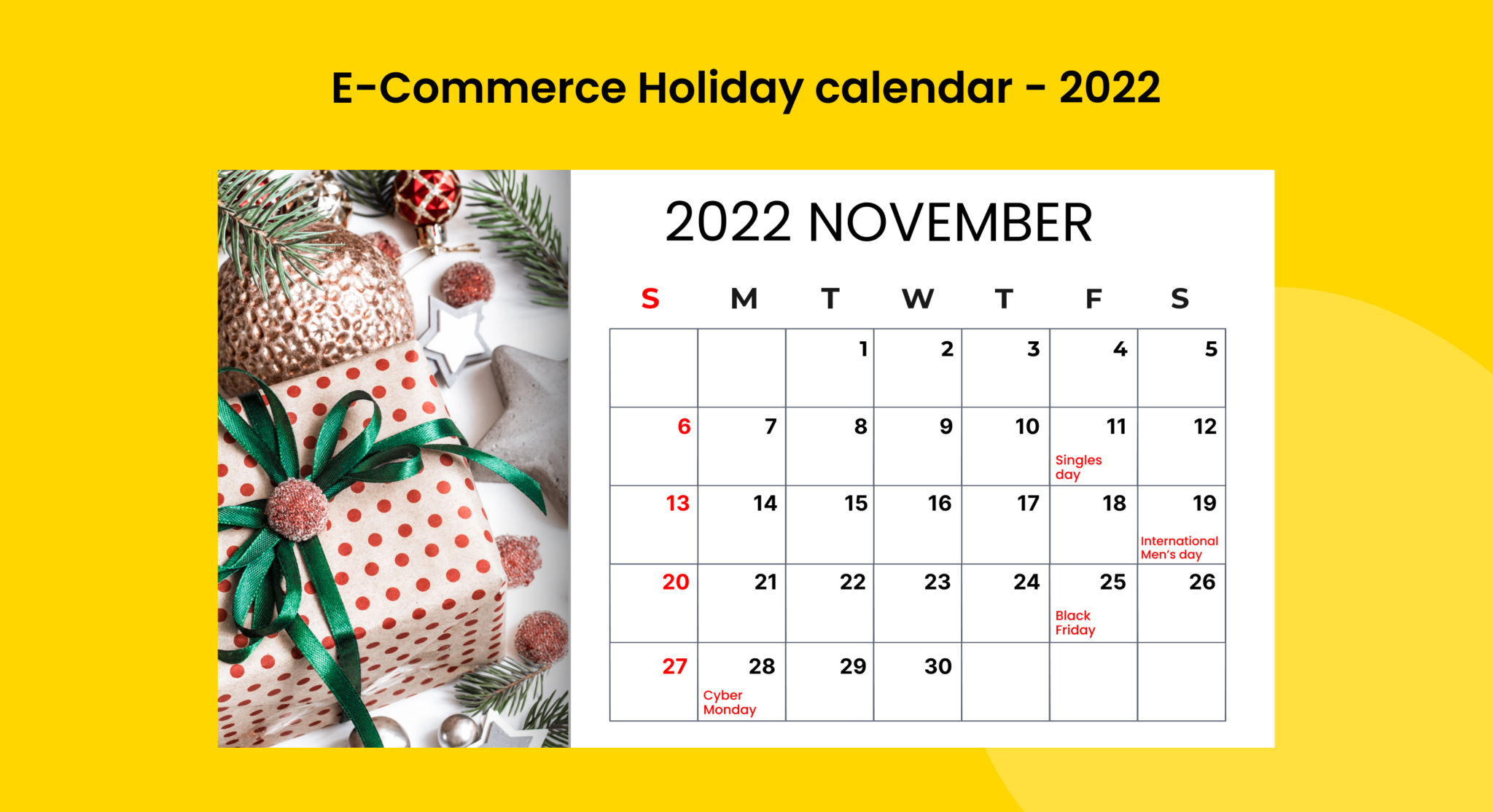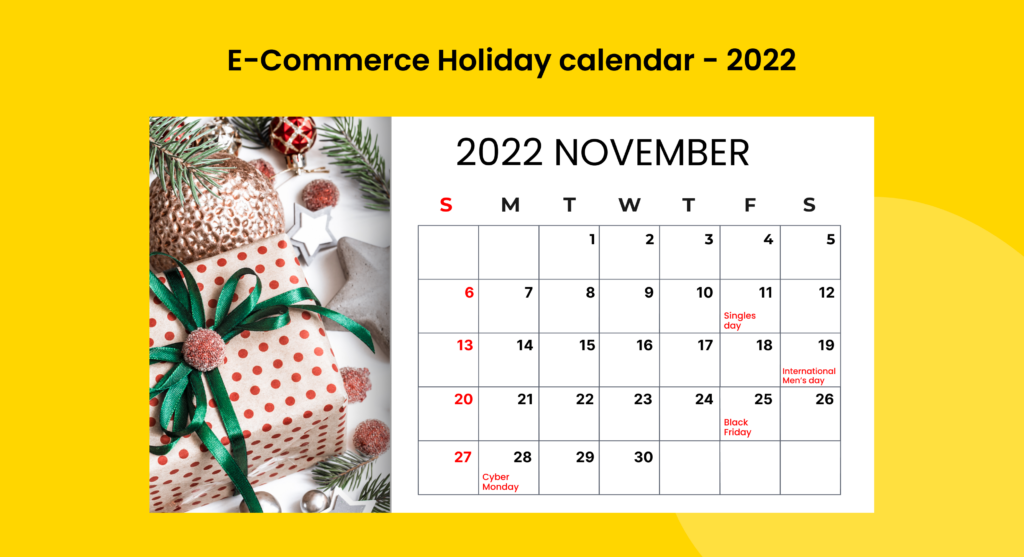 🥳 December 18, Super Saturday
Super Saturday is for last-minute shoppers as it is the last Saturday before Christmas.
Shoppers are looking for gift ideas, discounts, and gift wrapping—the convenience of getting everything done in one place and instantly.
It is recorded that $38.6 billion was spent on Super Saturday in 2021 by WWD.
🎄 December 24, Christmas Eve
51% of the shoppers wait until Christmas to buy presents, clothes, and even groceries.
The real last-moment purchases for all the items from head to toe.
🎁 December 31, New years' Eve
Many people wait for the clearance sale where the discounts are even more when compared to other days.
From drinks, gifts, shoes, clothes, and groceries – everything can be sold for the new year's eve sales.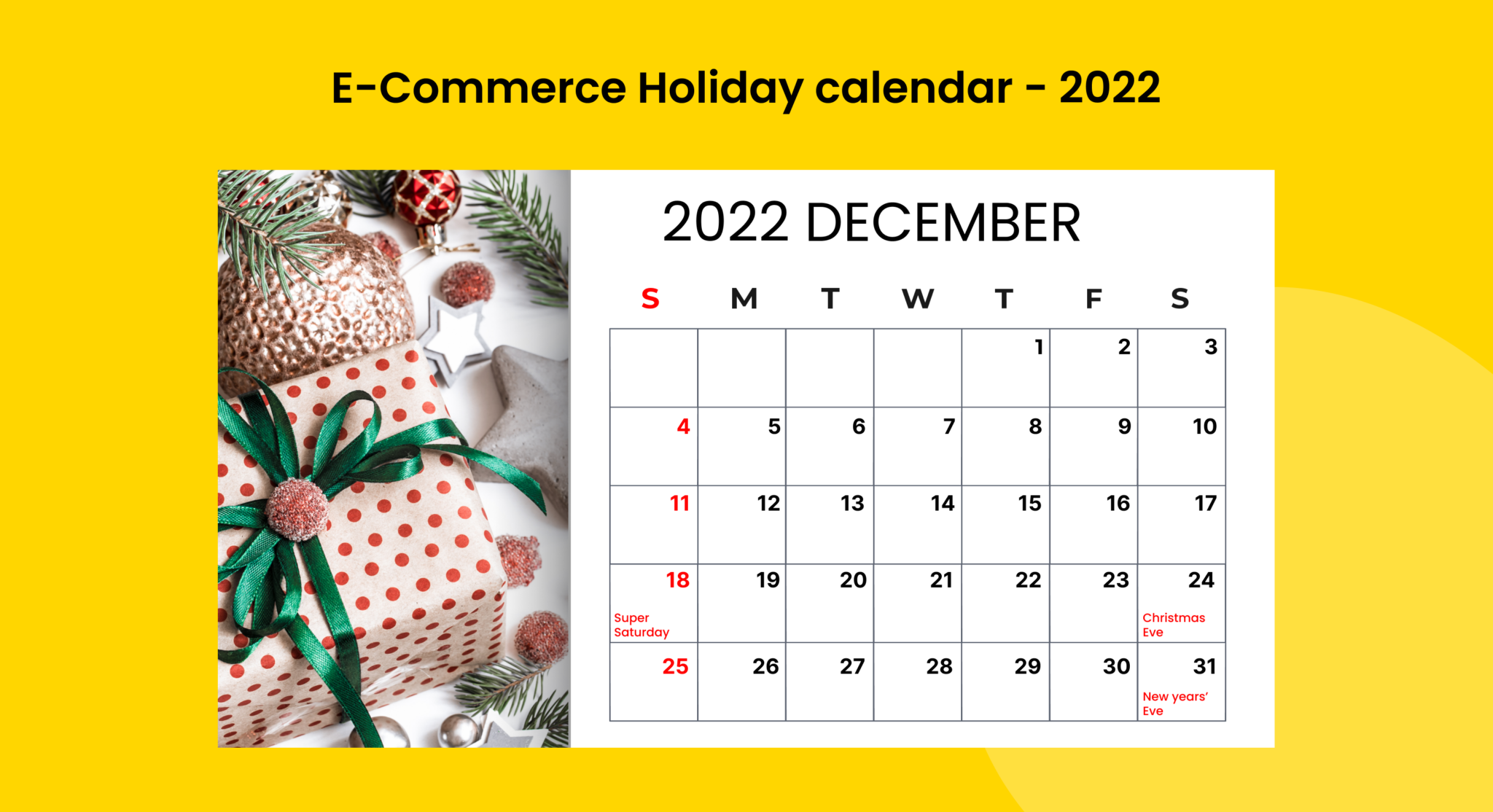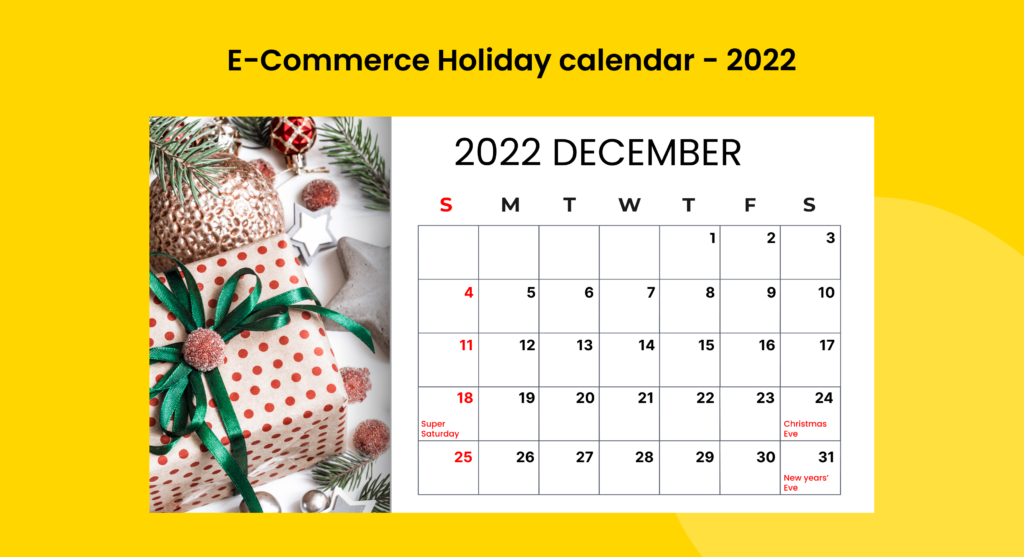 Click here to download the calendar – E-Commerce Holiday Season-2022.
First-party audience strategies for the best holiday season sales
Going forward, we have more privacy laws like (Virginia Privacy Protection Act, and Colorado Privacy Protection Act) kicking in restricting user behavior sharing without the user consent. Then the impact is exponential when compared to what we just faced or faced.
The better way or the only way is to not rely on advertising platforms to track your website user behavior data but rather than start collecting them yourself.
Anonymous website visitor targeting for this holiday season sales:
There is a misconception that first-party data is email id, first name, last name, etc. But first-party data is also who visited the website, browsed a couple of products, and left the website.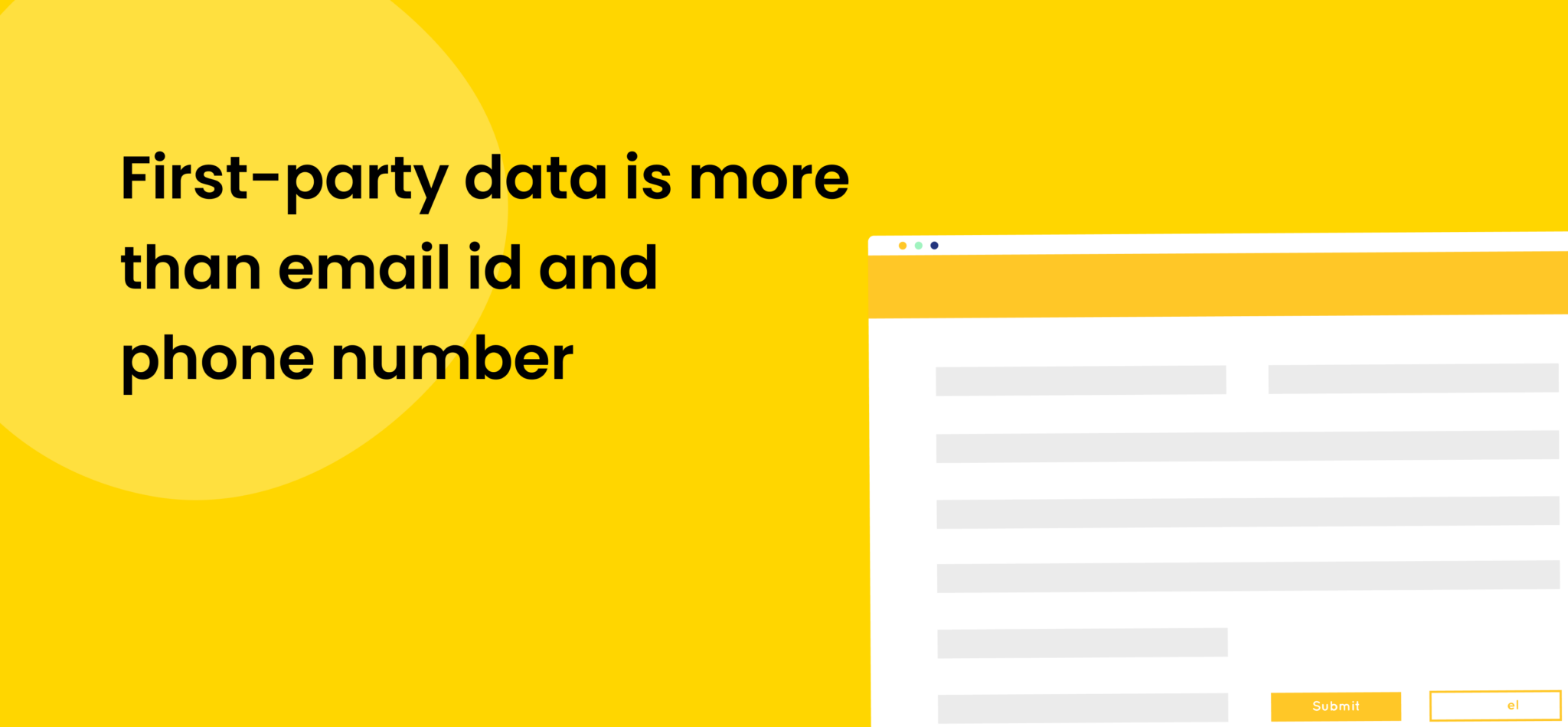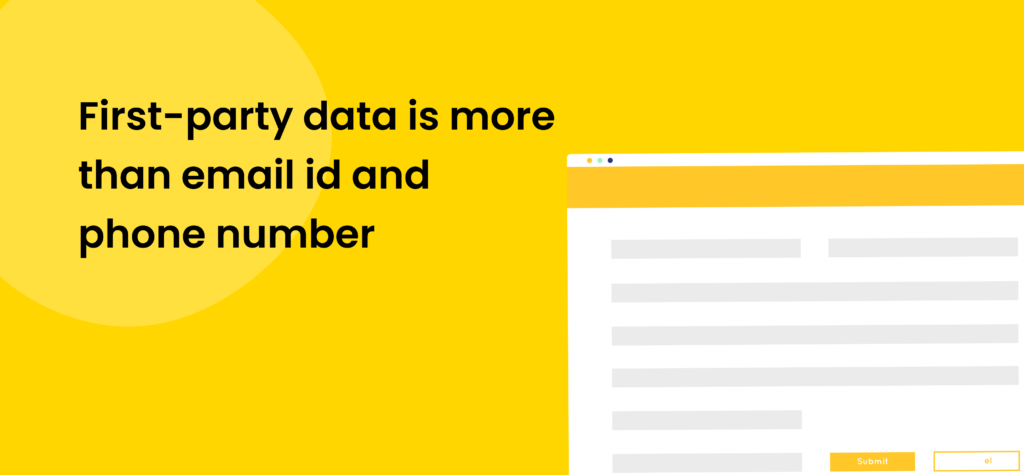 97-98% of the website visitors are anonymous. Targeting these anonymous website visitors with personalized ad campaigns improves audience engagement and purchasers.
The First Party Audience Strategies
📌Collect first-party data:
Start collecting first-party data i.e. user behavior data of your store and building the audience base.
📌Segment the users for personalized audience segments:
With the collected user behavior data, you can segment the users and run personalized ad campaigns.
Unlike regular audience targeting like "all website visitors", we can segment the users by funnels.
You can segment the audience in mid-funnel in various niche ways and the bottom funnel audience.
📌Mid-Funnel Audience Activation
▪ Activate the cart abandoners: 7/10 of shoppers abandon their cart. You can activate the cart abandoners by personalized audience segments,
▪ Users who abandoned their cart after initiating the payment in the last 30 days
▪ Users who added to a cart with higher cart value but abandoned the cart in the last 45 days.
You can create more audience segments by understanding the user journey and where the users drop off and retarget them to turn them into purchasers. Read more on how to activate the cart abandoners.
▪ Activate the high-intent mid-funnel audience: Your mid-funnel audience is the high-intent users who have left the website by adding products to the cart, wishlist, or browsing the products.
These users can be retargeted by personalized audience segments and push them to the bottom funnel.
▪ Users who added to the cart in the last 7 days
▪ Users who have items wishlist in the last 14 days
▪ Users who viewed more than 10 products in the last 30 days.
Check out how you can activate your mid-funnel audience and improve sales for this holiday season.
📌 Cross-sell and up-sell hacks:
Some of our client's favorite audience segments are,
▪ Cross-sell
👉Retargeting the user with pillowcases, bed-spreads for the user who added pillows to the cart.
👉Retargeting the user with storage containers and utensils for the user who added the utensil basket.
▪ Upsell
Based on the Purchase history and age group, users can be retargeted with the relevant products. And products like mattresses can be sold specifically for the age.
▪ Fashion brand's upsell techniques
👉Female customers who had higher cart values were retargeted for cosmetic products on offer.
👉Customers who purchased top-wear clothes were retargeted for combo offers along with bottom wear.
Read more on how to do behavior retargeting and upsell & cross-sell for your users to double up the sales.
Success Stories: A case study
India's leading fashion brand W for Woman implemented the first-party audience strategies and saw;
▪ Improved Facebook custom audience match rate from 25% to beyond 80%
▪ Increased ROAS from 2 to 3.5X
▪ Reduced the cost per purchase by 35%.
Read to know more – check out the case study
The Checklist : Must have audience segments for personalized engagement – Holiday season sales '22
For this holiday season, create micro-segments from your first-party audience data and run personalized ad campaigns.
BFCM and Holiday Season Retargeting Strategy: The Essential Checklist
Must have integrations to harness the power of the first-party audience completely.
Budget split across the funnel
Rather than splitting the budget for TOFU and BOFU campaigns like 80:20; you can split the budget across the funnel like 50:30:30 (TOFU:MOFU: BOFU) and activate your high-intent audience across funnels.
Click here to download the checklist for successful holiday season sales – 22.
Takeaway:
As the advertising landscape continues to evolve, marketers are left with no choice but to continue to adapt and evolve.
It is essential to keep in mind that these privacy laws & policies will help businesses maintain a customer-first mindset ensuring a transparent and personalized experience for people who actually want to engage with the brand.
For this holiday season, and for the rest of your brands' advertising games, you need first-party data to run personalized ad campaigns and improve customer engagement.
If you want to talk to our first-party audience strategist and discuss your brand personalized – We are just a call away!