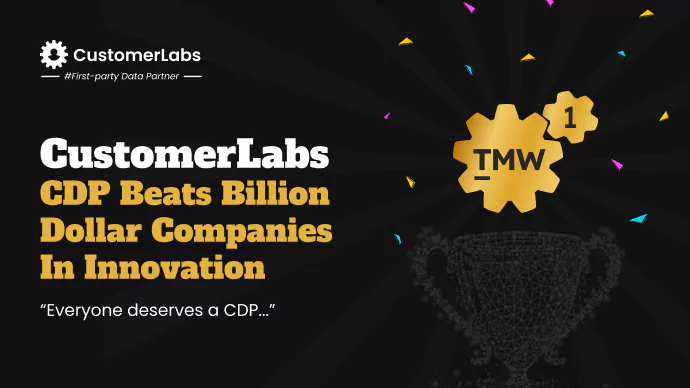 "Everyone deserves a CDP…
CustomerLabs is the perfect wingman for SMBs"
On 7th November 2023, around 4:30 PM, in Anaheim, California, Vishnu Vankayala, CEO & founder of CustomerLabs, democratized the CDP. Amidst 250+ in-person and more than 300 virtual participants from marketing operations and the revenue operations community, the revolutionary and innovative technology was unveiled.
#1 Innovative Marketing Technology 2023
CustomeLabs CDP has been chosen as the world's most innovative marketing technology 2023 by The MarTech Weekly as a part of their TMW100 awards. One hundred finest were cherry-picked out of 11,038 MarTech companies around the world including Asia Pacific (APAC), North America, Europe, LATAM, Middle-east and North Africa. These finest were put to public voting to compete among the 100 to find the best.
Of all the contestants, CustomerLabs CDP has out-performed everyone with a whopping 1000+ votes, from people including our beloved clients who loved our innovative product. Juan Mendoza, the founder of The MarTech Weekly, has announced that CustomerLabs CDP is 2023's most innovative marketing technology. He also mentions that CustomerLabs beats all the big giants out there in the MarTech space in the TMW100 comes as a surprise.
How Was CustomerLabs Chosen #1
CustomerLabs was chosen in the product innovation category by using novel approaches to help marketers across the globe. The judges panel includes Scott Brinker, from the Chiefmartec, Trishe Goh, Gareth Chilton, Frans Riemersma, Jessica Kao, Kerstin Clessienne, Apoorv Durga, Rajan Kumar, Jessica Box, Darrell Alfonso, Fiona Ngaruro, and Phil Gamache.
The MarTech Weekly choose the top 100 Martech companies. Once the 100 companies are selected, they were put to people's choice. In the people's choice round, each person has 100 votes with one vote per entry. Therefore, everyone who votes goes through the list of companies and votes for the best after going through their profile.
The entire process is transparent. To not let the big giants take an advantage, the voting share was fair. For the companies with the employee strength less than 5, 1 vote counts as 3 i.e., 3X multiplier. 5 – 10, 2.5X; 50-150, 2X; with 0.25 reducing for 150-500, 500-1000 and 1000 – 2000. For companies with a headcount of more than 2000, there is no multiplier.
Here's what the founder of TMW, Juan says…
Verbatim – "We are thrilled by the enthusiastic turnout in our inaugural year," said Juan Mendoza, CEO and founder of Martech Weekly. "We knew that the industry was in desperate need of a new kind of awards program. One that would take an industry-neutral approach to evaluating which companies are driving the future of martech through innovation and execution. This year's TMW 100 is a truly impressive list of innovators and we're excited to see which company will take the first place prize as chosen by the marketing public."
Thus, after the judges' pick and the people's choice round, CustomerLabs pops out as the world's most innovative marketing technology 2023 being the top company among the chosen 100.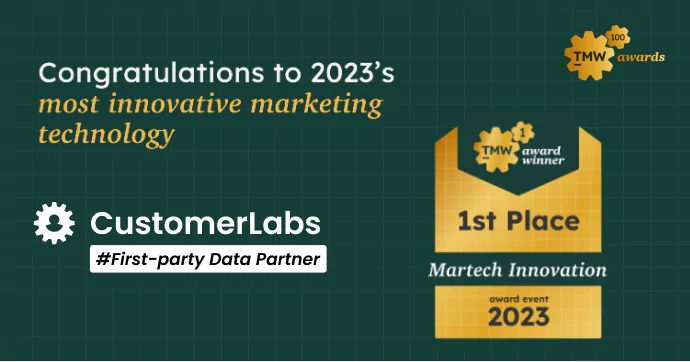 Democratizing the CDP
Vishnu Vankayala on the stage, in front of 250+ martech leaders, says, "Everyone deserves a CDP and we are democratizing it, making it accessible to all the Small & Medium businesses." CustomerLabs is a customer data platform that is accessible, scalable and affordable for businesses of any scale – small, medium and large enterprises.
Bringing all the data in one place, unifying it to avoid data silos and helping the marketers activate it across ad platforms. We are solving the biggest problems the marketing operations have, the data problem, in a seamless way. We have patented this technology of activating anonymous website visitors.
Making Things Simpler With Higher Value
Google's Offline Conversion Import (OCI) helper document clearly says you need multiple stakeholders. Based on that document, the approximate time and resources you would take would be at least 7 days. Whereas with CustomerLabs CDP, one single person can seamlessly implement the entire Offline Conversion Tracking on Google Ads. That's the innovative technology built using advanced algorithms will help collect and activate user behavior data (including anonymous website visitor data).
Recently, we witnessed the true potential of first-party data when our clients pulled up the results for us. The data they collect using CustomerLabs CDP is driving incremental revenue in the range of 10% to 20%.
CustomerLabs CDP helps you by being a perfect digital wingman with
Website conversion tracking
First-party data collection (Data from CRM, website, and offline store in one place)
Offline Conversion Tracking (OCT)
Server-to-server connections (Conversions API, enhanced conversions)
Data unification and avoiding data silos
Identity resolution
Data sharing controls while maintaining accuracy
Real-time infrastructure to optimize ad campaigns
It's not just about collecting data; it's about making it actionable. Server-to-server connections and advanced identity resolution techniques ensure that we recognize our customers across devices and platforms, maintaining a coherent narrative in our marketing efforts.
GDPR, CCPA, DPDP, HIPAA, iOS14+ and more..
You've heard of Mission Impossible? Well, navigating privacy laws might feel like 'Compliance Impossible.' But just like Tom Cruise, we're going to defy the odds. With regular audits and detailed logs, compliance isn't just a box we check; it's a commitment. This commitment ensures we maintain tight control over the data we share, especially as the regulatory changes kick in. And this control makes all the difference in measurement, audience building, and reporting.

About the TMW 100 Awards
The Martech Weekly hosts the world's first ever TMW 100, a premier annual awards initiative. It is heralded as the first of its kind, bringing innovative companies to the forefront of the global martech sector. The judges are not biased and represent major global regions. After the Judge's Pick, the entire MarTech community and people cast their votes. The 100 companies will feature in the annual Martech Innovation Index Report. In a commitment to fostering inclusivity in martech, TMW 100 contributes 5% of all event earnings to the non-profit, She Loves Data, championing the cause of encouraging more girls and women to pursue fulfilling careers in the marketing technology realm. Learn more here.
About Martech Weekly
The Martech Weekly is a global media and research company serving marketers, researchers, journalists, consultants and technology companies spanning more than 65 countries and more than a million marketers annually. Through its premium newsletter product, TMW PRO, Martech Weekly reaches senior marketing and sales leaders across the globe. The company also hosts the Making Sense of Martech Podcast, and frequently collaborates with publications such as WARC, AdExchanger, Chiefmartec, the MarTech Podcast and more. Learn more at Martech Weekly.com
About MOps Apalooza
MOps Apalooza is a three-day community-led professional development program with more than 500 people across the marketing operations and the revenue operations community. Leaders in the MarTech space have come together to share their expertise and experiences at the three-day event. It happened right behind Disneyland in Anaheim, California, United States. This is one of the biggest events where Scott Brinker, Frans, Jessica Kao and other leaders have taken part. Learn more about MOps – Apalooza