We have entered into an era where data privacy is considered to be a fundamental right.
Thousands of opinion polls & surveys stated people have "concerns over their data and privacy" and expect authorities and regulators to do more to protect their privacy.
At this time, 128 out of 194 countries have passed laws to secure data and privacy. What this means to advertisers is "privacy laws are here to stay, and it's time to learn & live with them "
Let's look into the factors driving changes in the ad ecosystem, followed by steps to be taken to overcome these challenges at present and in the future.
Browsers bidding farewell to cookies
Embracing a privacy-first approach, browsers like Safari, Mozilla, Brave have already started blocking third-party cookies by default.
Google has just announced a delay to complete the rollout of blocking third-party cookies by 2023.
These steps block third-party cookies from tracking site-to-site as users browse through the internet.
Apple iOS'14 update
The recent Apple iOS'14 update means users are required to opt-in (Allow) to give apps the permission to track them.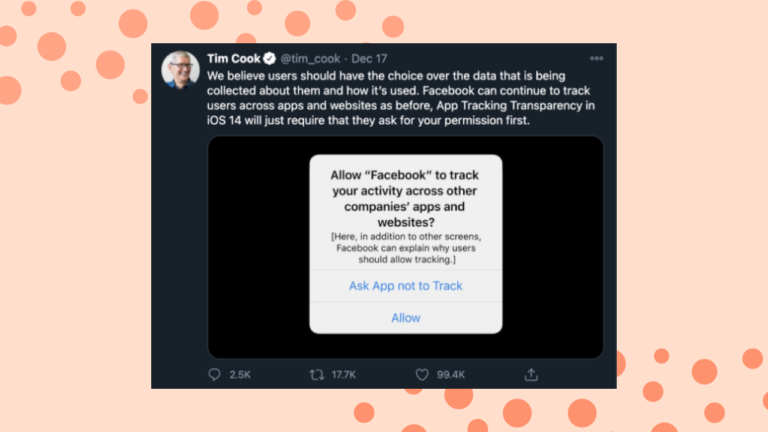 It is widely believed that the majority of the users will opt for (Ask app not to track). As tracking remains a key ingredient in running ad campaigns. This latest update severely impacts the tracking activities of apps and websites. The extent of the impacts of the update isn't known officially. 
The above privacy laws, privacy-first approach by browsers have already started changes in the ad ecosystem. But the release of the iOS'14 update acted as a catalyst and made people realise the ad ecosystem is changing and we have to take the necessary steps now.
Here's what is at risk if your business doesn't adapt to the changes
👉 Targeting – Delivering relevant ads to people who've shown interest in your brand
👉 Tracking – Accurate measurement and reporting of ad campaign performance.
👉 Ad Frequency – Risking the ability to deliver ads at appropriate times at the right frequency for the right audience
👉 Optimization – Optimizing the ads for conversions
Solution – Embracing First-party data  
Forward-thinking businesses have realised that we are moving towards a privacy-first era and it's high time to take complete control over their first-party data. 
With less than a year of time to spare, businesses that have started prioritizing their growth using first-party data strategies are poised for market dominance.
A report from BCG states "Digitally mature brands leveraging first-party data in advanced marketing activations were able to achieve 1.5X – 2.9X higher revenue uplift''
Collect first-party data:
Collecting data with consent is a two-way street: The business gets data. On the other hand consumers gets best customer experience and a lot more personalised offers and required information.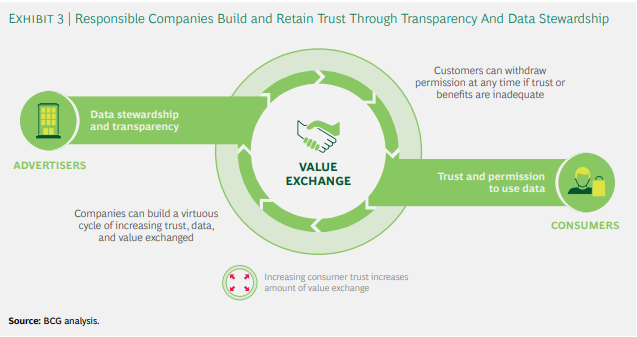 Image Source: Responsible marketing with first-party data
Increase Customer Lifetime Value
Irrespective of the industry or category, businesses often show more interest in acquiring a new customer than focusing on retaining existing customers. It makes sense when you try acquiring a new customer which is 5 to 25 times more likely to be expensive than retaining an existing one
A research study done by Frederick Reicheld of the bain company states "increasing customer retention rates just by 5% increases profits by 25 to 95%"
First-party data lets you understand the critical insights of customer behaviour, trends and segments. By understanding the customer deeper, you can improve customer retention by delivering a more relevant experience to customers.
Customer Data Platforms (CDP) can help you ace through understanding customer data better. For example, check out how CustomerLabs CDP increased  their LTV by 10.92% using their first-party data.
Personalisation at scale:
First-party data analysis can enable you with required insights around how customers behave within your website. This can let you customize your strategies to deliver a hyper-personalised experience to your customers. Check out the case study on how Eli Lilly – A pharmaceutical company uses their data to increase the brand's ROI between 12% and 35%.
The major challenge with personalisation using first-party data is because of data siloed across various systems. As each tool has its own data points and name associated with it. It's hard to merge and segment them at scale. 
Customer Data Platforms like CustomerLabs CDP can help you solve this problem by collecting the first-party data, unifying them, allowing you to segment them based on your preference, and helps  you sync across ad platforms like Facebook and Google via server side integrations (Conversions API/ GMP).
First-party data (Anonymous visitor data) – The Untapped Gold mine for many businesses
First-party data is of two types – customer data/ known visitor data and the other one is anonymous visitor data. 
98% of the website visitors won't give you any data, i.e. name, email address, etc. and they are termed anonymous visitors.
This 98% of the anonymous visitors are mostly untouched, unused widely among the advertisers in their marketing strategies. But this major part of your first-party data can increase your revenue over 2X – 3X times .
These Anonymous visitors can be segmented based on their activities, and can be bought into funnel campaigns(retargeting etc) and finally be converted into customers. 
To collect, segment anonymous visitors based on their activities like (behaviour, user journey, added to cart, wishlist, visited pricing page etc) and to sync them across various ad platforms you can use customer data platform like CustomerLabs.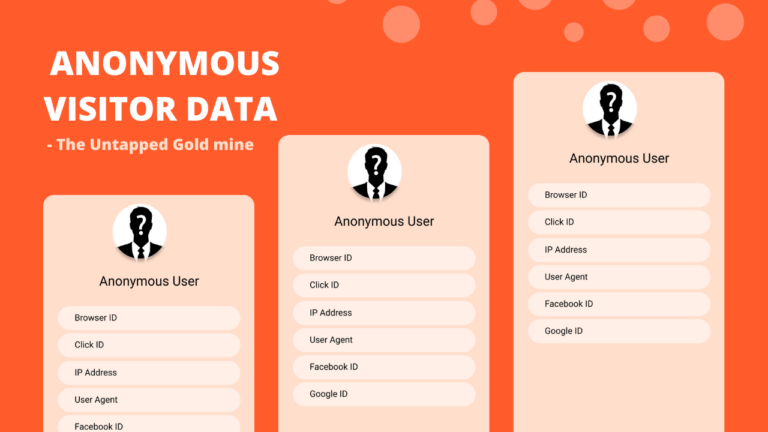 The advantage of using first-party data to run campaigns can increase match rates beyond 80%. In fact, CustomerLabs run an experiment to figure how match rates work and achieved match rates beyond 80% using their own first-party data.
Throughout the history, businesses who failed to adapt change have fallen from the top. It is one of those moments for modern businesses to adapt to the new changes, innovate and win in the future.