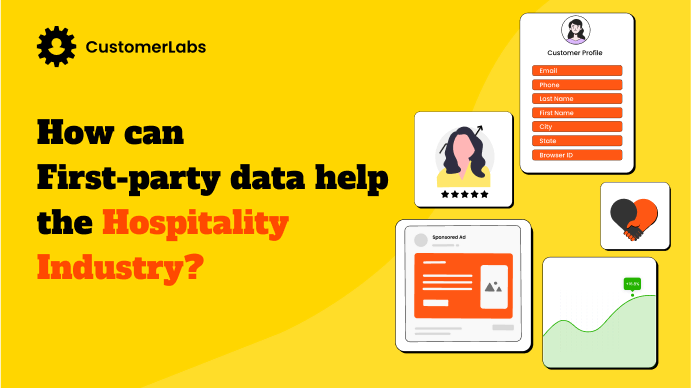 Even though recession has clouded the travel and hospitality industry, it predicts good numbers this year.
However, in the current digital era, it becomes more important as to who is able to personalize the experience to their users. Having first-party data helps you understand your customers better and offer them personalized experiences.
First-party data is collected directly from the users. Therefore it can be considered highly reliable. There are many ways to collect first-party data.
When the user interacts with your website, you can use server-side tracking to collect the first-party user data. When the user fills a form at your hotel or resort when they check-in, you can collect that data. It will be called first-party data. Even when the user interacts with your social media page, or sends you a message on social media, you can collect the information and store it as first-party data.
Therefore, any interaction of the user, offline or online, with your business gives you a lot of information about the user. It is first-party data.
Before diving into understanding how first-party data can help the hospitality industry, let's know how the hospitality industry is currently using first-party data.
The current state of the Hospitality Industry in using First-party data:
As per the recent report from Meta, the Travel & Hospitality industry is in the third-stage of digital maturity. This means that the businesses in this industry including luxury hotels, resorts, etc., have started collecting first-party data but are not using it extensively in marketing.
Some of the marketers opine that collecting first-party data and activating it is a secondary priority for them. Furthermore, adding to it, they also say that they are focussing on building data sharing partnership networks.
This is what has placed the hospitality industry in the third-stage of the digital maturity model. If they are able to realize the importance of first-party data, they can easily transcend their business to the advanced stage of digital maturity.
Why should the hospitality industry collect first-party data?
First-party data has immense potential to offer to the hospitality industry. Below I've shown 6 ways how first-party data can help the hospitality industry.
6 Ways first-party Data can help the Hospitality Industry:
Increased Ad performance:
First-party data allows hotels to get insights into guest preferences, demographics and their behavior. All this information allows hotels to personalize their marketing campaigns and improve their conversion rate. In addition to this, it also helps with advanced campaigns like Google's Performance Max Campaign, Meta's Advantage+ campaigns, etc., where the ad platforms use for both prospecting new customers and also retarget the high-intent users on Google Ads and Meta Ads.
Enhance User Experience
Hotels and resorts can collect first-party data to understand their users' experience and invest in emerging hotel technologies that help improve the guest experience. For example, some technologies that enhance the guest experience are, contactless check-in, digital payments, and digital concierge. First-party data collection will help hotels to know which technology they need to invest in, based on the direct feedback from the users.
Enhanced Customer Loyalty and Retention
To recognize and increase the customer retention, hotels & resorts can collect the first-party data and create robust loyalty programs. Doing so will increase trust with the existing customers and increase their retention period. Over time, customized loyalty offers, exclusive benefits, and personalized rewards foster guest loyalty. This encourages them not only to choose their hotel for future stays but also recommend the hotel to their friends and family.
Revenue Optimization
First-party data plays an important role in revenue optimization for hotels. Hotels can study the preferences of their guests across the year with the help of first-party data and optimize pricing strategies. For instance, this data-driven approach helps hotels identify peak seasons, and implement dynamic pricing strategies that balance occupancy and profitability. Therefore maximize revenue.
Personal Connect with the Guests
First-party data allows hotels to establish meaningful relationships with their guests. Through personalized emails, targeted offers, and timely communications, hotels can engage with guests before, during, and after their stay. This two-way communication enhances guest satisfaction, encourages feedback, and provides opportunities to address any concerns promptly. The personal connection with the guest goes a long way in driving more business.
Complete Customer Profile
By collecting first-party data, hotels can create a 360-degree profile of every single customer and make data-driven decisions to drive in more revenue and not decide based on assumptions. They can collect first-party data and analyze it in real-time data using hotel business intelligence software to get in-depth insights.
4 ways the hospitality industry can collect first-party data?
Your Hotel Website: Different data collection tools can be integrated with your website to collect the first-party user data. This data gives you a detailed picture about your users. You can see how the website visitors are interacting with your website. With tools like Google Analytics you can also see from which country, state or city do you get more website visitors from. To collect first-party data, it is recommended to use a customer data platform that offers you the flexibility to collect & store the data in compliance with data privacy regulations.
Guest Survey: Hotels can request the guest for their feedback post their stay. This information will help the hotels understand the experience of a user leading them to take data drive decisions.
Social Media: Hotels keep posting content on social media about their offers, showcasing their property, etc. They can start tracking which content is giving them more traction. For example, if the property content is attracting more views, they can promote their offers by showcasing their property in the content.
Front Desk Interaction: When guests check-in, they spend time at the front desk. You can encash this waiting time to ask questions and personalize their stay. Later, this data can be used to run ads or send emails to drive customer loyalty.
Conclusion
By incorporating first-party data into the core of their operations, hotels can unlock the true potential of guest insights and drive success in a rapidly changing landscape. As technology advances and guest expectations evolve, the hospitality industry's journey with first-party data promises to be exciting, shaping the future of guest experiences for years to come.
Furthermore, first-party data empowers hotels to optimize revenue by understanding guest preferences, managing inventory, and implementing data-driven pricing strategies.
The hospitality industry is not activating the First-party data to its full potential. To make data-driven choices, it is very much essential that the businesses in this segment start collecting first-party data to be prepared for the future.