Businesses with a digital presence have relied upon third-party cookies for their digital marketing activities. But in this privacy-first era – browsers, adblockers, and so many other technologies have limited the collection of third-party data making it hard for marketers to approach their customers and market their products.
First-party data holds the key to solve all these problems
It's fresh. It's free. It's yours.
Here are the following steps to be made to increase your CustomerLTV using your first-party customer data.
Collect your customer data
CDP lets you collect anonymous visitor data of your website and build a 360-degree profile for them based on the following parameters: Name, email id, First Name, Last Name, Browser ID, Click ID, IP Address, User-Agent, Facebook id, Google id, etc.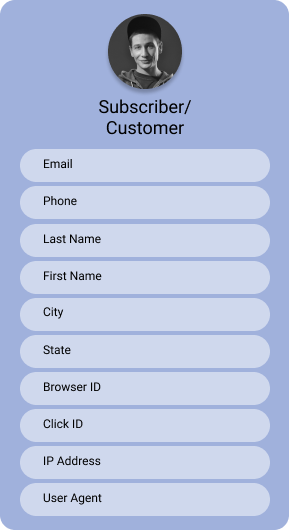 Segment your customer data into various buckets
Based on the customer data collected, you can segment the data based on various categories like (Added to cart, High-Value users, Visited product twice and various other custom-category segments based on your requirement)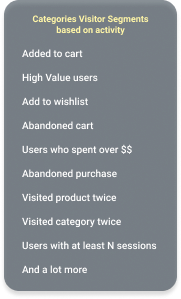 Sync data with Facebook and Google 
With CDP, after segmenting the customer data into various categories. You can sync the various segments along with their data parameters (Browser ID, Click ID, IP Address, User-Agent, Facebook id, Google id, etc.) to Facebook and Google for advanced matching
This lets Facebook match conversion events to your visitors helping algorithms improve the advertising performance.
Sharing data with Facebook and Google via Conversions API and Google Measurement Protocol using CustomerLabs CDP
In this privacy era,  Apple iOS'14 update, adblockers, and browsers have started blocking third-party cookies. The recommended way to share data with Facebook and Google is via Conversions API and Google Measurement Protocol respectively.
By using CustomerLabs No-code CDP, in 60 minutes you can implement Conversions API & GMP can share your data with Facebook & Google, and can start measuring conversions effectively.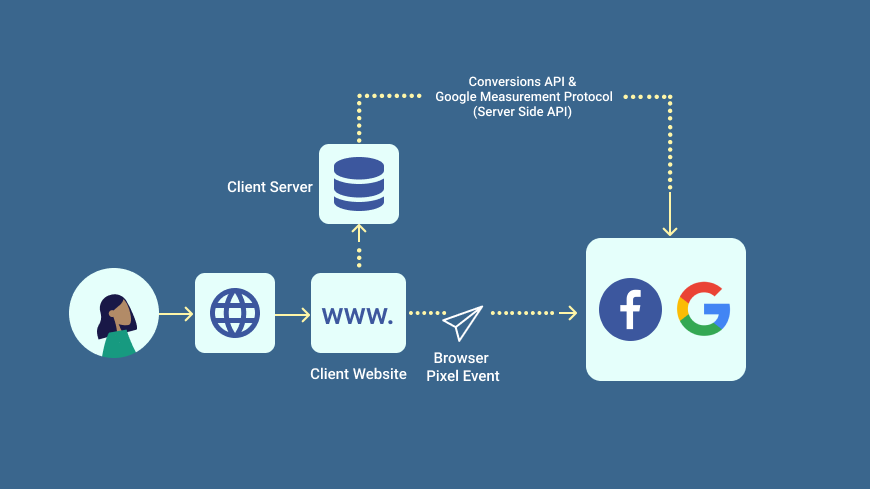 Use your Ad Platforms like your email channel 
By using CustomerLabs CDP,  since you are enriching customer data with additional parameters, your match rate can increase between 70% – 90% (which is pretty high when compared to the standard 15%-30% match rate).
With CDP, after building a 360-degree profile for customers, the data will be synced with Facebook as an event every day which lets the cookie data remain refreshed forever helping advertisers run various targeted campaigns which increase customers LTV.
The possibility here is endless and with this advantage, you can treat your Ad platforms just like your email platforms and can approach your customers through various campaigns.
Measuring ROAS and Revenue Calculation
Here's a statistical interpretation that shows the effectiveness of retargeting campaigns upon your customers after using CDP
The revenue impact from anonymous visitors (Before using CDP)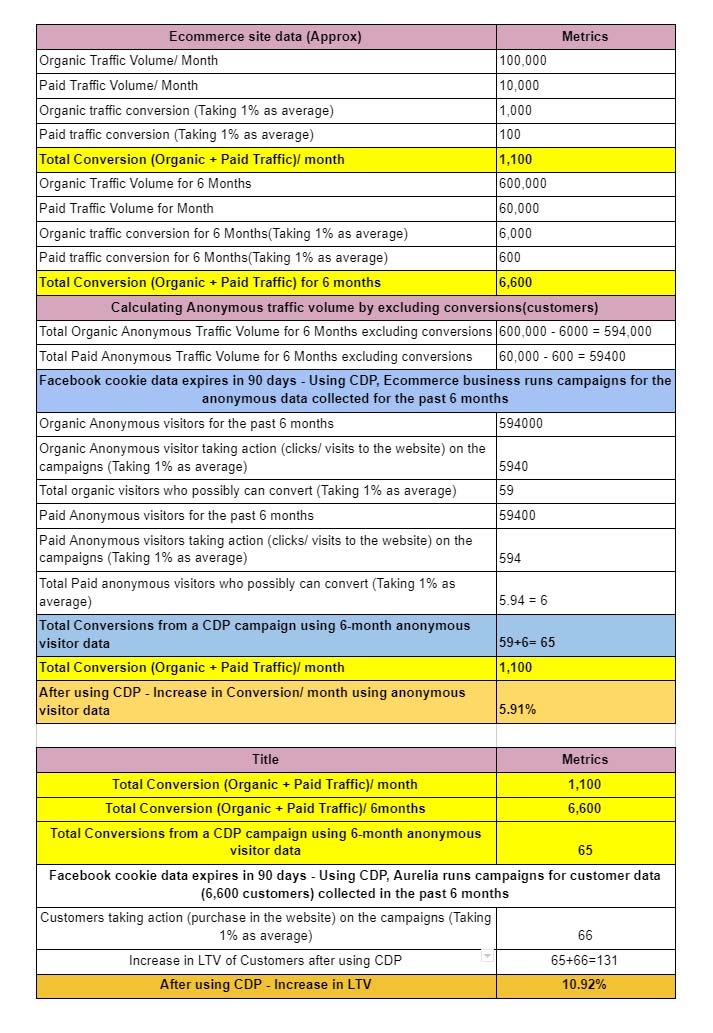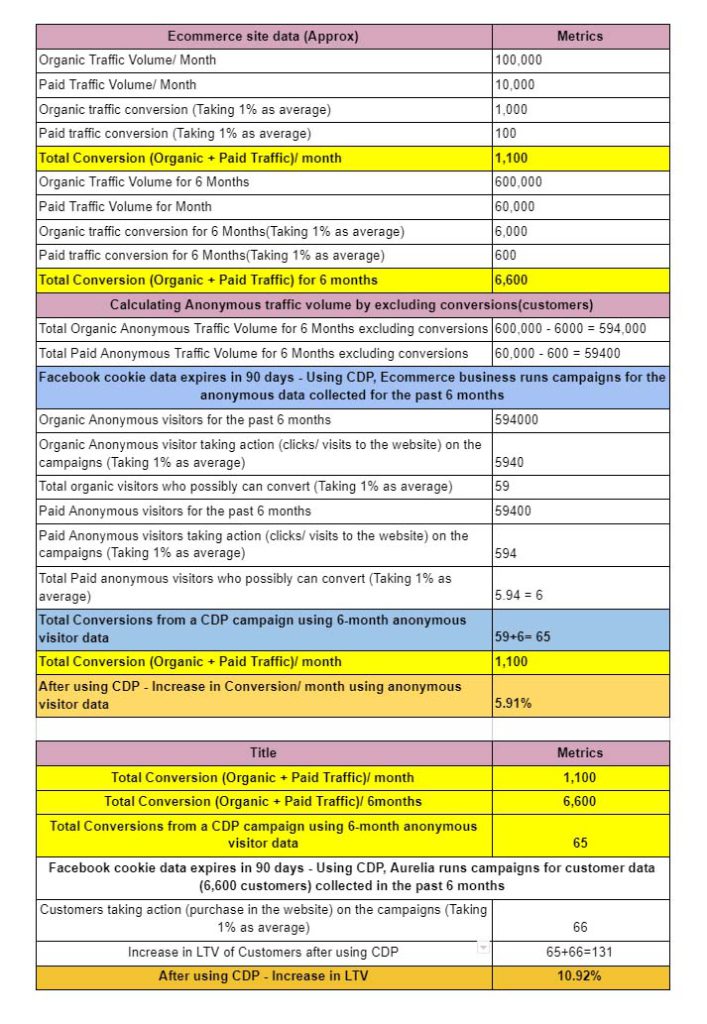 Ecommerce Business Use case:
Use case – 1:
Problem:
Run an Abandoned Cart Recovery Campaign That Works for existing customers
Solution:
By using CustomerLabs segmentation, you can segment customers from the specific category added_to_cart(added products to cart and not completed the purchase).
You can sync this particular segment with Facebook & Google using CustomerLabs CDP and can run campaigns by offering discounts to them.
Result:
1-2% of the customers tend to purchase products from those segments which increasing the overall customer LTV to 2-8%.
Use case – 2:
Problem:
Personalized ad campaign for customers who have purchased a medium-sized shirt before 4 months
Solution:
Using the CustomerLabs segmentation feature, segment your customers who have purchased medium-sized shirts before 4 months.
After segmenting the data, sync the particular segment with various ad platforms like Google and Facebook.
Now start running personalized ad campaigns (featuring medium-sized shirts) for those who purchase the same before 4 months and see results therein.
Result:
The personalized ad campaigns let customers make a purchase increasing the customers overall LTV for up to 8%.