Do you still love cookies? Well, there are quite a lot of buzzes about bidding a final farewell to third-party cookies?
You can find loads of write-ups explaining the hows and whys of farewell to third-party cookies left, right and center. 
So marketers, are you still looking for a proper solution? 
There is a saying, when life throws lemon, make a lemonade. But we will show you how to make Virgin Mojito out of it.
First of all, what are cookies? 
Cookies are used to track user information to provide a better user experience. These cookies help in saving user information like login credentials, and saving the user's web behaviour like remembering the items on the cart and wishlisted, etc. Likewise there are three kinds of cookie, they are;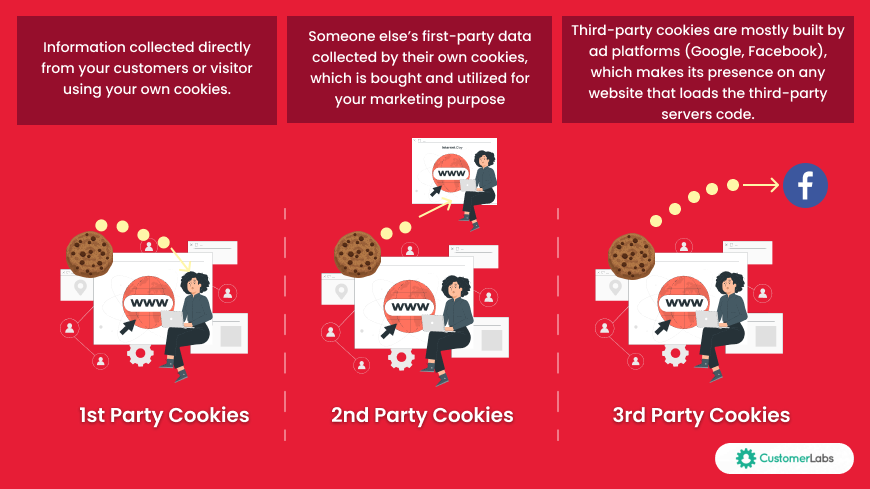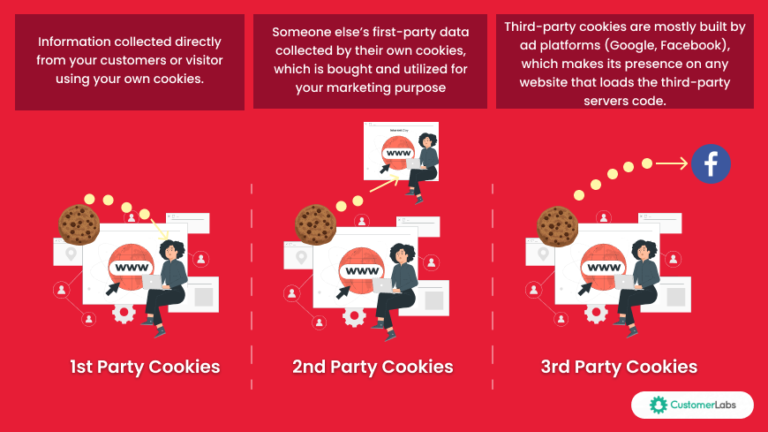 When third-party cookies ruled the world,
Usually, as a marketer, we try to attract any user who jumps or accidentally stumbles on our product website. We track them everywhere and launch ads in all the corners of the screen. If you browsed about travel fare for going to Mars- then the next few weeks in all the browsers you would find ads related travel agencies and various other aspects.
Its time for marketers to say goodbye, adios to third-party cookies
In the last few months and weeks, there have been a lot of changes and updates related to privacy in the digital world. And the one such update that affected the advertisers was the iOS'14 privacy update.
In its next iOS'14 update, Apple intends to let users have more power over how their data is used. Apple will launch a new privacy initiative that requires user permission to track user data across applications. Users will have access to change the permission in device settings at any time.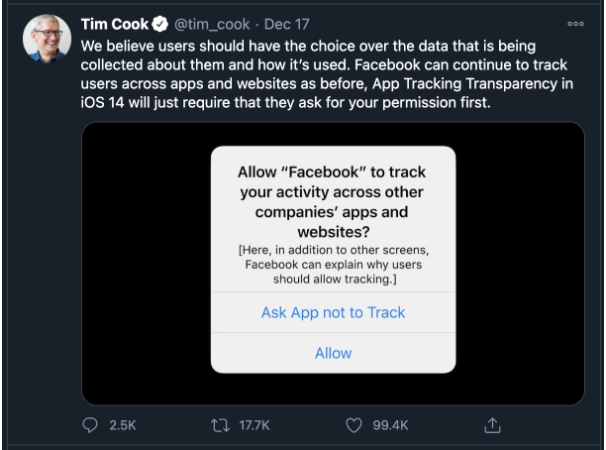 After the alarming awareness and alerts of the privacy updates which are Google's announcement, iOS'14 update or GDPR, it is high time that the marketers re-work and re-think to strategize better and provide a better user experience
Having said that – we have better ways to work better with the close to accurate user data and make the most and best out of it. 
Future = Privacy + Personalization
It's not going to be that hard to say goodbye to third-party cookies. In fact, it's a blessing in disguise!
Consumers today are very vigilant about every bit and pieces. According to Forbes survey 2020, 80% of the consumers are likely to purchase from brands that provide personalized experiences.
And also, consumers are expecting and looking for privacy even on the ads to their personal web information. Like we know, the government is also bringing in policies and legislations focussing on user privacy. And so will the future be personalized content with consent and privacy to the consumers.,
By the way,  91% of consumers are willing to share their information for personalized content and receive updates from the brands. And to our consumers, we could deliver a trusted user experience on their virtual journey with first-party data. First-party data is a deal between the company and the consumer with no interference from other parties which makes it legit and trustworthy. All the important events of the consumer such as login credentials, product purchase details, subscriptions are all close and intact. 
So let's see the reasons why it isn't that bad, 
Fall in love with First Party Data – It's a Marketer's Birth Right
Like Lotame has mentioned," Privacy concerns surrounding first party data are minimal because you know exactly where it came from, and as a marketer, you own it outright."
First party data are the purest, accurate and the most affordable data that a marketer can avail. At few scenarios, marketers find that it kills the user experience collecting the user information. But, with the given situation, it is an effective strategy to collect the information from the user themselves as it improves trust between the user and the organization.
Know their likes and dislikes – Retarget your users list 
Retargeting your users list makes you understand the customer journey better. As a marketer, using your permutations and combinations, marketers can build the marketing funnel into stages from crawling stage to running phase which will enable the sales team to outreach the customers proactively based on their funnel and user action. The more personalised message to the customer, the closer the customer comes. 
You could remind them by saying " Hey! It's your birthday month" or "There is a 50% discount sale on your favorite blue shoe"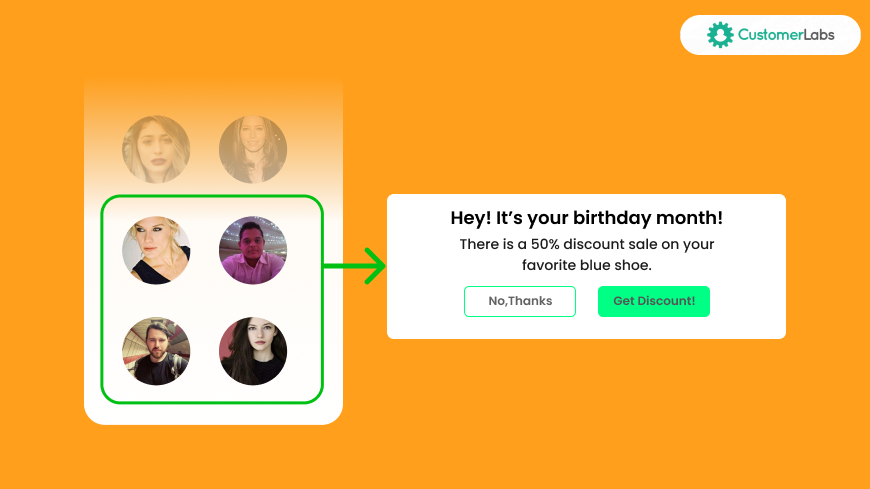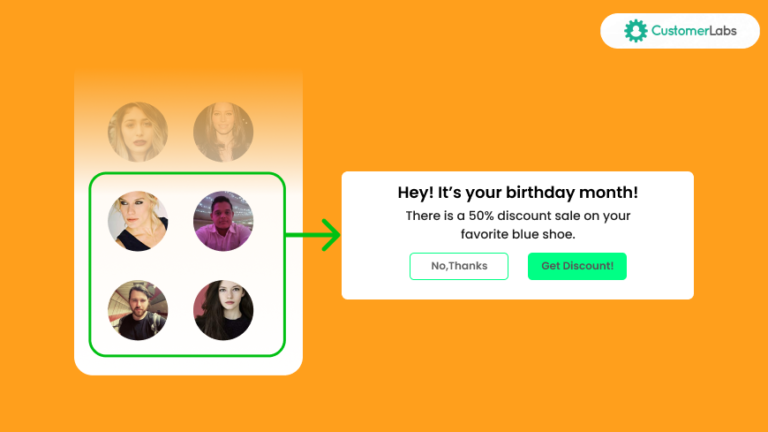 With the help of no-code CDP, the 360 user profile can be built by unifying the information from CRMs and tracking information from the website and send collected information on various ad platforms for retargeting. 
Find your doppelgangers – Attract new customers through lookalikes
Alongside retargeting through first party data, lookalikes are a great way to build the audience list through large platforms like Google adwords, Facebook etc. 
By sending the audience list to the ad platforms, the ad platform identifies and creates a lookalike list and serves ads to the users you don't have. 
Creating lookalikes are the most effective strategy in demand gen marketing. To know more on how to use Facebook ads to reach lookalikes of your sales qualified leads.
The talk of the town – Server Side Tracking: Conversions API
Using our No-Code CDP, collect event data from the website & other sources and send it to Facebook-Server via Facebook Conversion API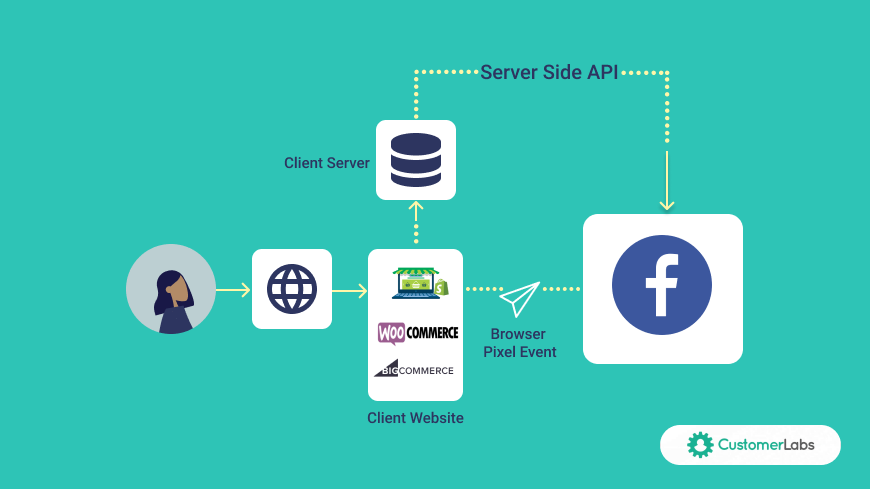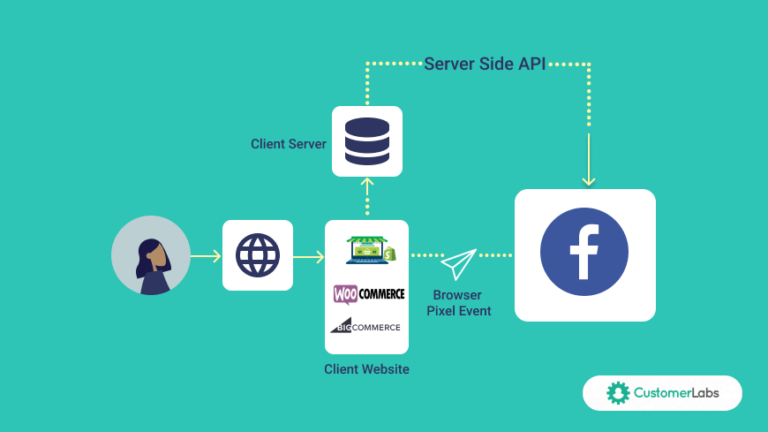 Facebook Conversion API (CAPI) primarily evolved from server-side API lets advertisers send web events from their servers to the Facebook server. CAPI data flows into Facebook and is treated just like pixel events allowing advertisers to measure, track and optimize their conversions.
A visitor enters into the browser and loads the website, the pixel fires an event at the browser level. Based on the visitors' activity i.e., purchased, viewed pricing page, added to cart, subscribed, etc. the browser sends updates to Facebook and is passed down to Ads manager. This helps advertisers learn how many leads are generated, purchase made, added to cart, viewed pricing page, etc.
In Conversion API, a visitor enters into the website after clicking a Facebook ad. Now Facebook assigns a unique id for that user and tracks the visitor via the id. Whenever the visitor performs an action like added to cart, subscribe to a newsletter, etc., The server updates the action performed by the visitor and sends it to Facebook. 
Right now, both browser and Conversion API sends data to Facebook. If both the events are received by Facebook, then it will deduplicate(exclude the additional event) the event and use the browser event alone.
Also, you could implement Facebook Conversions API for various e-commerce platforms like WooCommerce, BigCommerce, Shopify etc. 
CDP's no-code magic potion – Unification of all marketing channels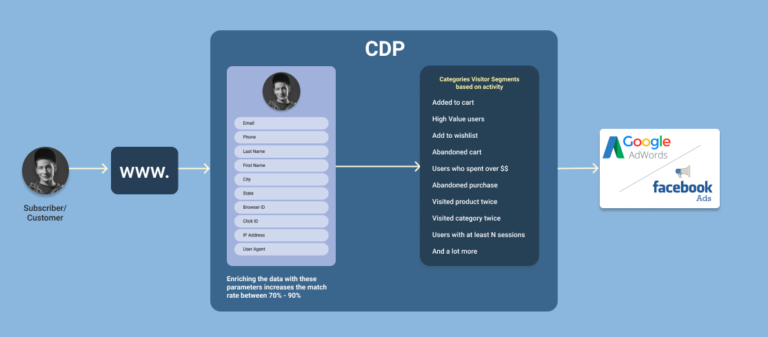 After all the benefits, CDPs have the ability to combine profiles at an individual-level across sources. This enables marketers, identify users logged-in across multiple devices, deduplicate customer records, aggregate users at an account level and distribute on various marketing platforms.