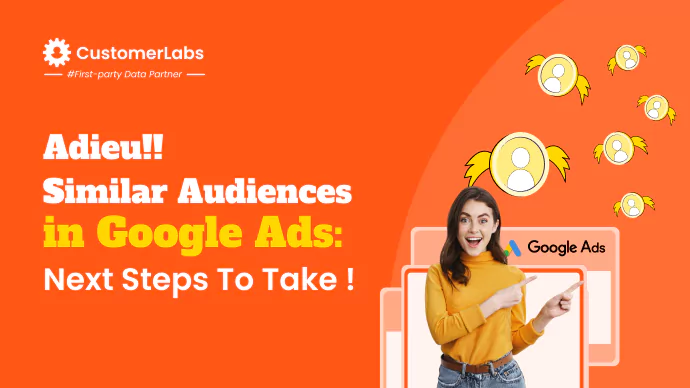 Google has announced that starting August 1, 2023, Similar audiences will be removed from Google Ads across campaigns. Wondering how it will impact you as a marketer? Let us delve into the blog to know more about similar audiences (interchangeably used in this blog as similar segments), the way out to shield yourself from this and maximize your ad campaign performance.
What are Similar Audiences in Google Ads?
Similar audiences or similar segments are the prospective users whose behavior, traits, and profile are similar to your existing customers. When you upload the customer match list to Google Ads, Google will first identify the aggregate behavior of the list. Then, when you use similar segments, the machine learning algorithm will expand the audience net by finding people who have similar behavior.
For example, let's say a similar segment is for search. Then the machine learning algorithm will analyze the aggregate search behavior of your existing customers. After that it will try to find high-intent prospective customers who have similar search behavior. When you do this, you do not go too broad and reach people who just search 'party dress'. Instead, you will target people who search for 'best party dress for prom at high school'.
What is Happening to Similar Audiences?
The digital ecosystem is evolving every single day with more privacy for users. Ad platforms are adapting to these changes while maintaining the best balance between user privacy and personalized experience. In this tussle, Google has decided on November 1, 2022, to scrap similar segments. It has given a six-month timeline to advertisers for a seamless transition to adopt new privacy-preserving alternatives to similar audiences. 
Doomsday arrived on August 1, 2023. Google is sure to sunset similar segments gradually by the end of August, 2023.
Now you can no longer use similar segments in any ad campaigns across Google Ads.
But is it the end of discovering new prospective audiences? Is there any option that allows you to expand the audience net despite the similar audiences feature being revoked?
Yes. There are options. Google has provided robust privacy-preserving alternatives for you to find new prospective audiences.
How Should You Be Prepared?
The reasons why Google ended the similar audiences feature are: the data privacy regulations, more importance to user privacy, iOS14+ updates, and others. Therefore, it is high time that you stop relying on third-party data. And shift your marketing strategies towards first-party data driven marketing.
Google's automation has provided new ways to reach new prospective customers that rely on first-party data and drive maximum performance.
Let's see what are the available options, moving forward into the privacy-centric future.
The Way Out
1. Use Optimized Targeting:
Display, Video Action, Discovery, Display & Video 360 (DV360) ad campaigns with the goal as sales, leads, or website traffic, allow you to use optimized targeting feature. Optimized targeting will help you expand your audience net, targeting relevant and high-intent audiences without relying on browser-side third-party cookies.
Optimized targeting works based on real-time conversion data (what people who converted searched for recently). It tries to find relevant audiences based on not just your keywords but also your landing page content, the ad creatives, audiences' intent, etc., which helps to optimize for your ad campaign goal.
The optimized targeting starts its work at first-party data, as it gives the right audience signals to Google.

Source: Blog by Google Ads on Display & Video 360
Combine your optimized targeting strategy with first-party data to see almost double the results.

2. Use Audience Expansion:
Audience expansion feature enables you to find new audiences only with Video ad campaigns having "Product and brand consideration" or "Brand awareness and reach" as the goal. This feature helps you reach new audiences who are similar to the existing audience segments you selected manually.
Tip: Give your first-party data to Google Ads and enable audience expansion to reach high-intent relevant audiences based on your first-party data. This results in better ad campaign performance.
The primary difference between audience expansion and optimized targeting is – with optimized targeting, the audience segments you manually selected will be an indicator and the starting point for the machine learning algorithm. While with audience expansion, it will try to find additional audiences similar to the audiences you selected manually.
3. Lookalike Segments:
The new Demand Gen campaign in Google Ads offers a unique alternative similar to Meta's lookalike audience feature. Using the lookalike segment on Google Ads, you can expand your audience net to find additional conversions. 
Google Ads allows you to find lookalike audiences with variations of 2.5% (narrow segment), 5% (balanced segment), and 10% (broad segment).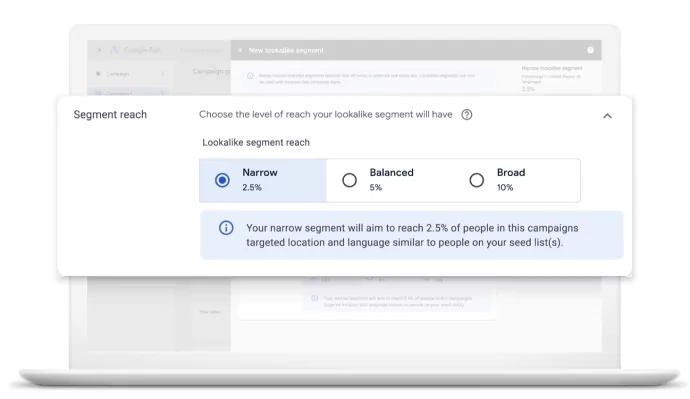 When you choose the narrow segment, i.e., the 2.5%, as the Lookalike segment reach, you will be expanding your audience to not only those that exactly match your audiences but also have a 2.5% variation from your manually selected audience list (first-party data).
Similarly, for 5% and 10%, Google Ads will find lookalikes with 5 and 10% variation respectively.
This means, a 2.5% segment is more concentrated and finds a very relevant target audience while the 10% segment is more diluted and finds target audiences who are not as valuable as those in the 2.5% lookalike segment.
These are the 3 ways you can leverage to reach new audiences in Google Ads, moving forward into the privacy-centric world.
Sign Up for the Beta Access of Demand Gen Campaign by filling out this Google Form released by Ginny Marvin, Product Liaison, Google Ads. 
Wanna know more about Demand Gen Campaign? – Read the blog on the new AI-Driven Demand Gen Campaign by Google Ads